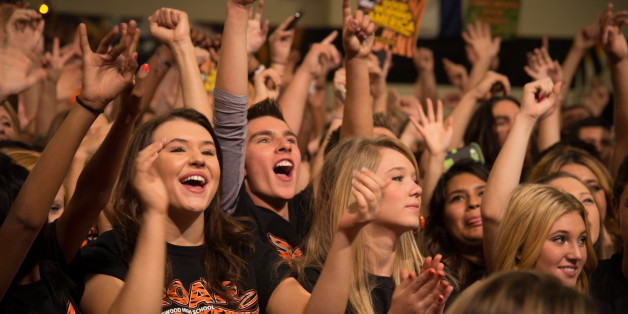 Lakewood High School students who won an exclusive concert from Katy Perry last October have collectively raised over $36,000 for charity with the help of other schools through their One World One Roar campaign.
After being selected by the pop superstar herself as the winning school of her "Roar" lip dub contest, the students decided they would use their new publicity to challenge every high school in the country to donate to a charity of their choice.
As of Nov. 15, the website announced that the campaign had raised $36,242 by schools in Colorado, Wyoming and Illinois for various charities including to Colorado flood relief efforts and the Special Olympics.
In a rally Tuesday morning, Lakewood High students presented their school's first check, worth over $9,000, to the American Red Cross whose CEO gave a presentation showing how their donation will help the community.
Paying it forward a little bit, the Red Cross also added a little perk for the students:
Thanks @RedCross for donating donuts, coffee, and hot chocolate to the seniors of Lakewood High School! #mademyday

— Jenny (@JennyElaine7) December 3, 2013
The One World One Roar effort came into being after the students were unable to open the Katy Perry concert to the public due to contest rules. Wanting to donate to the Colorado flood relief effort, the students decided to go even bigger and challenge every high school in America to raise $1,000 to give to any charity of their choice.
The effort collects funds through donations and T-shirt sales (of the same T-shirts worn by students during the Perry concert). School officials say that if every high school in America raised at least $1,000, about $39 million dollars would end up going to charities.
BEFORE YOU GO
PHOTO GALLERY
People Receive The Best News Ever