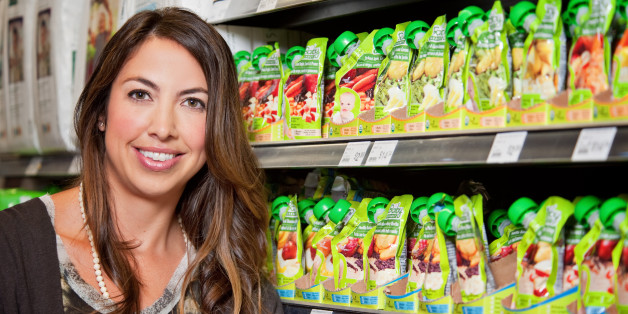 One of the reasons I started my website is that I wanted a place for women to come together and dream. We women need to know that we don't have to hang on to an old dream that has stopped nurturing us -- that there is always time to start a new dream. This week's story is about a woman who always knew she was destined to be an entrepreneur, but never quite found her niche. It wasn't until the birth of her daughter that Jennifer Carlson found a product that spoke to her -- which is now earning her millions! -- Marlo, MarloThomas.com
By Lori Weiss
From the time she was eight, Jennifer Carlson knew the way to make money was to become an entrepreneur. She began by walking the neighbor's dogs and then graduated to selling homemade lemonade and baked goods. But these were not your typical child-like stands. Jennifer's father, a marketing instructor, taught her early on -- that if she wanted to be in business, she had to deliver her product to the customers that needed it the most.
"He always said, location, location, location," Jennifer laughed. "So I'd put my lemonade on a cart, pull it to the soccer field and move it from game to game. And when I was twelve, I started selling cinnamon buns at campsites. I put a sign in the window of my dad's car that said 'Campsite Cooking.' He'd drive for an hour just so I could sell six dozen, but I'd bring home 144 dollars!"
Clearly those field trips were as much about the lesson, as they were about the actual return on investment. And it was a lesson that would serve Jennifer well -- years later, when she decided to bring her home cooking to a bit of a bigger audience.
"I remember my dad taking me to the Woman Entrepreneur Of The Year award ceremony when I was 18, and I knew then that I wanted to be up on that stage one day. I just needed to find the right idea -- something I was passionate about."
It would take some time and a few missteps -- as Jennifer tried her hand at art and sociology, and even took a job in the oil and gas industry. But life has a way of bringing us what we need, and in Jennifer's case, the passion she was looking for arrived in a very cute little package -- her daughter, Finley.
"Like most new moms," Jennifer remembered, "I bought a book for everything. And when Finley was about five months old, I started studying food and nutrition, so I'd know what would be best for her. And then one afternoon, as I was walking down the baby food aisle, I began to wonder how in good conscience I could feed my daughter anything I wouldn't eat myself. There were just rows and rows of the same bland foods. There was so much innovation in the other aisles of the store, but no one had done anything to improve baby food. And that's when I knew I'd found my opportunity -- right there, that day, in the grocery aisle."
"I went home and started cooking. I became really consumed by it. I started off with simple purees of Finley's favorite vegetables, but I'd add in cinnamon or sage or basil. I'd take recipes I was making for our dinner and make them baby-friendly. If I was making butternut squash and sweet potato ravioli for us, I'd add in a little sage and brown butter, a little breast milk, and then put it in the food processor for Finley."
But it's one thing to cook up something special at home and a completely different task to bring that idea to market. Jennifer knew there was a lot to learn and that it would require a big investment -- but at that very moment, she was thinking about what her dad had taught her -- that she had to find her customers. So she called her sister Jill, who'd often been the sounding board for what Jennifer calls her "cockamamie ideas," and convinced her to join in on the journey.
"What we needed was market research," Jennifer explained, "and I thought, I shop at the Calgary Farmers Market and I know a lot of other moms do too. That would be the perfect place to start. Apparently we weren't the first to think of that, because there were 1,000 applicants in front of us. But they believed we had something unique, so they agreed to give us the space, as long as we could be ready in three weeks."
Article Continues Below Slideshow
"So we wrote a business plan, figured out what we were going to make, and rented a commercial space to cook in. We even laid our own hard wood floors! Then we hired our mom and some of her friends to help us peel and prep. Three weeks later, we launched Baby Gourmet with twelve different products."
There were apple and pear and squash selections -- all seasoned in unexpected, but baby-friendly ways, along with dishes like fruity chicken and rice, vegetable beef and barley -- even wild salmon with potatoes and spinach. And the more the two sisters and their legion of friends and family made, the more they sold. It wasn't long before their menu included 40 different varieties and they were bringing home $30,000 a month.
And then, two years into what most would consider a very successful venture, the two sisters shut it down.
"It was always meant to be market research," Jennifer said. "I wanted everyone to have access to this food -- not just moms in Calgary. I knew in order to grow this business, I was going to have to take some time to learn everything I could about putting a product on grocery store shelves. And I was worried, that we were growing so large, that something could go wrong."
Unfortunately, just weeks before Jennifer and Jill were set to close their shop and begin building the business, something did go wrong. A baby had an allergic reaction to one of their products and the mother took the dish to the Canadian Food Inspection Agency. Jennifer's Moroccan lamb with couscous tested positive for peanuts, despite the fact that she didn't use nuts in any of her cooking.
"We were using a shared kitchen and they found cross contamination. Someone else was cooking with peanuts. We'd only made nine packages of that dish for the farmers market that week, but we did an immediate voluntary recall across all of Canada. And while we're so sorry a child got sick, getting that information was the best thing that could have ever happened to us. When you're making baby food, it has to be in the most highly controlled environment. And as cautious as we were, we learned it wasn't cautious enough."
While that incident might have stopped others in their tracks, Jennifer moved forward -- determined to build her business from the inside out. There were those who thought she was crazy and told her no one would invest in a brand that wasn't bringing in revenue. But she was confident that when she had a knowledgeable executive team in place, her track record would bring in the right investors.
And the determined entrepreneur was right -- within two years, Baby Gourmet had 5 million dollars in venture capital -- and Jennifer was ready to take her baby to market.
"We hired a brokerage firm," she recalled, "but nothing was happening, and I began to wonder why I was leaving my destiny up to someone else. So I went in to see the president -- to tell him that I was going to do it myself and he said, 'What do you think, that you're going to get Walmart on your first try? It doesn't work that way, sweetheart.' And that's when -- very quietly, inside my head, I said to myself, 'We'll see about that."
So Jennifer hired an internal sales person and decided she'd do the company's presentations with him. And the very first meeting they landed, was indeed, Walmart Canada.
"It was my very first presentation, and there we were with an older gentleman looking at me over the brim of his glasses, just waiting for me to say something of interest. I had brought our Old Fashioned Apple Crisp and I knew if I could just get him to taste our product, it would speak for itself. And then he did, and I saw his entire demeanor change. That's when I realized we had a chance."
A chance would be putting it mildly. As Jennifer and her colleague walked out of the Walmart Canada offices, the man behind the desk was already emailing them vendor forms.
Two months later they were in 300 Walmart stores and Baby Gourmet's success was spreading throughout Canada. Safeway and Loblaws came next -- and it wasn't long before Jennifer was bringing baby food flavors like Roasted Squash and Fruit Medley, Vanilla Banana Berry Risotto and Tropical Banana Bliss -- all packed in squeezable pouches -- to regional stores in the United States.
And within one year, Jennifer was where she had always wanted to be -- up on a podium, accepting an Ernst and Young Emerging Entrepreneur award.
"It was the Oscars for me. I just wish my father could have lived long enough to see it. But I could sense him right there with me, and I know how proud he must be."
Today, just three short years from the time Jennifer made that first big sale, the company is projecting revenue of 20 million dollars for 2014. And Baby Gourmet is just the beginning. There's also a line of Kid Gourmet snacks -- playfully named Squoosh and Slammers. Early this year, the products will arrive in Safeway stores across the US, and they'll be available in select Target stores this March.
"The best advice I can give anyone," Jennifer reflected, "is to understand your customer -- do your research. The moms we met at the farmers market told us what they wanted and that information is what helped us build our brand. Like my father always said, it's all about location."
Add Marlo On Facebook:
Follow Marlo on Twitter:
Weekly Newsletter
Sign up to receive my email newsletter each week - It will keep you up-to-date on upcoming articles, Mondays with Marlo guests, videos, and more!