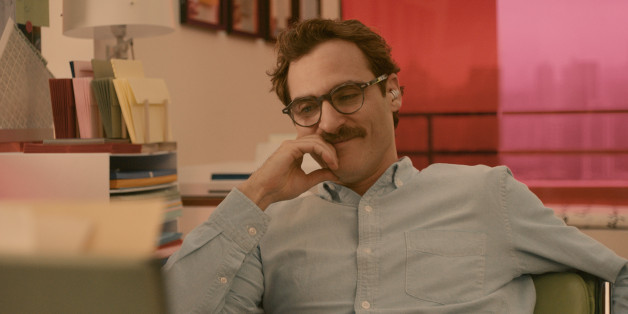 One day after the New York Film Critics Circle announced "American Hustle" as the best film of 2013, the National Board of Review named Spike Jonze's "Her" as the year's top feature, while leaving "American Hustle" off its roll call of honorees altogether.
The National Board of Review, "a nonprofit organization celebrates the distinctive voice of the individual artist, honoring excellence and supporting freedom of expression in film," also named Jonze as Best Director of the year. Other winners included Bruce Dern (as Best Actor for "Nebraska"), Emma Thompson (as Best Actress for "Saving Mr. Banks"), and two surprises in the supporting categories: Will Forte for "Nebraska" and Octavia Spencer for "Fruitvale Station."
The NBR win for "Her" is significant with regard to historical patterns: every NBR Best Picture winner from the last 13 years scored a subsequent Best Picture nomination at the Academy Awards. Last year, "Zero Dark Thirty" was named top film by NBR, with Kathryn Bigelow taking home Best Director.
The full list of NBR winners is below.
NBR Awards for 2013
Best Film: "Her"
Best Director: Spike Jonze, "Her"
Best Actor: Bruce Dern, "Nebraska"
Best Actress: Emma Thompson, "Saving Mr. Banks"
Best Supporting Actor: Will Forte, "Nebraska"
Best Supporting Actress: Octavia Spencer, "Fruitvale Station"
Best Original Screenplay: Joel and Ethan Coen, "Inside Llewyn Davis"
Best Adapted Screenplay: Terence Winter, "The Wolf of Wall Street"
Best Animated Feature: "The Wind Rises" (dir. Hayao Miyazaki)
Breakthrough Performance: Michael B. Jordan, "Fruitvale Station"
Breakthrough Performance: Adele Exarchopoulos, "Blue Is The Warmest Color"
Best Directorial Debut: Ryan Coogler, "Fruitvale Station"
Best Foreign Language Film: "The Past" (dir. Asghar Farhadi)
Best Documentary: "Stories We Tell" (dir. Sarah Polley)
Best Ensemble: "Prisoners"
Spotlight Award: Career Collaboration of Martin Scorsese and Leonardo DiCaprio
NBR Freedom of Expression Award: "Wadjda" (dir. Haifaa Al-Mansour)
Creative Innovation in Filmmaking Award: Gravity (dir. Alfonso Cuaron)
Top Films (in alphabetical order)
"12 Years A Slave" (dir. Steve McQueen)
"Fruitvale Station" (dir. Ryan Coogler)
"Gravity" (dir. Alfonso Cuaron)
"Inside Llewyn Davis" (dirs. Joel and Ethan Coen)
"Lone Survivor" (dir. Peter Berg)
"Nebraska" (dir. Alexander Payne)
"Prisoners" (dir. Denis Villeneuve)
"Saving Mr. Banks" (dir. John Lee Hancock)
"The Secret Life of Walter Mitty" (dir. Ben Stiller)
"The Wolf of Wall Street" (dir. Martin Scorsese)
Top 5 Foreign Language Films (in alphabetical order)
"Beyond the Hills" (dir. Cristian Mungiu)
"Gloria" (dir. Sebastián Lelio)
"The Grandmaster" (dir. Kar Wai Wong)
"A Hijacking" (dir. Tobias Lindholm)
"The Hunt" (dir. Thomas Vinterberg)
Top 5 Documentaries (in alphabetical order)
"20 Feet from Stardom" (dir. Morgan Neville)
"The Act of Killing" (dirs. Anonymous, Christine Cynn, Joshua Oppenheimer)
"After Tiller" (dirs. Martha Shane, Lana Wilson)
"Casting By" (dir. Tom Donahue)
"The Square" (dir. Jehane Noujaim)
Top 10 Independent Films (in alphabetical order)
"Ain't Them Bodies Saints" (dir. David Lowery)
"Dallas Buyers Club" (dir. Jean-Marc Vallée)
"In a World ..." (dir. Lake Bell)
"Mother of George" (dir. Andrew Dosunmu)
"Much Ado About Nothing" (dir. Joss Whedon)
"Mud" (dir. Jeff Nichols)
"The Place Beyond the Pines" (dir. Derek Cianfrance)
"Short Term 12" (dir. Destin Cretton)
"Sightseers" (dir. Ben Wheatley)
"The Spectacular Now" (dir. James Ponsoldt)
ALSO ON HUFFPOST:
PHOTO GALLERY
BEFORE YOU GO
Celebrity News & Photos
PHOTO GALLERY
Celebrity News & Photos