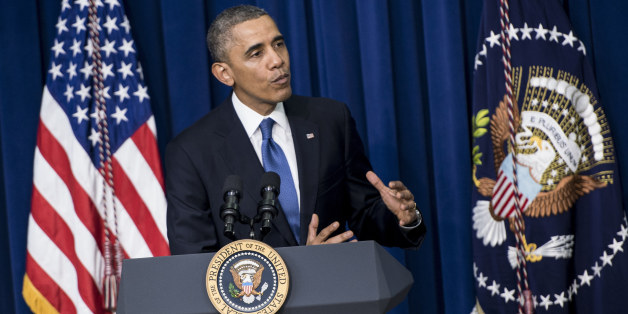 "Could ObamaCare actually force the man it's named after to resign as president?" In a word, no. In two words, "LOL, no."
The headlines are telling me that the White House is poised to re-up on their ambitions to support Obamacare, now that their vaunted "tech surge" has transformed Healthcare.gov from something that was "a ghastly mess" to something that's now "sort of OK."
I am also seeing that Democrats, save for a handful who have always opposed the Affordable Care Act as a necessity to preserve their political careers, are "going on the offensive again." Might as well, because at this point, the impact that Obamacare is likely to have on their electoral futures is baked into the cake.
But, hey, at least one guy on the Internet is telling Fox Business Channel that maybe the president will, sometime next year, just pack his bags and say, "I'm out, y'all."
At least one Wall Street analyst says that while the chances are small, it's not out of the question that President Obama could step down before the 2014 mid-term elections if his approval ratings continue to implode amid the controversy over his health-care plan.

"If ObamaCare is the fiasco that some headlines are suggesting it is, I place the odds around 10% the president will resign before next November's election," said Kent Engelke, managing director at the brokerage Capitol Securities Management.
What headline is suggesting that Obamacare is a resignation-level fiasco? Basically, this one: "Analyst Sees Chance of Obama Resignation," which comes atop this Fox Business story. Tautologies are neat in that way.
Some other Wall Street guy says that this first Wall Street guy, in assessing the likelihood that Obama will take it on the arches ahead of the midterm election, is being "far too simplistic" and that -- surprise, surprise! -- "The reality is that if the president resigns, it creates chaos." It should be noted, of course, that Obama's resignation would leave fervent Obamacare supporter Joe Biden in charge, so ... what does it accomplish? Besides giving Obama an opportunity to maybe depart this garbage town, not a lot!
This is my favorite part of this Wall Street guy-on-the-Internet's take:
Engelke thinks ObamaCare may end up being good for the economy if it leads to people focusing on reforming healthcare. "This could cause us to eventually get health-care delivery right in the United States," he said. If ObamaCare fails, then we will move back towards what Engelke calls "capitalism," or a more market-based approach to reforming the system.
Because that was working so spectacularly.
Anyway, if this guy turns out to be right, just give him all your money and set this article on fire, the end.
[Would you like to follow me on Twitter? Because why not?]
BEFORE YOU GO
PHOTO GALLERY
U.S. Capitol Photos