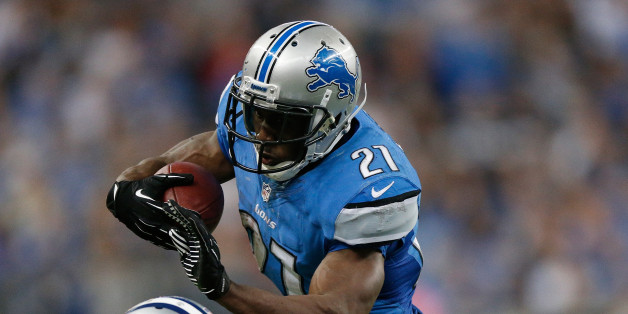 The roster of NFL players taking issue with Thursday games just got a big-name recruit: Detroit Lions running back Reggie Bush, reports CBS Detroit.
Several players have been weighing in on the NFL schedule that can give players only three-days' rest between games, Bush being the latest to express concern for player safety.
Bush told CBS Detroit, "I'm not a huge fan of it." He likened the hits absorbed during NFL games to "being in a car crash" and lamented that Thursday games do not allow enough time for players to recover.
Bush isn't alone. Houston Texans Duane Brown said of Thursday games, "It's dangerous. It feels horrible," in an article on The MMQB of SI.com. Brown pointed at the NFL's increased attention on safety, charging "You talk about player safety, but you want to extend the season and add Thursday games? It's talking out of both sides of your mouth."
Broncos guard Louis Vasquez said, "It's a problem," and "some guys are asked to push through the pain." Texans wide receiver Andre Johnson suggested of the league office, "they don't understand how your body feels."
CBS Sports reports 49ers wideout Anquan Boldin months ago said "I mean if [the NFL is] so concerned about player safety, then why do you have every team in the league playing on Thursday night when they just competed on a Sunday, knowing how difficult it is for guys to get back to being healthy after playing on Sunday?"
Not just players take issue with the schedule. Former Baltimore Ravens coach Bill Billick wrote for NFL.com, "We're not supposed to say this aloud while we're coaching, but I can say it now: Players and coaches mostly despise the Thursday games," and "it's a physical ordeal for players to recover in time to strap on a helmet Thursday."
The league expanded the schedule to include eight Thursday games in 2006, and last year the number of Thursday games was upped to 13. The appeal of the games to the NFL is clear, as they garner strong viewer ratings throughout the season, according to SB Nation. MMQB reports that the package of Thursday games could be $700 million. The NFL has been emphasizing player safety as more attention has been given to the well-being of its players current and past.