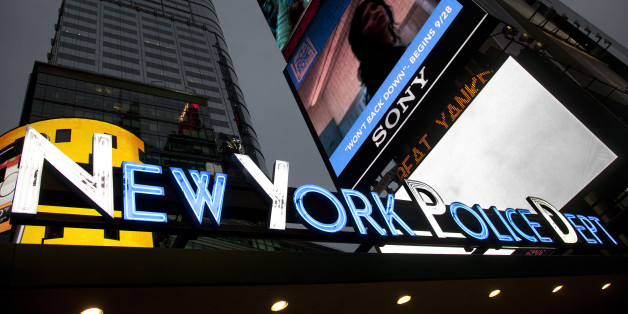 Glenn Broadnax, 35, of Brooklyn has been charged with assault following a bizarre incident in Times Square that culminated with two NYPD officers accidentally shooting two innocent bystanders.
On Sept. 14, Broadnax jumped in front of traffic in Times Square, creating a disturbance near 42nd Street and Eighth Avenue. Court documents say that Broadnax believed he was talking to dead relatives and was attempting to kill himself.
Police officers soon arrived on the scene to control Broadnax , who is 250 pounds. The New York Times reports, when Broadnax reached into his pants pocket, two police officers opened fire. The NYPD said that the officers believed that Broadnax was reaching for a weapon.
The officers missed Broadnax and instead hit two innocent women near the altercation.
Broadnax was eventually subdued with a stun gun and taken to Bellevue Hospital.
Police Commissioner Ray Kelly later informed reporters that "The only thing the individual had on his person was a wallet which was recovered from his right rear pocket."
Broadnax was initially charged with menacing, drug possession and resisting arrest, but a grand jury chose to indict Broadnax for assault.
Assistant district attorney Shannon Lucy told The New York Times that Broadnax is responsible for the injures sustained by the pedestrians. "The defendant is the one that created the situation that injured innocent bystanders," she said.
Aside from injuring his hand, Broadnax told investigators he had no memory of the violent incident. Documents later revealed that marijuana and methamphetamine were recovered from Broadnax upon his arrest.
"It's an incredibly unfortunate use of prosecutorial discretion to be prosecuting a man who didn't even injure my client," Mariann Wang a lawyer representing one of the injured women said. "It's the police who injured my client."
If convicted, Broadnax could face up to 25 years in jail.