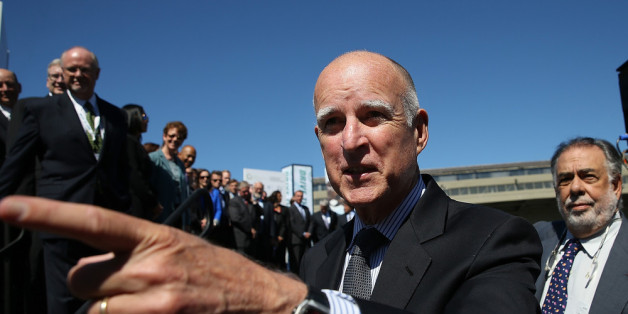 Jerry Brown is very popular in California. Americans think politicians in Washington don't get along. And yes, it was a slow news day on the polling beat. This is HuffPollster for Thursday, December 5, 2013.
JERRY BROWN WOULD START FAR AHEAD IN RACE FOR FOURTH TERM - Mark DiCamillo and Mervin Field: "Governor Jerry Brown is currently riding high in voter popularity. Nearly six in ten registered voters (58%) statewide approve of the job he is doing, with just 33% disapproving. This represents an increase of seven points in the Governor's approval rating since July. Brown has not indicated whether he will run again for governor next year. However, when listed in a field of four possible candidates in a simulated June open primary election, Brown is the overwhelming choice. In this setting, Brown receives 52% of the preferences, followed in order by former Lt. Governor Abel Maldonado (11%), State Assemblyman Tim Donnelly (9%), and former Assistant Treasury Secretary Neel Kashkari (3%). Another 25% are undecided." [Field Poll]
A second poll also puts Brown at the top of the pack - "With the gubernatorial election a year away, nearly half of adults (47%) and likely voters (49%) approve of the way Jerry Brown is handling his job. This is similar to his approval rating in the eight PPIC surveys conducted since December 2012. In an early look at the gubernatorial primary, we included Brown and the two Republican candidates. If the primary were held today, Brown, with the support of 46 percent of likely voters, and state assemblyman Tim Donnelly, with the support of 16 percent, would advance under the state's top-two primary system. Former lieutenant governor Abel Maldonado has the support of 7 percent of likely voters. Another 29 percent of likely voters are undecided." [PPIC]
Previous poll found Californians ambivalent - Anthony York, writing in November: "Jerry Brown may be the state's longest-serving governor, with a political resume that spans six decades, but California voters are ambivalent about the 75-year-old Democrat. More than half of those surveyed in a new USC Dornsife/Los Angeles Times poll say they approve of the job Brown is doing as governor — the highest rating since he retook the governor's office in 2011. Yet only 32% say they are inclined to vote for Brown if he seeks an unprecedented fourth term as California's chief executive next year. Moreover, respondents give Brown little credit for what is widely considered as his signature achievement since returning to the governor's office in 2011 — erasing a $26 billion state deficit. Only 38% say they approve of the way Brown has handled the issue; 47% disapprove." [LA Times]
OBAMA'S APPROVAL SINKS AMONG HISPANICS - Jeffrey M. Jones: "President Barack Obama's job approval rating averaged 41% in November, down 12 percentage points from 53% last December, his high-water mark since his first year in office. Hispanics' approval has dropped 23 points over the last 12 months, the most among major subgroups, and nearly twice the national average...Hispanics' approval ratings of Obama have shown the most variation of any group's ratings throughout his presidency. That means their views of him are less firmly anchored than those of other groups, which may help explain why their opinions of the president soured more than any other group's in recent months. Despite the significant decline in their approval ratings over the past 12 months, a majority of Hispanics, 52%, still approve of the job Obama is doing. All major subgroups showed at least some decline over the past year in their views of the way Obama is handling his job as president." [Gallup]
AMERICANS SAY WHITE HOUSE, CONGRESS LESS COOPERATIVE THAN USUAL - Shane Goldmacher: "The first year of Obama's second term has been marked by a government shutdown, no significant legislative achievements, and incessant bickering between the administration and Capitol Hill, prompting 57 percent of Americans to say the White House and Congress are cooperating less than usual, according to the latest United Technologies/National Journal Congressional Connection Poll. Only 5 percent of Americans said Obama and Congress cooperated more than usual this year….The fact that Congress and the White House don't get along is the rare issue on which Democrats and Republicans agree, with 56 percent and 65 percent of the two parties, respectively, saying relations in 2013 are worse than normal." [National Journal]
HUFFPOLLSTER VIA EMAIL! - You can receive this daily update every weekday via email! Just enter your email address in the box on the upper right corner of this page, and click "sign up." That's all there is to it (and you can unsubscribe anytime).
THURSDAY'S 'OUTLIERS' - Links to more news at the intersection of polling, politics and political data:
-Consumer confidence, as measured by the Bloomberg Consumer Comfort Index, rises to the highest level in two months. [Bloomberg]
-64 percent of Americans want the U.S. to protect Israel, but the divide on whether the U.S. is too supportive or not supportive enough. [YouGov]
-Outside interest groups are on track to account for a majority of the political television advertising spending in 2014. [Cook Political]
-Sean Trende illustrates the Democrats' 2013 drop-off problem in just one chart. [@SeanTrende]
-Michael McDonald says the drop-off is predictable given lower turnout rates for younger voters in off years. [@ElectProject]
-A survey for the AFL-CIO finds that Latino voters are more likely to place a high priority on immigration after watching ads on the subject. [Latino Decisions]
-Bruce Drake reviews perceptions of the gap between rich and poor. [Pew Research's Fact Tank]
-Geoffrey Skelley reviews the history of sub--40 percent presidential approval ratings. [Sabato's Crystal Ball]
BEFORE YOU GO
PHOTO GALLERY
United States Governors