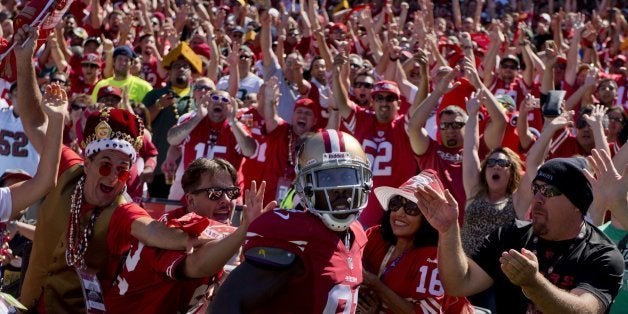 The San Francisco 49ers have issued a memo to game-goers reminding them to cheer with step-by-step instructions, just in case any of their season ticket-holders forgot how to be football fans.
The memo included a friendly list of reminders to wear red and "pull out your favorite 49ers gear," to show up on time and "enjoy the tailgate experience" and to yell cheers, such as the revolutionary "let's go, Niners!"
Though the letter may be an earnest effort to rally fans and pump up the players, fan instruction memos rarely go over smoothly. (Apparently the 49ers learned absolutely nothing from the Miami Heat's unsuccessful "Fan Up, Miami!" debacle.) At least some of the Seahawks fans had a good time with it:
Nevertheless, the battle between the 11-1 Seahawks and the 8-4 49ers is sure to be exciting. Tune in at 1:25 p.m. PST to see how 49ers fans follow guidelines.

BEFORE YOU GO
PHOTO GALLERY
Best 2013 Sports Photos