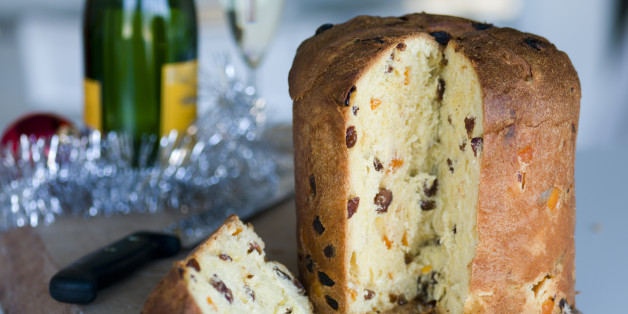 I have a vivid memory of nearly starving to death in the Christmas of 1987, when my family's jam-packed station wagon was stuck for hours in a freak snowstorm outside Savannah, GA. We were about 16 hours into our drive from New York to Florida, and all we had in the car was a fruit cake that someone had given us. I distinctly remember the desperation, the panic, and the plastic wrap around that fruit cake, which never came off. We knew what was inside it -- neon green mystery bullets and a musky stench (booze) that no child should ever be exposed to. We would've readily turned to cannibalism before eating that fruit cake.
Fruitcake, for those of you lucky enough to have avoided it, is a dense brick of spirit-soaked cake studded with candied fruits, nuts and spices. It was invented when a massive amount of cheap sugar arrived in Europe in the 16th century, and people began using it to preserve fruit. The stuff became so abundant that no one knew what to do with it, so they threw it in cakes. Horrible, evil cakes.
But there's great news: If you like the concept of fruit cake (a sweet, sometimes yeasted bread studded with dried fruit and nuts), there are a lot of delicious options out there that aren't fruit cake. Below, check out 9 much better alternatives for Christmas breads. Let us know what your favorite is.
Want to read more from HuffPost Taste? Follow us on Twitter, Facebook, Pinterest and Tumblr.
BEFORE YOU GO
PHOTO GALLERY
Eggnog Taste Test