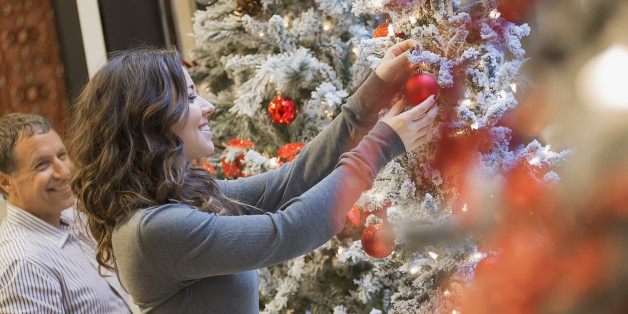 The holiday season is a special time to reflect on the past year, to celebrate the blessings in our lives, and to look forward to a fresh start in the new year. However, with all of this holiday cheer comes the added responsibility of hosting friends and family, buying the right gifts for your loved ones, and staying healthy in the midst of all the celebrations. That's why the holiday season tends to be one of the most stressful—as well as joyful—times of year for many of us.
Luckily, there are experts who make our lives easier by providing tips to help us stay organized, healthy, and calm during the holiday chaos. I've been fortunate enough to have some of the most knowledgeable health, wellness, and lifestyle experts as guests on my weekly web series, Mondays with Marlo this past year.
As my gift to you, here's a round-up of our favorite tips from our Mondays with Marlo guests to help you survive the holiday season. From diet and exercise tips from fitness trainer and author Dolvett Quince, to simple, quick entertaining advice from lifestyle expert Sandra Lee, these clips will help you relax and focus on what matters most this holiday season. I hope you enjoy these wonderful clips from 2013!
Three Tips For Shopping Smart, From Michelle Madhok

Shopping smart means getting value and saving time. When Michelle Madhok, Online Shopping Expert and Founder of SheFinds Media dropped by Mondays With Marlo this week, she gave her top three tips on achieving shopping success:
1. Do a search
2. Get coupon codes from RetailMeNot.com
3. Know the return policy
A Holiday Centerpiece Idea, From Sandra Lee
For a cheap, easy-to-make and edible centerpiece to use for a holiday dinner, Sandra recommends baking a cake, decorating it with festive, colorful sugared fruit, seeds and frosting and elevating it on a cake pedestal.
How To Stay Fit During The Holidays, From Dolvett Quince
To stay motivated during the chilly winter months, Dolvett recommends getting your PHD -- Pre-Holiday Diet, that is -- into gear. He recommends working out in a group, sticking to lean proteins and veggies, and opting for fruit and other healthy snacks during the holidays.
Ways To Cope With Family Holiday Drama, From Dr. Gail Saltz
To reduce holiday stress, Dr. Gail Saltz recommends a number of helpful tips, like breaking up family "togetherness" into smaller doses and avoiding triggers like alcohol.
How To Save Money And Time On Holiday Gatherings, From Sandra Lee
To save money during the holidays, Sandra recommends collecting coupons from newspapers. She also suggests staying abreast of monthly sales at grocery stores for both name brand and private label products. She also loves to use slow cookers, which allows for easy, delicious meals using less expensive cuts of meat.
Martha Stewart's Favorite Dessert
What's Martha Stewart's favorite dessert? "I love pretty much any kind of pie, and I also love to make crisps and crumbles," Martha says. For example, Martha recently made a delicious fresh basked gooseberry, blackberry and raspberry crisp from her garden with a crumb topping. What about a non-baked dessert for those of us who might not love to bake? Martha's favorite no-bake dessert is Affogato, which is a shot of hot espresso poured atop of a scoop of cold, high quality vanilla or coffee ice cream.
For more tips on surviving the holidays, see psychiatrist Dr. Gail Saltz's tips below:
PHOTO GALLERY
12 Holiday Tips From Dr. Gail Saltz
Add Marlo On Facebook:
Follow Marlo on Twitter:
Sign up to receive my email newsletter each week - It will keep you up-to-date on upcoming articles, Mondays with Marlo guests, videos, and more!