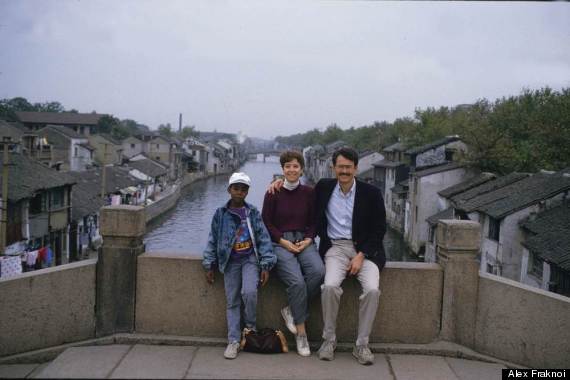 According to a poster in a Rap Genius forum, this is Kanye West as a child in China at around 10 years old.
Alex Fraknoi posted the rare gem along with the story of how he came across it:
My dad is an astronomy professor, and we just had dinner with his astronomy advisor from Harvard. He asked what I was into and I told him about my ventures into hip-hop (I'm a rapper/producer). He asked if I knew about Kanye West, and obviously being a Ye stan I kept my cool and told him yes. He then told me that him and Donda West were good friends and co-teachers in China, and he got to spend a great deal of time playing with Kanye as a kid. Out of nowhere he whips out this picture and my jaw-drops. He said Kanye was a really sweet kid who wasn't afraid to speak to adults and ask questions.
Although there hasn't been any official acknowledgment of the photo from Kanye since the photo made its rounds online, Kanye's mom taught in Nanjing as a Fulbright Scholar. She took her son along for the trip, and Kanye has shared stories about his experience there in various interviews throughout the years.