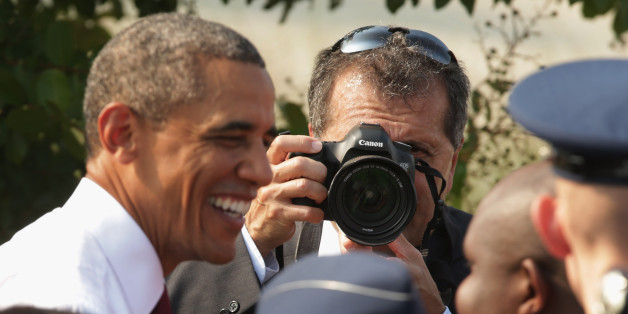 New York Times public editor Margaret Sullivan sounded off on the battle between photographers and the Obama administration on Friday, saying that the Times should no longer run photos released by the White House.
News organizations have been lobbying for greater photo access to President Obama. Tensions between the White House press corps and the administration mounted recently after 38 outlets signed a letter protesting limits that prevent them from taking pictures of the president.
Sullivan recommended Friday that the Times join the ranks of outlets that have refused to run White House handout photos. She noted that the newspaper had signed the letter and observes an unwritten rule to use the photos only in exceptional circumstances, but suggested, "A written restatement of its policy and a more strictly enforced ban on such pictures would send a strong message and help the cause."
She cited Times photographer Doug Mills' position that the newspaper should ban White House-approved photos, and said she agreed.
Sullivan's blog post on Friday shows that the debate over photo access shows no sign of dying down soon. In recent weeks, USA Today, the Tacoma News Tribune and McClatchy newspapers have all declared bans on pictures released by the White House.
CORRECTION: Sullivan's blog post appeared Friday, not Thursday as was originally stated in this piece.
BEFORE YOU GO
PHOTO GALLERY
New York Times