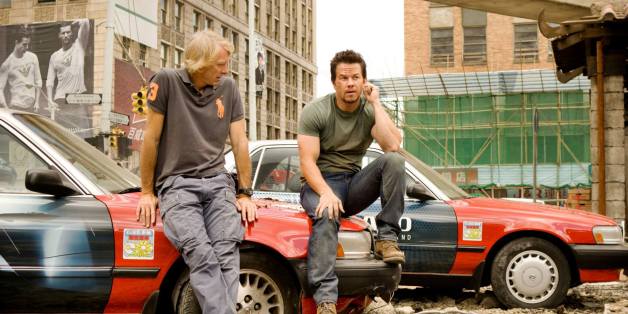 Michael Bay wants "Transformers" fans to know that he would never issue a mea culpa about their beloved franchise.
"No I did not 'apologize' for any 'Transformers' movies," Bay wrote on his website after comments he made from the set of "Transformers 4" pinged around the internet this week.
"I wanted the first 'Transformers' to be very suburban and less cool," Bay told Yahoo! UK Movies during an interview on the Detroit set of "Transformers 4." "This is a much more cinematic one. I focused on keeping this one slick. There won't be any goofiness in this one."
On Thursday, Bay clarified that he was referring to a scene in the first film, and how it related to something in the fourth film. "I did not say I shot the last three movies 'less cool' than the new fourth installment," Bay wrote. "I was talking specifically about camera style and tone, of the first movie compared to how I shot the new installment with a very big scale, cinematic style. I was very specific in saying the first 'Transformers' was shot in a 'generic suburbia' area, not trying to be cool with any cinematic flashes. I wanted it to feel like this could happen in any backyard in the United States."
In the post, Bay said he found talking to reporters on set visits to be an unpleasant experience. "Often times they take your words and skew things to their liking," he wrote. "Then the crazy, lazy game of reporting on what other writers story's reported me saying and suddenly it becomes skewed Internet truth. So I waste my time to restate exactly what I did say, again."
While Bay didn't apologize for any of the "Transformers" films in recent conversations, he has discussed the failures of the franchise's second feature, 2009's "Transformers: Revenge of the Fallen," at length.
"We made some mistakes. The real fault with ['Transformers: Revenge of the Fallen'] is that it ran into a mystical world. When I look back at it, that was crap," Bay told Empire in 2011. "The writers' strike was coming hard and fast. It was just terrible to do a movie where you've got to have a story in three weeks. I was prepping a movie for months where I only had 14 pages of some idea of what the movie was. It's a BS way to make a movie, do you know what I'm saying?"
This isn't the first time in 2013 that Bay has had to clarify a statement he made to a reporter. In April, he offered to "apologize" (his word) for the way editing was handled on "Armageddon."
"That was not fair to the movie. I would redo the entire third act if I could. But the studio literally took the movie away from us," Bay told Rene Rodriguez of the Miami Herald. "It was terrible. My visual effects supervisor had a nervous breakdown, so I had to be in charge of that. I called James Cameron and asked 'What do you do when you're doing all the effects yourself?' But the movie did fine."
After that was picked up by multiple outlets, including The Huffington Post, Bay took to his message board to add context to the statements.
"What I clearly said to the reporter, is I wish I had more time to edit the film, specifically the the third act," Bay wrote. "He asked me in effect what would you change if you could in your movies if you could go back. I said, I wish we had a few more weeks in the edit room on 'Armageddon.' And still today 'Armageddon,' is still one of the most shown movies on cable TV. And yes, I'm proud of the movie. Enough said."
"Transformers: Age of Extinction" is out in theaters on June 27, 2014. A new trailer for the film will debut at the Super Bowl on Feb. 2, 2014.
BEFORE YOU GO
PHOTO GALLERY
Celebrity News & Photos