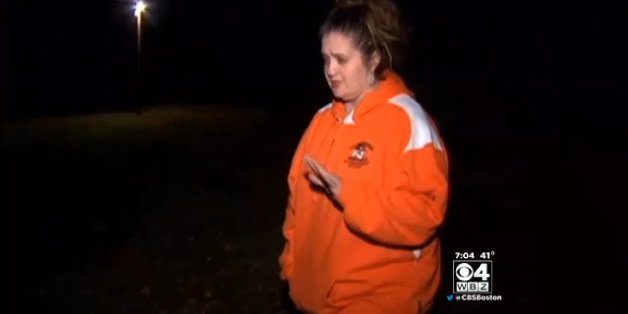 An investigation into a racist crime took a bizarre turn this week when police said their primary suspect is the mother of the high school student who'd been targeted.
Last month, Lunenburg, Mass., resident Andrea Brazier reported to police that someone had spray-painted a racist message on the side of her family's house. The message, "Knights don't need n--gers," appeared to target Brazier's son, Isaac Phillips, a 13-year-old player on Lunenburg High School's football team, the Blue Knights. (Brazier is white and Isaac's father is black.)
Originally, police had focused on other members of the football team as possible suspects. Some Blue Knights players had been accused of using racial slurs to taunt rival teams in the recent past, and Isaac's father, Anthony Phillips, said Isaac had been bullied by his teammates.
But on Monday, police cleared the young football players of any wrongdoing and now say Brazier is a strong suspect in the case, according to multiple sources. A search warrant affidavit from Nov. 25 obtained by The Lowell Sun says that Brazier replied "okay" when an FBI agent suggested she wanted the investigation to be over because she was the one who did it.
Police obtained the search warrant for the home in order to get copies of Brazier's handwriting, but it was unclear what led them to obtain the warrant. When officers searched the home, they turned up two cans of spray paint in a fire pit outside. Police said Anthony Phillips gave differing accounts of where the cans came from, according to The Boston Globe. To date, no one has been arrested for the crime.
The high-profile investigation has attracted national attention. Lunenburg Schools Superintendent Loxi Jo Calmes told The Sentinel And Enterprise that school officials had been in touch with the Anti-Defamation League and the U.S. Department of Justice to form a plan of action to address the crime. Massachusetts Governor Deval Patrick previously called the incident "disgusting."

Meanwhile, Isaac Phillips has been transferred to a middle school in nearby Leominster, Mass., according to multiple outlets.
WATCH: CBS Boston speaks with the Phillips family about the racist vandalism.
(Hat tip, Reddit)