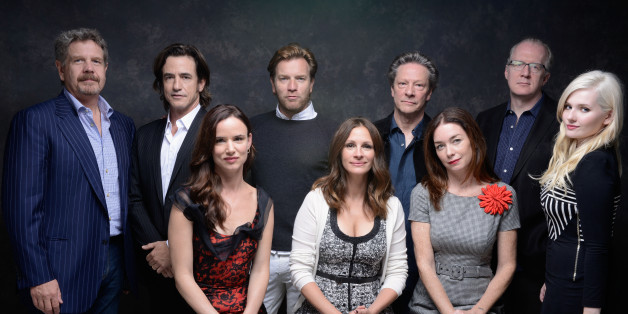 This piece contains some spoilers about the ending of "August: Osage County."
Tracy Letts doesn't understand why everyone was up in arms about the ending of "August: Osage County," the feature adaptation of his Pulitzer Prize-winning drama, after its premiere at the Toronto International Film Festival in September.
"There's been way too much made out of that ending," Letts said of the scene, which extends the finale of his 2008 play by a few moments, showing what happens to Barbara Weston (Julia Roberts), the eldest daughter of Violet Weston (Meryl Streep), immediately following a tumultuous family gathering. "'August: Osage County' ends with the daughters leaving and the mother alone in the house with the housekeeper. That's how it has always ended, that's how it will always end. What you choose to show at the ending, when the credits start, what the music is -- those are the questions we were dealing with. A lot was made out of that."
The uproar, however, wasn't too surprising: Letts' 2008 play, about the Weston family of Pawhuska, Okla., is one of the most acclaimed modern-day dramas from the last two decades, a winner of not just the Pulitzer Prize, but also the Tony Award for Best Play and Drama Desk Award for Outstanding Play. To say its fans are precious about the material would be an understatement.
"I always wanted to see it turned into a film, and I wanted to be the one who worked on it," Letts, 48, who also adapted his played "Bug" and "Killer Joe" for the screen, said when asked about his reason behind doing the film after stage success. "You feel like you can preserve a bit more of the original intention of the thing if you're the guy who is doing it."
HuffPost Entertainment spoke to Letts about adapting his own play, the scenes he added and subtracted from the narrative, and the horse race of Hollywood's awards season.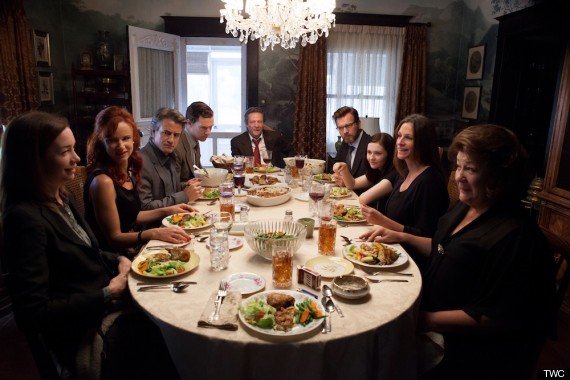 The cast of "August: Osage County."
The film is an almost to-the-letter adaptation of your play, but there are some changes. In the play, we don't see Barbara's reaction to the phone call about her father going missing; in the film, we do.
Something rather unorthodox in the play is that I introduced the protagonist of the piece as late 30 minutes into it. That's unusual. I didn't want to do that in the film, but it was important that we meet the protagonist of the film earlier on, and that we also stick with her later, hence the shot of her driving away at the end. It's not a question, so much, of opening it up. We talked about it more in terms of the story we're telling and who we're tracking. The visual sweep of the thing. I'm always looking for those opportunities where characters are describing something in the play, where we can simply show it in the film.
A key sequence that you lost is when Barbara finds out she's her mother's favorite, in a conversation with Ivy, her sister. Why lose that scene?
Look, there ultimately comes a point where you have to make decisions about stuff that's going to stay and stuff that's going to go. Some of that stuff does seem, when seen on film, repetitive. Right? We don't get as much information in the film about Beverly [the Weston family patriarch] as we do in the play. But, you know, the movie is going live with less information than the play. That was always going to be part of the deal.
The movie adaptation also allowed you to add stuff, too. Like that moment when Barbara chases Violet through a field.
That's one of the things, in the creation of the screenplay, that I'm most proud of, actually. That scene is written purely for the film. One of the characters that we got when we made the film, that we couldn't really get in the play, is Oklahoma. We always had a great representation of the house on the stage, but the world beyond the house could only be imagined or spoken of. In this film, we're able to see it. You're able to see it from the very first image. The thing is called "August: Osage County." I'm from Oklahoma, so that state is evocative to me. That scene incapsulates a lot of the time and place for me, in that the idea that when Julia says to Meryl, "There's no where to go." You can see 50 to 60 miles on any horizon, and yet it can also be very claustrophobic and very limiting if you're from there.
You mentioned how Barbara is the protagonist. Is it difficult to balance a film like this when there are really two leads: Barbara and Violet?
I guess, from purely dramatic standpoint, Barbara is the protagonist and Violet is the antagonist. You're always better served when your antagonist is more fully realized and humanized. You're also always helped when someone like Meryl Streep is playing the role. I don't think too much about it too much in those terms, though, simply because there are 13 characters. I'm trying to get my arms around a lot of different people. Spinning a lot of plates. There is a question of some balance. If you feature any one character too much, it doesn't work. For instance, the prologue in the play is about 15 minutes long. But I can't start a two-hour movie with a 15-minute scene with two characters who are not the leading characters [Beverly and the Weston family housekeeper, Johnna]. You're making some decisions about what you're going to give a little more focus to.
How did you find working with director John Wells?
I didn't really know what to expect going in. I had never met John and I was not that familiar with his work. I knew he was a creative force on "ER" and "The West Wing" -- I had watched both of those shows, but not regularly. I'm not a big TV watcher, but I knew of the work. I knew he was a writer, which I was pleased with. In fact, he approached it very much from a literary standpoint when we first met. John's a real gentleman, and he approached it gently and thoughtfully. He took time at the beginning to get to know me and to find out where the piece came from. To find some more out about me and my history and my family. To find out a lot about how we had originally created the play -- a lot of the creative decisions that went into everything: design, casting. He took a long patient time with that part of the process, before we even got into the general, more theoretical discussions about how to turn it into a film. Then the more hardcore carpentry questions that you get into when you're talking about writing that screenplay.
Was this the best experience you've had in translating a play to film?
I don't know. They're all hard in their own way and they're all satisfying in their own way. The earlier examples, working with Mr. Friedkin, were a very different thing, because they were much smaller in scale in scope. They had smaller casts, they were shorter films, and there was a lot less money spent. There was a lot less of this kind of promotional rollout. All that kind of stuff. As such, there were not so many interests to be served. That smaller scale allows for more personal filmmaking, I think, on some level. "Bug" and "Killer Joe" are both William Friedkin films. "August: Osage County" is a John Wells film. The plays are all Tracy Letts plays. The films are very much products of those guys. They are very different kinds of guys; they operate very differently. Billy, with his age and stature -- Billy is a guy who has final cut and he's the final arbiter and everyone knows when they get on board that it's Billy's way or the highway. That's the way it's going to be. With John, it's a bit different. When you've got people like Meryl, [producers] Harvey Weinstein and George Clooney -- you've got a lot of people who not only have opinions about the work, but whose opinions need to be listened to. They are smart people who know what they're doing and have been down this road before. So, different experiences.
This kind of film comes with the expectation of being an awards contender. Having already won a Pulitzer Prize for it, however, do you feel less pressure about those kinds of trophies?
You know, I don't pay a lot of attention to it. I hope it wins every goddamn award. I hope it wins every fucking thing it can win [laughs], but we don't make this stuff to win awards. There are too many other things you have to worry about before you get to the awards discussion. The Academy Awards, I get it: They've been around a long time, a lot of people watch them, a lot of people see the films. The fever with which people approach the Academy Awards, you know -- it's not going to change, it's not going anywhere, but sometimes it's a damn shame that good movies sort of get a short shrift because people think, "Well, that's not going to do anything in awards season." It's like, who cares? It's still a valuable film. So, you know, I hope "August" wins all that shit. Whether or not it will actually make me feel better or worse, given that I've won other awards, who can say? I don't know. Maybe if I hadn't won those awards I would be staying up all night long worrying about the Academy Awards. But, I don't.
This interview has been edited and condensed.
BEFORE YOU GO
PHOTO GALLERY
"August: Osage County"