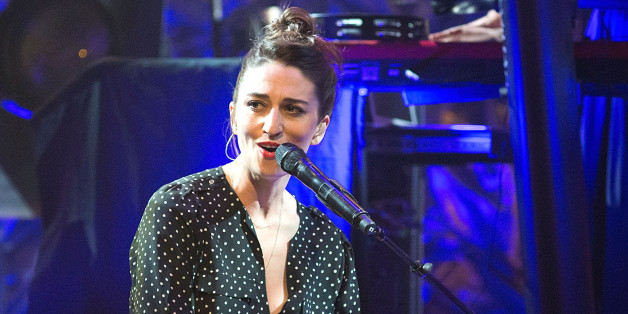 Sara Bareilles became the surprise victor during Friday's announcement of the 2014 Grammy nominations. The singer's "The Blessed Unrest" bested Kanye West's "Yeezus," Lorde's "Pure Heroine," Justin Timberlake's "20/20 Experience," Bruno Mars' "Unorthodox Jukebox" and Vampire Weekend's "Modern Vampires of the City," among others, to land a spot amid the finalists for Album of the Year.
"The Blessed Unrest" debuted in July to favorable reviews but has failed to chart on many critics' year-end rankings, including those from Rolling Stone, Entertainment Weekly and SPIN. While the Grammys don't foster the frenzied prognostications that the Oscars and Emmys do, most who chimed in to forecast the potential nominees did not have Bareilles on their radar.
A glance at last year's Album of the Year contenders amplifies the confusion surrounding Bareilles' inclusion. The five honorees -- The Black Keys, fun., Frank Ocean, Jack White and winner Mumford & Sons -- all appeared on a slew of best-of lists, and each act garnered a bundle of additional Grammy nominations. Bareilles, on the other hand, only nabbed one other accolade this year: a nod for Best Pop Solo Performance, for "Brave." (The song will compete against Katy Perry's "Roar," which was accused of having lifted its melody from "Brave.")
"Brave," to a lesser degree, also feels out of place among its counterparts in Best Pop Solo Performance. The song peaked at No. 26 on the Billboard Hot 100, instead finding a more comfortable spot on the U.S. Adult Contemporary chart, where it reached No. 2. Three of the category's other nominees -- Bruno Mars' "When I Was Your Man," Lorde's "Royals" and Perry's "Roar" -- each ascended to No. 1 on the Hot 100, while the fifth entry -- Justin Timberlake's "Mirrors" -- touched No. 2.
Regardless, fans of Bareilles are surely rejoicing in the chanteuse's windfall. The 34-year-old singer's "Love Song" was previously nominated for Song of the Year and Best Female Pop Vocal Performance, the latter of which also hosted "King of Anything" as a nominee in 2011. This year's honors bring Bareilles' Grammy total to five nominations.
The singer took to Twitter on Friday to express her ebullience.
I never in a billion million years thought I'd be nominated for Album of the Year. I'm litterally shaking. Best birthday ever. Woah.

— Sara Bareilles (@SaraBareilles) December 7, 2013
Bareilles will compete against Daft Punk's "Random Access Memories," Kendrick Lamar's "Good Kid m.A.A.d. City," Macklemore & Ryan Lewis' "The Heist" and Taylor Swift's "Red" for Album of the Year.
What do you think? Is Bareilles' recognition deserved, or did she stampede over worthier honorees? Chime in below, and read about more of this year's Grammy snubs here.
CORRECTION: Bareilles' total Grammy nominations is now five, rather than four.
BEFORE YOU GO
PHOTO GALLERY
Grammy Awards 2013