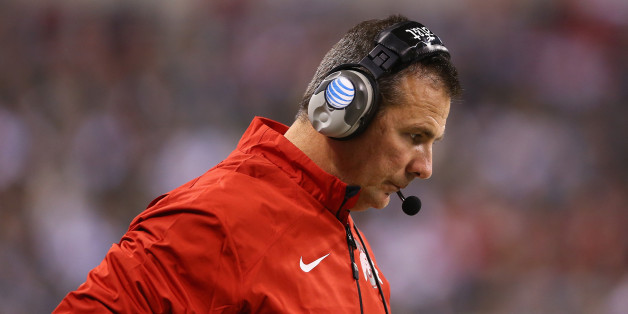 In the aftermath his first loss as Ohio State's head football coach, Urban Meyer ate pizza. The Buckeyes' coach was spotted on a golf cart in the bowels of Lucas Oil Stadium having a slice on Saturday night.
Eating cold pizza in the bowels of Lucas Oil Stadium while seated on a golf cart: No one's idea of fun. pic.twitter.com/HMSSXLnDDr

— Patrick Brennan (@DaPatBrennan) December 8, 2013
Surrounded by family, Urban Meyer eats postgame pizza very quietly in corridor beneath Lucas Oil Stadium. pic.twitter.com/80FtTVegWQ

— George Schroeder (@GeorgeSchroeder) December 8, 2013
The No. 2 Buckeyes were undefeated (for two straight seasons) heading into the Big Ten Championship Game against the No. 10 Spartans. But Michigan State derailed Ohio State's BCS Championship Game hopes.
BEFORE YOU GO
PHOTO GALLERY
PHOTOS: 2013 Big Ten Championship