What do you get when you combine viral online marketing with Hawaii's laid back lifestyle? Apparently, Burt Waikiki.
Burt is a long-haired, speedo-clad, womanizing personal trainer from the Hawaii island of Kauai whose mission is to share his secret to balancing mind, body and soul by flirting with women and lifting weights made of coconuts. Oh, and apparently he saves puppies, which makes sense because why not?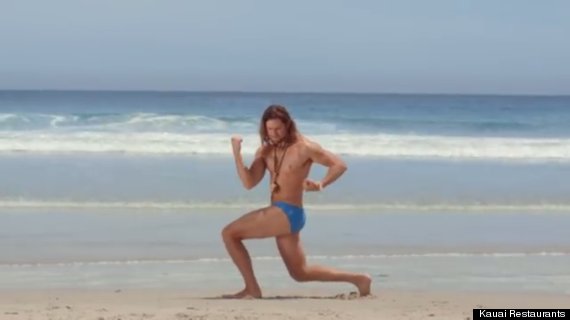 Also known as "The Guru of Goodness," Burt is the star of a new viral marketing campaign launched by digital agency McCann and Kauai restaurants -- a chain of Hawaii-inspired health food restaurants in South Africa.
The campaign's purpose is to introduce the world to the "Kauai lifestyle." This includes "healthy eating, being active and having time to chill," according to Kauai's marketing manager Leanne Jefferies.
"Even though the islands are far away, there is no excuse for us not to live by these principals in South Africa," Jefferies told AdLip.com. "Our brand heritage is fun, informal and laid back. So we wanted to do a fun campaign."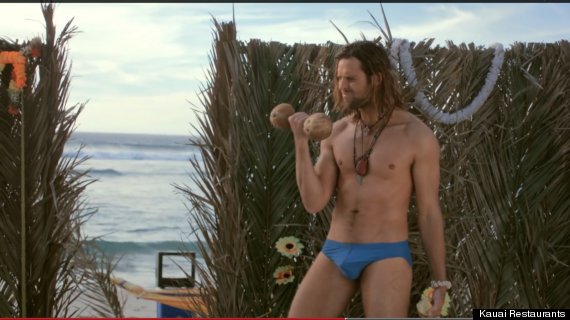 While the campaign's efforts aim at promoting the island lifestyle, it's clear that the videos are mostly for comedy rather than accuracy. Kauai's residents do have a very strong voice when it comes to community health and the Aloha State actually does embrace yoga, but not everyone has a parachute to casually land on the beach or a "palace" on the sand with fake flower leis strewn about.
We're also pretty sure that "scubaerobics" isn't really a thing.
The original concept for Kauai restaurants began 17 years ago when the founders, originally from California, experienced life on the island of Kauai. Or, as they put it, "discovered the succulent fruits of this veritable Garden of Eden."
What still remains unclear, however, is why the laid back, zen-seeking guru, Burt Waikiki, is named after one of Hawaii's busiest and crowded cities, which isn't even on the island of Kauai.
BEFORE YOU GO
PHOTO GALLERY
The Best Nude Beaches For Baring Your Bod