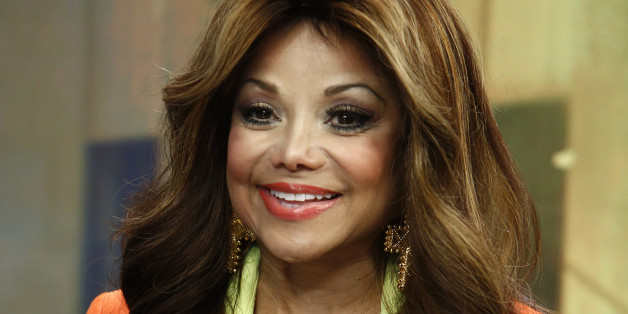 UPDATE: La Toya Jackson and Jeffre Phillips have denied they are married in a statement to "Entertainment Tonight."
"The rumors that La Toya Jackson married her longtime business partner Jeffre Phillips are completely false," they said. "The reporting outlet should be embarrassed for their mistake and at least make an effort to find facts to back up their story before reporting."
Previously...
La Toya Jackson is reportedly a married woman.
RadarOnline.com reported Jackson wed her longtime friend and business partner, Jeffre Phillips, in Los Angeles on Friday (Dec. 6). The 57-year-old's mother, Katherine Jackson, and her nephew, Prince, were reportedly in attendance at the nuptials.
He allegedly popped the question on her Oprah Winfrey Network reality show, "Life with La Toya."
Us Weekly confirmed the story of Jackson's relationship.
"He's been by her side forever and they already live in the same building in LA," a source told the magazine. "He has invested her well in real estate and other business dealings so she is financially in great shape. And he's always with her. They are the very best of friends and Jeffre is part of the family by now."
Phillips is a record executive. He and Jackson met in 1999 while working on "Shriek If You Know What I Screamed Last Friday the Thirteenth." They co-founded Ja-Tail Enterprises, an entertainment management, marketing and publishing company, according to MSN's Wonderwall.
Phillips spoke lovingly about Jackson during an interview with The Daily Beast in April while promoting her show.
"I met everyone in her family before her," he said. "I knew Michael and Jermaine and everyone before I met La Toya and to be honest I thought she was the odd one! Then I met her and saw how smart and talented she was and we just became instant friends. I hope this show lets everyone see that."
Jackson was previously married to her ex-manager, Jack Gordon. The two wed in 1989 and had a seven-year relationship that she has claimed was physically abusive. She recently said she never had sex with him.
The language of this story has been changed to reflect recent updates.
BEFORE YOU GO
PHOTO GALLERY
Celebrity Weddings