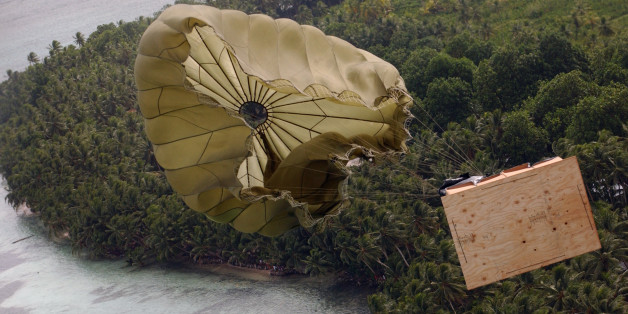 This week, hundreds of pallets of toys and holiday decorations will gently drift like snowflakes over some of the most remote Micronesian islands.
Troops stationed at Anderson Air Force Base in Guam are once again joining forces with volunteers, Yokota Air Base in Japan, and the local community in Guam to conduct Operation Christmas Drop, the Department of Defense's longest running humanitarian airlift mission.
Since 1952, the U.S. military has spread holiday cheer over the Micronesian islands. In addition to toys and decorations, the pallets also contain fishing equipment, tools, food items and other supplies to help Micronesians in their day-to-day lives.
"What strikes me every time I fly in the Pacific is how empty it seems," Capt. Brian Miller, a 2011 Christmas drop pilot, said. "You just see nothing but water and then, occasionally, you come upon an island. If I lived on one of those islands, I would feel pretty isolated."
The mission serves a dual-purpose: in addition to providing supplies to an underserved and typhoon-prone area, the Air Force sees it as a training opportunity to fine-tune and perfect its air drop capabilities. The containers, which are strategically dropped in the water close to shore by C-130 aircraft, weigh roughly 400 pounds each.
"There's lots of jumping up and down and kids running out to try and catch the chute," Lt. Col. Mark Leavitt, a pilot who flew Christmas drop missions in the 1990s, said. "That's why we drop it out in the water off the beach -– because we don't want it to land on anyone."
Master Sgt. Bobby Lynch, President of the Operation Christmas Drop committee, stressed the role the airdrops play in the lives of recipients. "We may take it for granted that we can go to a mall to purchase our daily needs," he said, "but these folks do not have the same privilege from where they live."
"In the spirit of the holiday season," he added, "what we can do is help and share what we have."
BEFORE YOU GO
PHOTO GALLERY
Top 10 weird and wonderful festive traditions