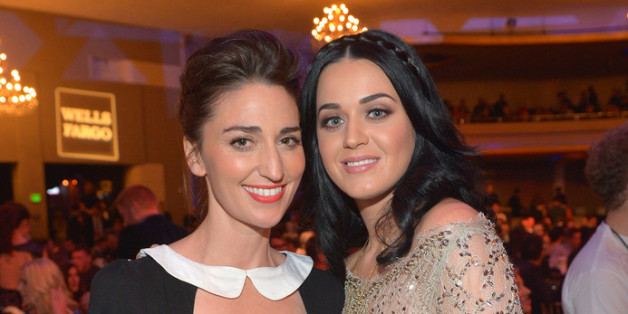 Ears perked up this summer when Katy Perry released "Roar," but not just because the song was a catchy smash hit.
The tune attracted quite a bit of attention for its similarities to Sara Bareilles' hit "Brave," which had been released just a few months earlier. While many fans spoke out against Perry, saying that she had swiped Bareilles' melody, the "Brave" singer made it clear that she harbored no ill feelings: "I've known Katy a long time. We are friends and she and I spoke about it. I look at it as two female artists who are releasing a message of empowerment," Bareilles said.
Now, though, the two songs have something else in common; both were nominated for the Best Pop Solo Performance Grammy Award on Friday night, which is bound to put some of Bareilles' more aggressive fans up in arms. The nominations are a testament to the success that both songs have seen over the past few months; perhaps great minds think alike.
"Roar" was also nominated for Song of the Year, while Bareilles' album, "The Blessed Unrest," picked up an impressive nomination for Album of the Year. Perry expressed her excitement and support for Bareilles' nomination on Twitter.
.@SaraBareilles congrats lady! Who woulda thought hotel cafe would produce 2 little Grammy nomers. 🙌 #albumoftheyear

— Katy Perry (@katyperry) December 7, 2013
Both songs are catchy and inspiring on their own; either one would make a solid choice for the Best Pop Solo Performance award. The two pieces are possibly even more infectious when tied together: Bareilles and Perry have discussed the idea of performing their songs together in a mash-up, but it has not yet come to fruition. Fortunately, many fans have picked up the task themselves. In the spirit of friendship and empowerment, check out one of many fan-produced "Roar"/"Brave" mash-ups.
BEFORE YOU GO
PHOTO GALLERY
Grammy Awards 2013