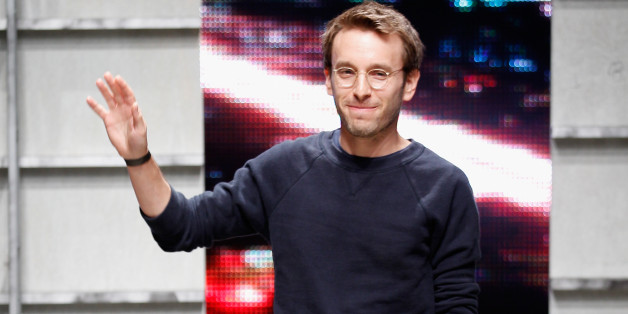 With his laid-back Los Angeles fashion brand and well-documented affinity for cookies, we normally don't think of Scott Sternberg of Band of Outsiders as one to dole out harsh criticism. But in the latest issue of Apartamento magazine, Sternberg issues a biting appraisal of fashion industry norms, lamenting that much of his job as a designer these days is a big old waste of time.
The excessive focus on runway shows and press, Sternberg says, has turned designing collections into a massive headache. This in turn compels designers to rely on extras, like sunglasses and fragrances, to boost their bottom line and avoid the hassle of collections altogether, as Tom Ford has. Sternberg on Ford: "I'm like, 'Oh my god, he's so fucking smart,' because he doesn't have to do all this crap, waste all this fabric, make all these clothes that nobody is ever going to buy that's essentially for a few stylists to shoot and is part of the 'dog and pony show,'" he says.
Here's a sampling of what exactly Sternberg thinks is wrong with the fashion industry:
1. Companies are getting too big."I have 26 employees. I used to do everything myself. It was 10 times easier and more enjoyable. Now I have to socialize with all these people and tell them what I want, which would be much easier to do myself."

2. As a designer, you have to produce way too many collections. "The fashion industry is retarded. It doesn't make sense. There is too much product out there and when you're a wholesale business it's really impossible to resolve. You can't, because if you want to be in a store like Barney's, you can't just deliver twice a year. You can't just have two runway shows."

3. Dealing with buyers and press quickly becomes a "dog and pony show." "There's this layer in fashion in between me and the person buying the clothes, which is the buyers and the press. They're this kind of hilarious community, this council of judges. They love a dog and pony show. They complain about it to no end."

4. Runway shows are pretty much pointless. "With women's, they pretty much spend half the year on the dog and pony show 'cause they're always looking at collections, we're always presenting them ... You're still having to go through this because the stores need to know that you did that show or that thing that the press are watching to have some feeling that there's not so much risk involved with buying all this product from you."
Moral of the story? With the excessive focus on runway shows and endless presentations, the industry has gotten caught up in wasteful, over-staged cycle that makes getting anything done rather difficult and, even worse, feels fake and pointless. And he's not the only insider who's noticing: Fellow designers Dries Van Noten and Vivienne Westwood have made similar assertions, while former Vogue editor Andre Leon Talley once noted, "There are too many collections, too many seasons. How can designers keep up?"
Hey, we can't necessarily disagree with all of what Sternberg has to say -- we've been to Fashion Week, and it's nothing less than a circus. Do you think there are simply too many clothes out there?
A small taste of Fashion Week madness:
PHOTO GALLERY
Fashion Week Street Style
Want more? Be sure to check out HuffPost Style on Twitter, Facebook, Tumblr, Pinterest and Instagram at @HuffPostStyle.