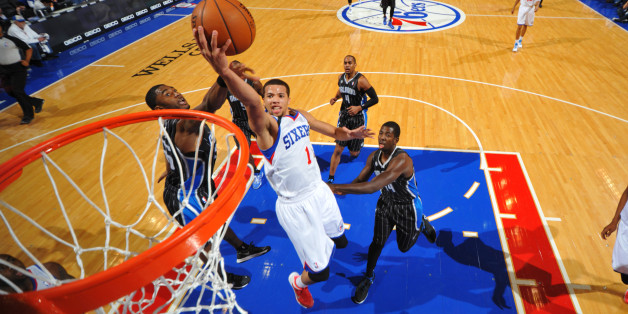 The 2013 NBA Draft class stands as the precursor to one of the most anticipated drafts in league history. While full of productive NBA players, the 2013 group is better known for a dearth of star-caliber players and as the year before Andrew Wiggins. Several rookies have stood out though, some good and some plenty bad (see top overall pick Anthony Bennett), so let's take a look at the current rookie report in terms of who's been the most impressive thus far.
Point Guard
Michael Carter-Williams, Philadelphia
The 6-foot-6 Carter-Williams leads all rookies in scoring and assists (18/7), but just as impressively, he's averaging a stellar 6 rebounds per game. Moreover, he leads the league with over three steals per game, and his aggressiveness attacking the paint has led to a healthy five free-throw attempts. It's very early, but MCW has already established himself as the stat-stuffing lead guard that made Jrue Holliday expendable. His court vision in the open floor and in the pick-and-roll game immediately stands out, just as it did during his two-year tenure at Syracuse. The next step is to hone in on his shooting, because defenders are still able to go under screens and force him to shoot from the perimeter. He is converting under 41 percent from the floor.
Trey Burke, Utah
Burke, the 9th pick in the draft, has had some nice moments since returning from a broken finger. Like MCW, he has struggled with inconsistent shooting, but -- not surprisingly -- he has shot well from distance, at 38 percent. Burke is only 6 feet tall and not an elite athlete, but his vision in college was tremendous. He also doesn't turn the ball over. It's very early, but Burke has injected a winning attitude into the Jazz and already made some clutch shots -- just as he did in college -- and his natural passing ability is a huge plus.
Nate Wolters, Milwaukee
Wolters, whom Washington took and then traded to Milwaukee, has shown that he can become a productive third guard in the NBA. That is ideal and very rare from a second-round pick. He's 6-foot-4 with a terrific stroke -- though he has not shot the ball well -- and he uses his basketball acumen to help compensate for a lack of lateral quickness. Wolters has shown a real interest in facilitating and a willingness to compete defensively, both of which are great signs.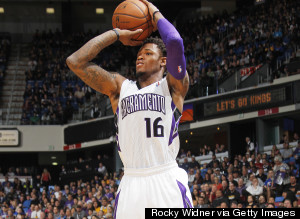 McLemore has shown flashes of becoming a big-time scorer, but has struggled with consistency. (Getty Images)
Wings
Victor Oladipo, Orlando
The learning curve for Oladipo has nothing to do with effort or intensity, but rather it's about refining his offensive skills and overall feel for the game. He is shooting a disappointing 40 percent from the floor, but makes up for it with his defense and intangibles. Even amid his struggles, Oladipo, at his core, is a true stat-stuffer who will find a way to help his team win at all costs.
Ben McLemore, Sacramento
At this stage, McLemore, still just 20 years old, is a rather one-dimensional scorer who takes a ton of jump shots. He rarely gets to the free-throw line, and because of his lack of creativity off the bounce, he doesn't make anyone around him better. In time, McLemore can certainly be a mid-teens scorer, but right now he is nothing more than a volume shooter (37 percent from the floor) who doesn't rebound his position. The talent is clearly there though, and he seems to make a special play every few games that leaves you wanting more.
Tim Hardaway Jr., New York
Picking up right where he left off in college, Hardaway Jr. has been a reliable perimeter scorer who can really shoot the ball (43 percent 3s) and someone willing to play through contact offensively. Hardaway, the 24th pick, has significantly outplayed Kentavious Caldwell-Pope, whom Detroit took 8th overall, and who has not defended or shot especially well. It would be a big plus for Hardaway if he improved his pick-and-roll game, because he possesses a similar skill set as embattled shooting guard, J.R. Smith.
Tony Snell, Chicago
Snell fits the Bulls' mode of tough two-way players with size. Like Jimmy Butler, he can guard multiple positions, plays really hard, and can create a little off the bounce.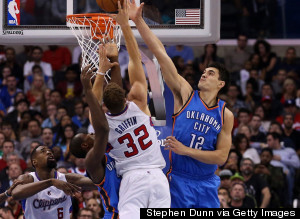 OKC center Steven Adams is averaging a healthy 5 rebounds per game in just 16 minutes. (Getty Images)
Bigs
Steven Adams, OKC
We shouldn't be surprised that Adams, the 7-foot behemoth from Pitt by way of New Zealand, will eventually supplant Kendrick Perkins for Oklahoma City. Adams, still just 20 years old, has a severe lack of post moves, but his sheer size and physicality in the paint have been impressive. He is on the perfect team because the Thunder have two of the best scorers in the game in Kevin Durant and Russell Westbrook, along with another big in Serge Ibaka. In time, Adams will be a solid NBA starter.
Mason Plumlee, Brooklyn
The former Duke standout has been one of the few bright spots for the Nets thus far. Nearly all of his shots come in the paint off stick-backs and passes, but the fact that Plumlee -- who was known as a strong finisher in college -- coverts nearly 70 percent from the floor is a great sign. He is a fluid athlete who embraces contact, with the potential to become a plus defender in this league. Better yet, he is an excellent rim-runner who welcomes his role.
Email me at jordan.schultz@huffingtonpost.com or ask me questions about anything sports-related at @Schultz_Report and follow me on Instagram @Schultz_Report. Also, be sure and catch my NBC Sports Radio show, Kup and Schultz, which airs Sunday mornings from 9-12 ET, right here.