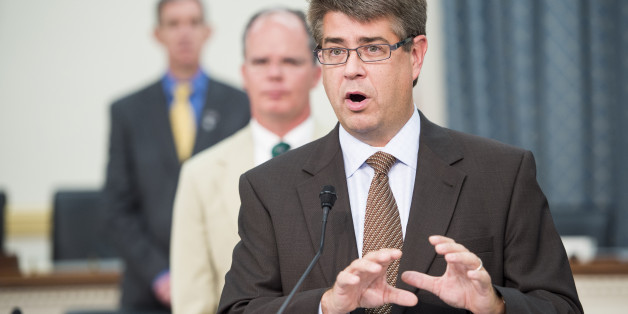 WASHINGTON -- Democrats lost one of their key recruits on Monday, when Omaha City Council President Pete Festersen said he was dropping his bid to challenge Rep. Lee Terry (R-Neb.).
"It is the right time for moderate, practical-minded people to make a difference, but I've determined it's not the right time for me or my young family to run for national office," Festersen told the Omaha World-Herald.
According to the paper, the announcement stunned Democrats both in the state and nationwide, who had pressed Festersen to get into the race. Vice President Joe Biden had even called and urged him to challenge Terry. Festersen, however, was reluctant, due to his busy schedule with his two young children.
Festersen finally jumped into the race on Oct. 13, citing his frustration with the federal government shutdown that ended up lasting Oct. 1-16.
"There's widespread dissatisfaction with Congress and its inability to address our nation's challenges. Change is needed and we need people in Washington who can work together to get things done," Festersen said in a statement announcing his run.
His entrance also came just a week after Terry received significant criticism for refusing to give up his salary during the shutdown and justifying the move by saying he needed the money to pay for his "nice house." He later apologized, saying he was "ashamed" of his comments.
Kurt Bardella, whose public relations firm Endeavor Strategic Communications represents Terry, predicted that Festersen's withdrawal was just the beginning of bad news for Democrats.
"The path forward sold to many Democrat recruits by the [Democratic Congressional Campaign Committee] post-shutdown is now completely unviable in the aftermath of the debacle that has been HealthCare.gov," he said. "There is no question that candidates in many races will be doing new polling and some re-assessing in the weeks ahead -- Pete Festersen will not be the only candidate who has a change of heart."
A national Democratic source who declined to be named in order to speak openly emphasized that Festersen was dropping out for family reasons, not because of larger political reasons.
Democrats picked up two other candidates on Monday, with Ashland City Council member Kelly Westlund announcing a bid against Rep. Sean Duffy (R-Wis.) and Fairfax Supervisor John Foust jumping in against Rep. Frank Wolf (R-Va.).
BEFORE YOU GO
PHOTO GALLERY
Dems' Government Shutdown Stares