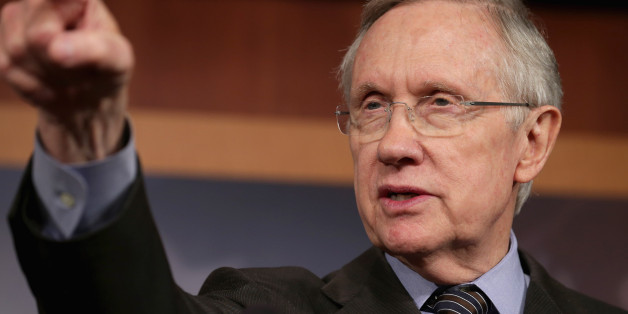 WASHINGTON (AP) — Senate Democrats are demonstrating their new ability to thwart Republican filibusters with a vote that would make judges appointed by Democratic presidents a majority on the nation's second most powerful court.
Republicans, meanwhile, responded to Democratic changes to Senate filibuster traditions by slowing down 76 mostly minor nominations on Monday, though the pile of appointments also included President Barack Obama's picks to run the Federal Reserve and the Homeland Security Department.
The move by Senate Republicans won't stop any of the nominations — Democrats can now approve them by a simple majority. But it showed Republicans would make Democrats pay a price for their decision to change filibuster practices and showed tensions over nominations are still roiling the Senate.
Democrats scheduled a vote for Tuesday morning on the nomination of Washington lawyer Patricia Millett to a seat on the U.S. Court of Appeals for the District of Columbia. Her nomination is viewed as pivotal by both sides. The D.C. Circuit is considered the second most powerful court in the country, after the Supreme Court, because it rules on White House actions and appeals on the legality of federal agency regulations.
The seating of Millett, all but assured, would swing the D.C. Circuit from a four-four split of nominees appointed by Democratic and Republican presidents to a five-four Democratic majority. The Democratic-controlled Senate isn't stopping there. The party's leaders are planning to confirm two more of President Barack Obama's nominees over the next two weeks, giving Democrats a three-seat majority on the court.
Republicans are virtually powerless to slow Millett's nomination because it has now cleared all procedural hurdles.
The run-up to Millett's confirmation vote, the first since Democrats acted two weeks ago to change Senate procedures, offered ample evidence Senate Republicans will respond as combatively as they can to changes to the filibuster.
Democrats used their effective 55-45 majority two weeks ago to upend decades of Senate filibuster traditions and allow simple majority votes on most presidential appointments, excluding Supreme Court nominees. Before the change, the president's party needed 60 votes to prevent opposing senators from blocking a nominee.
Republicans responded furiously as they left for the Senate's Thanksgiving break and continued to rail against the changes on Monday.
As Senate Majority Leader Harry Reid asked for unanimous approval of 76 nominations — including Janet Yellen to lead the Federal Reserve and Jeh Johnson, Obama's choice to run the Homeland Security Department — Sen. Lamar Alexander, R-Tenn. rose to object.
"Who knows what the next power play will be?" Alexander said.
Reid said Alexander's objections were "as flat as a bottle of beer that's been open for six months." He then scheduled votes on several nominations.
Most of the nominees slowed by Alexander's objection were for minor posts, including some federal judges, lower-level ambassadors and government boards.
Reid planned to move ahead with votes on six key Obama nominees before the Senate adjourns next week — Millett and fellow D.C. appeals court nominees Cornelia "Nina" Pillard and Robert Wilkins; Yellen and Johnson; and Rep. Mel Watt, D-N.C., to lead the Federal Housing Finance Agency.
Republicans retain options under Senate rules to slow but not stop presidential appointments by themselves. For appeals court and Cabinet-level appointments they can still make majority Democrats put off a final confirmation vote for up to 30 hours. For lesser posts like Watt's, the maximum is eight hours.
Republicans can also force at least one procedural vote on each nominee before roll calls are taken to end filibusters and for final approval. Each requires only a simple majority for Democrats to prevail.
Of the six nominees, Republicans have been most forceful in their opposition to Watt, who they say lacks the necessary expertise to oversee federally backed home lenders Freddie Mac and Fannie Mae. Democrats say Watt, as a long-standing member of the House Financial Services Committee that oversees housing policy, has the necessary experience. A series of procedural votes leading up to Watt's confirmation vote was expected as soon as Tuesday.
By comparison, Republicans have little criticism of Millett and Obama's other D.C. Circuit nominees. Instead, they've said they oppose adding judges to the court and tilting its balance when its caseload is smaller than other federal appeals courts.
Millett, the first nominee to emerge from the highly partisan filibuster fight, is a veteran Supreme Court lawyer with strong bipartisan credentials. A Harvard Law graduate, she served as an assistant to the Solicitor General under President Bill Clinton, a Democrat, and President George W. Bush, a Republican. She then joined the Supreme Court practice at Akin Gump, one of Washington's biggest law firms. She's argued 32 cases in front of the high court.
____
Follow Henry C. Jackson on Twitter: www.twitter.com/hjacksonap
BEFORE YOU GO
PHOTO GALLERY
Senate Majority Leaders Through The Years