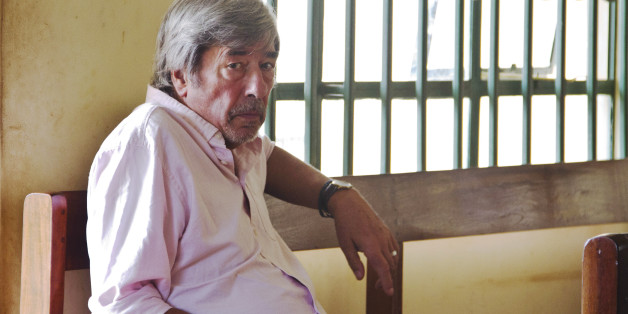 The trial of a retired British man in Uganda has again thrown the spotlight on country's uncompromising stance against homosexuality and the indefatigable work of its homophobe-in-chief, Pastor Solomon Male.
An evangelical preacher on a self-declared crusade to rid his country of gays, Pastor Male is the man behind the case against Bernard Randall, who stands accused of "trafficking obscene publications".
The pastor views homosexuality as evil, argues that gay men suffer rectal damage and lesbians risk losing the uterus, but also claims he can help turn gays straight.
"I fear Pastor Male, I fear his influence," Randall, 65, said in an interview with AFP ahead of his trial, which is set to resume on Monday.
A former computer engineer from Kent in southeast England, Randall came out as a homosexual after his wife died just short of their 40th wedding anniversary. He first travelled to Uganda in 2011, and this year he settled in the Ugandan town of Entebbe on the banks of Lake Victoria.
Soon after, Randall says his home was robbed and his laptop, which contained images of him having sex with another man in Morocco, was stolen. The alleged thieves, Eric Bugembe and Waswa Sentamu, passed the images to Pastor Male, who then in turn gave them to Red Pepper, a tabloid newspaper.
The newspaper then sounded the alarm over Randall, prompting his arrest and trial. He faces two years behind bars if convicted while his Ugandan partner was also arrested and faces the more serious charge of "gross indecency", and could be jailed for up to seven years.
Pastor Male insists the discovery of the incriminating film being used as evidence against Randall was not obtained in an anti-gay stitch-up.
"They were given the video by Bernard Randall, who wanted to lure them into homosexuality," Pastor Male said of the men, denying they were thieves.
Homophobia is widespread in Uganda and gay men and women in the country face frequent harassment and threats of violence. Rights activists have also reported cases of lesbian women being subjected to "corrective" rapes.
For Pastor Male, homosexuality is a lifestyle choice that can be and should be undone.
"It's stupid to claim that homosexuals are born this way," he told AFP. "I have chosen to speak and fight for our generation. It will be stupid for a man of my calibre to just keep quiet and see all this evil that is encroaching this country."
The 51-year-old preacher spends much of his time bringing the anti-gay message to congregations, schools, the media and politicians.
And in a country where American-style evangelical Christianity is on the rise, he has found plenty of support. Homosexuality is already punishable by heavy jail sentences, and the Ugandan parliament has been for years considering a bill that could see repeat homosexuals executed.
When he launched his latest morality campaign in March 2013, Pastor Male chose to hold a meeting at the cemetery where Ugandan gay rights activist David Kato is buried.
In 2011, Kato was bludgeoned to death at his home after a newspaper splashed photos, names and addresses of gays in Uganda on the front page along with a yellow banner reading "Hang Them".
"Homosexuality is dangerous," Pastor Male said, before going on to explain the supposed public health risks. "I have counselled young men who's rectums have protruded, and young women who have lost uteruses because of indulging in lesbianism."
"There are no facilities to treat them since they would have ruptured anus."
"I have counselled so many people who say they are homosexuals and they have since changed their ways of living. I don't hate homosexuals but the acts of homosexuality. I will fight homosexuality, not the people," the pastor said. "I love the people and I encourage them to come forward."
BEFORE YOU GO
PHOTO GALLERY
Gay Pride Around The World