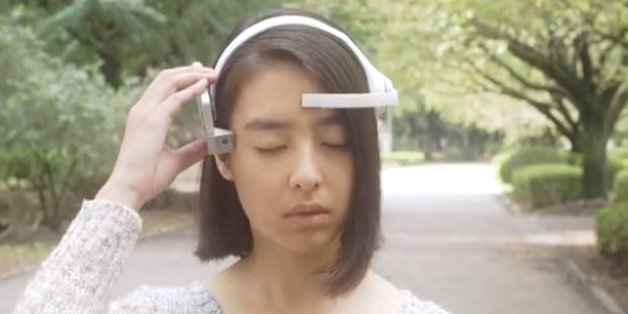 Our most intense experiences often happen unexpectedly, in a flash or a blur of emotions, and then they're gone. But with the latest in lifelogging technology, you could capture your life's most thrilling moments -- and, of course, in shareable, digestible five-second GIFs. It just involves some high-tech headgear.
Enter Neurocam, an emotionally responsive prototype device that uses a wearer's smartphone, mounted to that wearer's head, to record short GIFs during moments of high emotion. But the device is not exactly a rigorous journalistic recording tool: though "detect heightened emotions, start recording" might seem an algorithm that could generate footage of earth-shattering events, the five-second GIF format that Neurocam insists on seems more suited to creating clips of cute cats and game-winning touchdowns.
Still, while the new technology brings fresh possibilities to lifelogging, let's cut into the hype a bit: the sales pitch for Neurocam says the headgear "detects your emotions." What Neurocam actually does is a bit more crude than that. Neurocam's head-borne camera mount contains an electroencephalograph (EEG) reader, a device that measures the tiny electrical signals our brains produce when thinking. Neurocam's EEG reader detects wearer excitement by measuring when those signals spike; a reliable indicator of interest, but hardly digital empathy.
Neurocam's excitement-detecting, GIF-creating headgear is being developed by Neurowear, the Japanese wearable technology company behind last year's popular , similarly emotion-controlled cat ear headband, "Necomimi." Similar to Neurocam, Necomimi uses EEG readings to detect the headband-wearer's focus levels, then twitches the cat ears on the top of the headband appropriately in response.
Neurocam isn't the first time Neurowear's developers have tried to replicate Necomimi's buzz by combining mood measurements and wearable tech. Mico, a pair of headphones that play music based on the wearer's mood , debuted in Austin, Texas, at this summer's South By Southwest technology convention.
Neurowear hasn't announced a release date for the Neurocam yet: the company is considering adding automatic filters and a make-your-own-GIFs "manual mode" before making the product available to consumers.
BEFORE YOU GO
PHOTO GALLERY
Devices Of The Future