Want to pedal your way to work but scared of what you're breathing in? Sick of smog spewing in your face while you cycle? Bangkok-based design firm Lightfog could have the bike for you -- or at least they're planning on building a prototype soon.
Lightfog's idea for an environmentally-friendly "Air Purifier" bike incorporates an air filter into a bike's handlebars, filtering out air pollution and emissions from those messy cars and pushing clean air back to the rider. Additionally, the bike produces oxygen via a process that imitates photosynthesis, powered not by plant life but by a lithium-ion battery embedded in the bike's frame.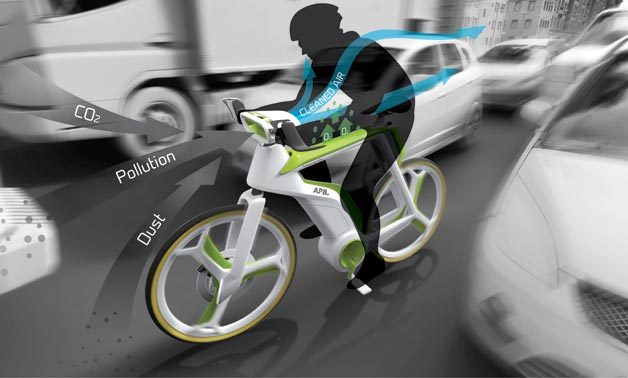 Lightfog
Lightfog Creative Director Silawat Virakul told to Fast Co. Design he wanted to "add more value to a bicycle by adding its ability to reduce the pollution." It's a fair point, given that urban bicyclists can suffer health risks from breathing in automobile emissions.
Common pollutants spewed by cars and trucks not only irritate lungs and eyes, but can also cause heart irregularities, according to one Canadian study published in the journal Environmental Health Perspectives. Ironically, users of some of the most environmentally friendly forms of transportation -- bus riders and bicyclists -- can also be those most likely to breathe in pollutants.
In the post-"Inconvenient Truth" era, "carbon-negative" has become a buzzword, spurring a spate of unlikely inventions: Think carbon-negative gasoline, carbon-negative bricks and even carbon-negative cement. (It reduces air local air pollution by 45 percent!)
Derek Markham of Treehugger suggests that to have a significant effect on emissions pollution, Lightfog's bikes would have to come in fleets. But with city-sponsored bicycling programs rolling out across the U.S, a carbon negative fleet in the future hardly seems impossible.

BEFORE YOU GO
PHOTO GALLERY
The Urban Wishlist