 In just nine months, Pope Francis has redefined what we expect in a religious leader.
Time has named him "Person of the Year" for 2013 for his importance as "a new voice of conscience," according to Managing Editor Nancy Gibbs.
Francis is the third pope to win this honor, after Blessed John XXIII in 1962, and Blessed John Paul II in 1994. Francis will canonize them both on April 27, according to a Vatican announcement. It will be the first time that two popes will become saints at the same time.
Here's a look at some of the defining moments of his pontificate since he took office in March.
1. Unprecedented Outreach A mere two weeks after he was announced as pontiff, Francis washed and kissed the feet of 12 prisoners incarcerated in Rome as part of the traditional Holy Thursday rite. The unorthodox component of the ceremony was the inclusion of two women, one of whom was a Muslim. This show of acceptance and compassion was just a hint at what was to come, as the pope has continued to make statements about the importance of interfaith understanding as well as the importance of a greater role for women in the church. Francis sent personal Eid al-Fitr holiday greetings to Muslims around the world, rather than relying on his office to do so in a show of care and good will that hasn't happened since Pope John Paul II sent a similar personal message in 1991.
2. Rejection of Pomp and Grandeur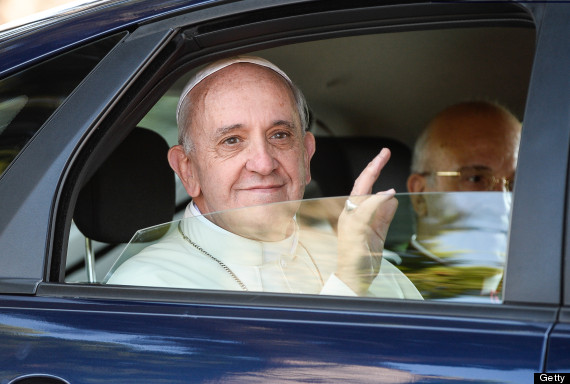 Pope Francis refused to live in the luxurious papal apartments located in the Apostolic Palace and prefers to live in more modest accommodations to show his personal commitment to humility and encourage other leaders to follow suit. He's also gained notice for his unusual choice of a car -- a humble Ford Focus with a starting sticker price of only about $16,000. He can rarely be seen in the ostentatious vestments that he could certainly wear as pope and prefers his usual garments of a simple white hat and robe. He's always done so -- when he still lived in Argentina, he gave up his chauffeur and took the bus to work.
3. World Youth Day and His Appeal to the Young Arriving at World Youth Day, Pope Francis had rock-star appeal, as thousands of young people swarmed his car after it took a wrong turn. Though the mob of excited youth alarmed his security staff with the frenzy of their excitement, "the pope was happy, with his hand out the window waving," said a Vatican spokesman. World Youth Day was a great success, and this pope seems particularly in tune with the younger generation.
4. Welcoming Attitude Towards LGBT People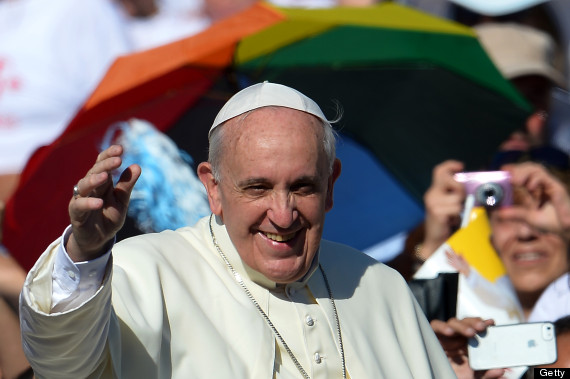 Jaws dropped around the world when the pope said, "Who am I to judge a gay person of goodwill who seeks the Lord?" in response to a question about the Catholic Church's attitude towards gays and lesbians throughout history. He's continued to make statements that amount to a shift in tone for the Vatican, saying in an interview that the church has been too "obsessed" with homosexuality and abortion and should focus more on being a "home for all."
5. A Human Touch And Pastoral Approach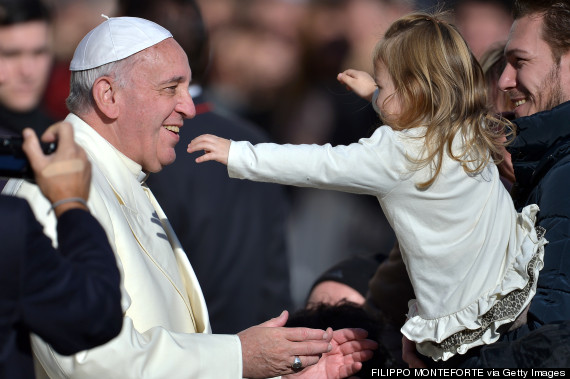 The "people's pope" loves meeting and greeting the multitudes that come to see him, get his blessing, or ask for his help. He is genuinely touched by the troubles of others and has taken to making personal phone calls to reply to some letters, to the shock and delight of the people that receive them. The "cold-call pope" rang up a teenage engineering student, a rape victim, a man whose brother was killed, and a Colombian woman who works in Rome. He likes to call and announce himself simply, saying, "It's the pope."
6. Denouncements Of Economic Inequality And War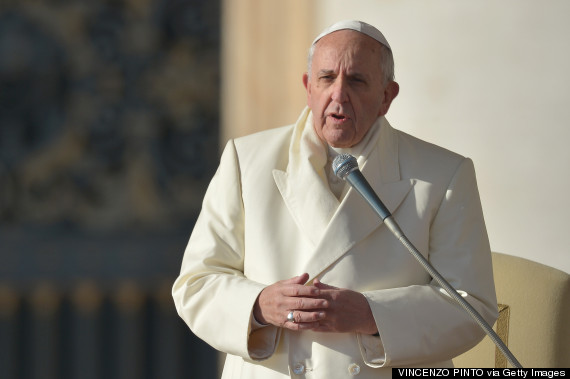 Though the Pope doesn't always chime in on political events, he took a strong stance on the Syria conflict in September as threats of a U.S.-led military strike on the country drew closer. He tweeted almost exclusively about peace in Syria for the first week of September, saying, "War never again! Never again war!" He also said, "With utmost firmness, I condemn the use of chemical weapons. I tell you that those terrible images from recent days are burned into my mind and heart," and "With all my strength, I ask each party in the conflict not to close themselves in solely on their own interests. #prayforpeace." He also led the world in a prayer vigil and day of fasting for peace on September 7th.
Pope Francis has also pulled no punches when it comes to his criticism of a world whose systems produce such stark inequality between the rich and the poor. His apostolic exhortation "Evangelii Gaudium" attacked unfettered capitalism as "a new tyranny" and denounced the "idolatry of money." He called for an examination of the "structural causes on inequality" and demands action "beyond a simple welfare mentality." He recently called hunger "a global scandal" and led a global wave of prayer for hunger on Dececember 10, Human Rights Day. He publicly prayed for the poor not to be forgotten while in the middle of Rome's luxurious commercial district on the first day of the holiday shopping season.
7. Landmark Statement About Atheists Pope Francis appeared to open up the possibility of nonbelievers going to heaven in an interview with Eugenio Scalfari, founder of La Repubblica and a noted atheist. In response to a question about whether "God forgives those who do not believe and do not seek faith," the pope responded, "Given that — and this is the key point — God's mercy has no limits, if you go to him with a sincere and repentant heart, the issue for those who do not believe in God is to obey their conscience."
8. Care For The Poor And Sick Soon after he became pope, Francis tweeted, "The pope must serve all people, especially the poor, the weak, the vulnerable," and he's made sure to personally do so by comforting and greeting the sick after his weekly general audiences in St. Peter's Square. He moved many hearts, as pictures of him tenderly embracing and kissing some severely disfigured men showed his human concern for all people, especially the marginalized.
9. Cracking Down On Corruption And Sex Abuse With New Reforms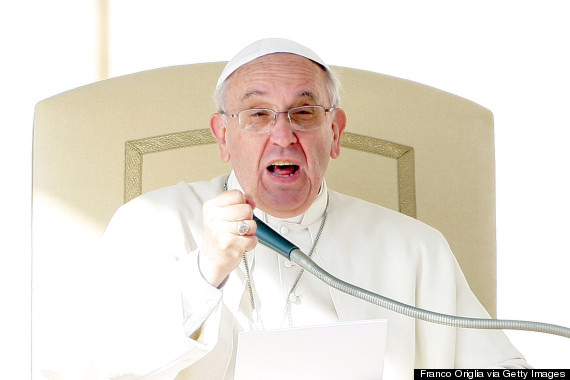 The pope has been extremely proactive in moving forward with reforms. In July, the pope oversaw a legislative overhaul of laws involving data leaking and sex abuse. October saw the release of the first-ever Vatican bank report in an effort to increase financial transparency. Francis formed a commission of inquiry to look into the bank, known as the Institute for Religious Works, and its activities. In November, the Vatican hired international accounting firm Ernst and Young to investigate the corruption allegations in the Governatorato that came up during last year's "Vatileaks" scandal. The Pope ordered the expulsion of a German "Bishop of Bling" who raised eyebrows with his plans for his $43 million residence, a public demonstration of his low tolerance for corruption.
Other reforms included the December creation of a commission to address the problem of priest sex abuse. The archbishop of Boston told reporters that the commission would "study current programs to protect children, better screen priests, train church personnel and suggest new initiatives."
Sexual abuse victims' advocates say Francis still has a long way to go. When Time magazine named him Person of the Year, SNAP, a sexual abuse victims' organization, called on Francis to do more. "He has even ignored Kansas City Bishop Robert Finn, who remains in power despite having been criminally convicted of refusing to give evidence of heinous child sex crimes to law enforcement," the group's leaders said in a statement, citing one of its many critiques of the Francis.
10. Global Popularity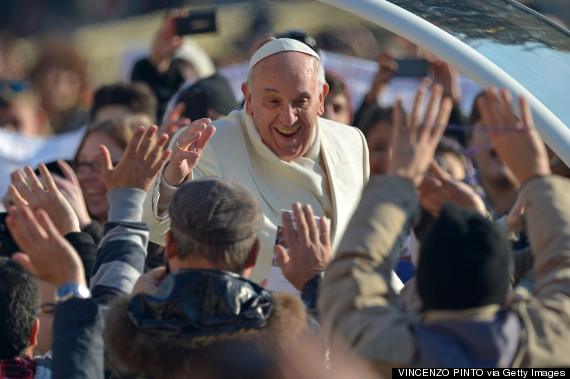 Pope Francis has captured the hearts of the world in an unprecedented and surprising way with his genuine acts of kindness, loving statements, accepting attitude, and commitment to reform. People have been expressing their appreciation for this pope in spades, regardless of their religious beliefs or lack thereof. He was named Twitter's most influential person earlier this year, and he was the top most-talked about topic on Facebook .
BEFORE YOU GO
PHOTO GALLERY
77 Pope Francis Quotes For 77th Birthday