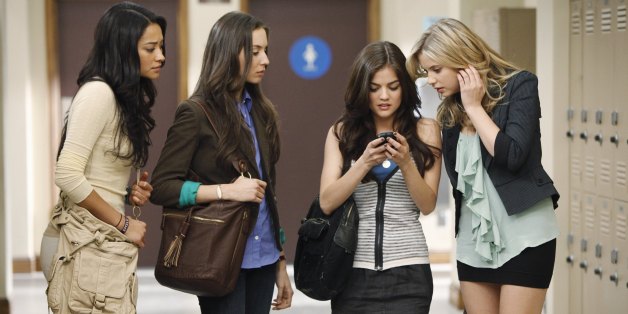 For all of the teenagers (and, er, adults) out there coveting Aria Montgomery's perfect wardrobe, Aeropostale has heard your pleas. The retailer is introducing The Pretty Little Liars Collection by Aéropostale, debuting in stores and online on January 5 -- just in time, notes Entertainment Weekly, for the "Pretty Little Liars" season premiere on January 7.
Why the TV-fashion collab? It's no secret that Aéropostale could use to up its cred amongst teens. According to a report from Buzzfeed, the retailer saw a 15 percent drop in sales over the past three months as teenage shoppers move away from logos (a shift that has also hurt Abercrombie & Fitch).
Teaming up with hugely popular "Pretty Little Liars" could do the trick. Not only do millions tune into the show (Aéropostale actually posted on Facebook this summer, "We ❤ Pretty Little Liars...Who is tuning into tonight's premier?" and over 4,000 fans liked it), but fans are also obsessed with the characters' fashion.
Kudos to Aéropostale for realizing the easiest thing is to give teen girls exactly what they want:
The Pretty Little Liars' outfits are amazing! They should seriously release a PLL clothing line, so we would all be able to be that cool!

— Ashley Benson Fan (@ashleyb_love) December 27, 2012
There needs to be a Pretty Little Liars clothing line..... #obsessedwithariasclothes

— alex arnaud (@alexxarnaud) January 30, 2013
How come somebody hasn't made a Pretty Little Liars clothing line?

— Hana (@HelloIAmHana) July 31, 2013
Pretty sure my life would be complete if pretty little liars made a clothing line. #PLL

— R H I A N N O N (@Rhi_dgf) June 19, 2013
The Pretty Little Liars cast should make a clothing line

— colleensmith (@coweensmith) March 6, 2013
I want the girls on pretty little liars to come out with their own clothing line #socute

— Hailey Pender (@haileypender) January 31, 2013
Best-dressed cast on TV?
PHOTO GALLERY
Pretty Little Liars
Want more? Be sure to check out HuffPost Style on Twitter, Facebook, Tumblr, Pinterest and Instagram at @HuffPostStyle.