Really, "Today?"
The morning show apologized on Wednesday after a joke about sign language that its own hosts vocally objected to.
Natalie Morales, Willie Geist and Al Roker were discussing the bizarre story about the man posing as a sign-language interpreter during Nelson Mandela's memorial service.
While they talked, a video popped up on screen of a "Today" producer making meaningless signs.
The co-hosts immediately tried to signal the show's producers to get rid of the video as soon as it appeared, but it remained on-screen for several seconds.
"No, no, no, no" the co-hosts began repeating.
"That is horrific," Morales said.
Al Roker's reaction said it all: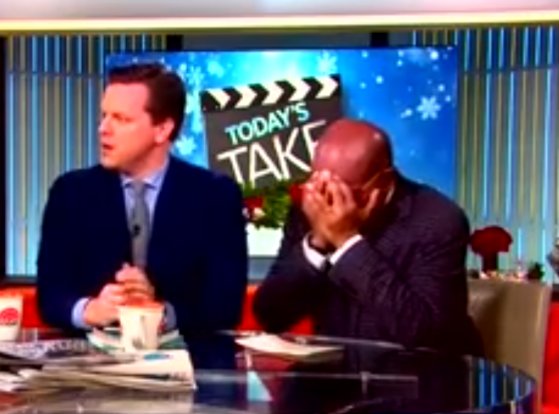 Viewers quickly pointed out the network's lapse in judgement:
Isn't it little too early to be making fun of deaf people, @TODAYshow?

— E. Schuman (@theericschuman) December 11, 2013
#BreakingNews 'Today' offends deaf people http://t.co/cw1N4OmYCD

— Timothy Snow (@SnowinRI) December 11, 2013
I'd fire everyone of them. Lauer et all need to go.
'Today' show sign-language joke offends deaf community http://t.co/Ux79DPAXxn

— Miss Liberty (@TheUSARocks) December 11, 2013
@TODAYshow That was uncalled for! Your producer or camera man didn't need to add insult to injury. Being hearing impaired or deaf is no joke

— Angela Marie (@angela_fayard) December 11, 2013
Today Show in hot water for making a joke about fake sign language guy. No idea how they thought they could do that http://t.co/iXNGJcWLSm

— Justin MacGregor (@thejustinmac) December 11, 2013
A spokesperson for "Today" later tweeted this apology:
We aired a joke in our 9:00 hour that was offensive. We apologize to our viewers.

— TODAY (@TODAYshow) December 11, 2013
Watch the video for the full clip.
BEFORE YOU GO
PHOTO GALLERY
'Today' Hosts Through The Years