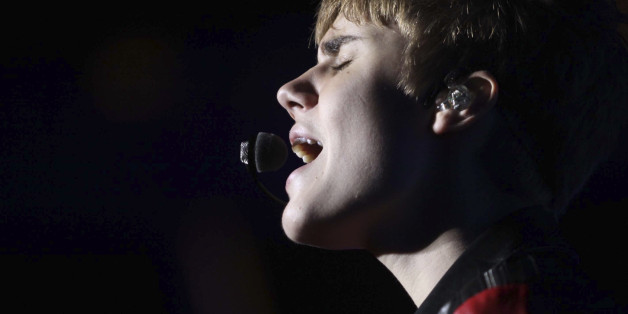 Justin Bieber may soon be wanted internationally.
An Argentine photographer's lawyers are requesting that Interpol capture the Canadian pop star over assault allegations against Bieber's security detail, Mexican daily El Universal reports.
The house photographer for the nightclub Ink was trying to take pictures of Bieber as he left and entered his car. FarandulaShow.com uploaded a video to YouTube of what appears to be Bieber's guards roughing up the photographer, chasing him across the street, knocking him to the ground and kicking him.
The photographer's name was not identified in news reports.
The lawyers accuse Bieber and his security detail of robbery and assault, among other allegations. If the Interpol request is accepted, Bieber could be arrested while traveling abroad.
Bieber had a rough tour in Latin America. He left two shows early -- one in Brazil, after getting hit with a bottle, and the other in Argentina, where he complained of food poisoning.
The trip was also marked by a series of minor scandals. He was criticized for illegally spray-painting a wall in Colombia, while enjoying the protection of the country's police. Meanwhile, a Bogotá policeman faces trial for killing graffiti artist Diego Felipe Becerra in 2011.
In Brazil, Bieber spent three hours in a brothel, but denied paying for sex.
Bieber also angered fans in Argentina when he kicked an Argentine flag and swept it off stage with his microphone stand after a fan had thrown it to him. He apologized for the incident, saying he thought it was just a shirt.
BEFORE YOU GO
PHOTO GALLERY
27 Reasons Why U.S. Shouldn't Lead War On Drugs