Moments like this can only be captured once.
Although 2013 was full of powerful photographed moments that will soon be rounded up by various publications (including this one), this is a collection of once-in-a-lifetime pictures that are slivers of moments that truly might never happen again. Whether it be an unexpected smile, a far too close explosion, or even a recurring moment that has never been captured at such a perfect angle, these photographs were all shot at just the right moment and may never be replicated. Some of them perfectly encapsulate this tumultuous year and simply show us a moment we're likely to never get to see again.
WARNING: Some of the photos below are graphic.
1. The first ever underground game of cricket.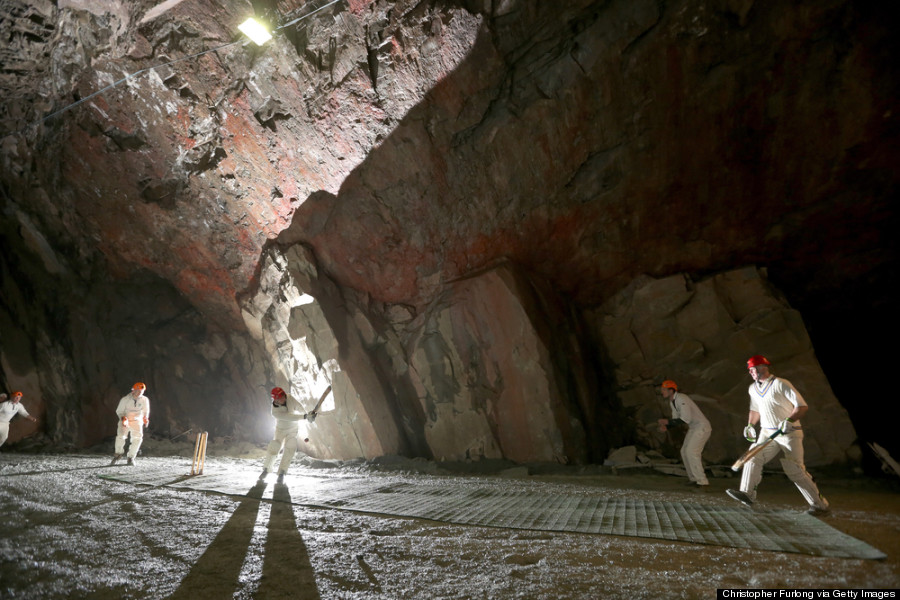 December 5th: The world's first underground cricket match takes place 2,000 feet inside the Honister Slate Mine in Keswick, England. Teams from the villages of Threlkeld and Caldbeck played this match to raise money to repair flood damage of the Threlkeld Cricket Club's field. Caldbeck won the match.
2. Seeing Syrian rebels through the TV.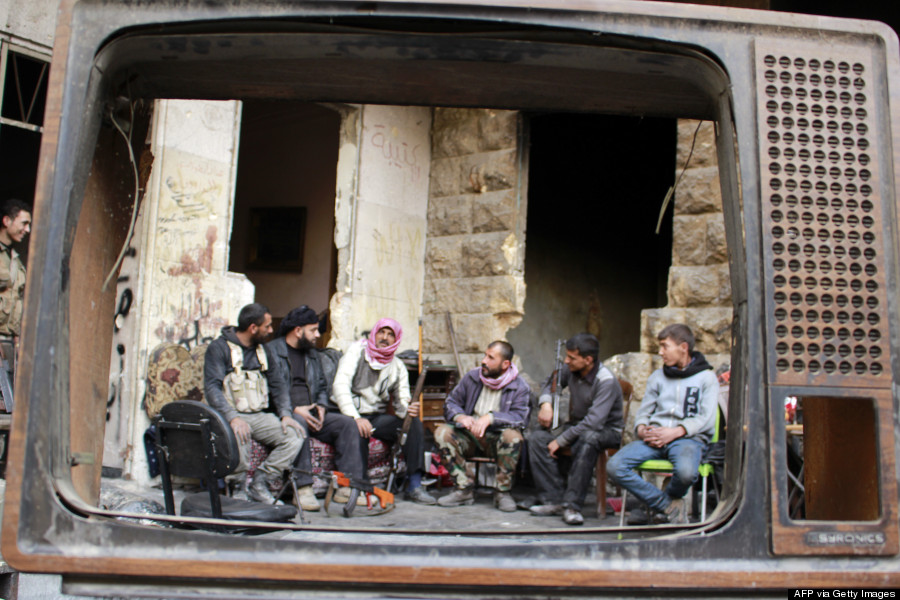 November 6th: Taken through the frame of a broken television, rebel fighters convene before a battle with pro-regime soldiers in Aleppo, Syria. More than 126,000 people have died in the conflict in Syria since March 2011.
3. Surfing on a captured whale shark.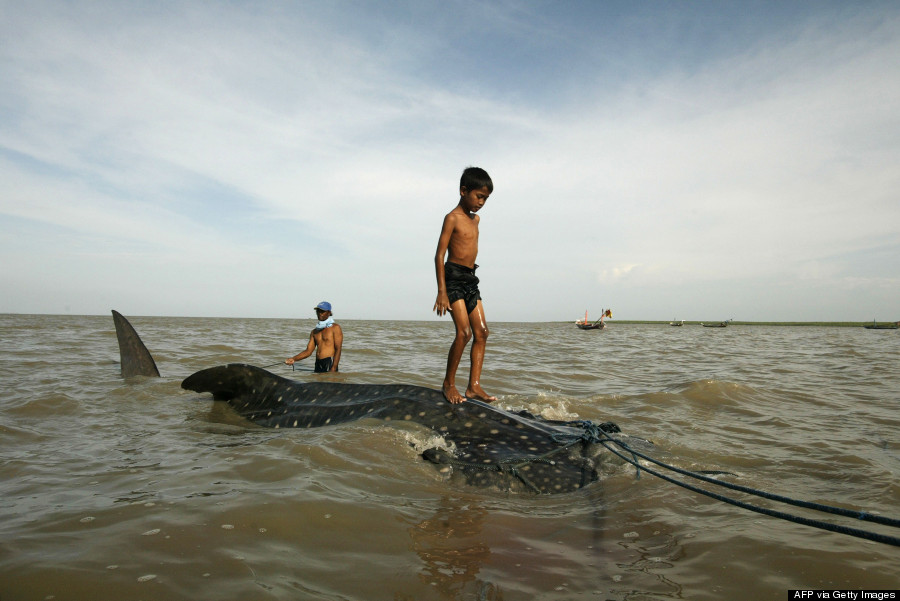 October 22nd: A whale shark is towed into shore off the coast of Surabaya in eastern Java island after being caught in a fishing net. The young boy has learned to balance on the dead whale shark, which is not endangered but listed as "vulnerable."
4. Giving a huge middle finger to government.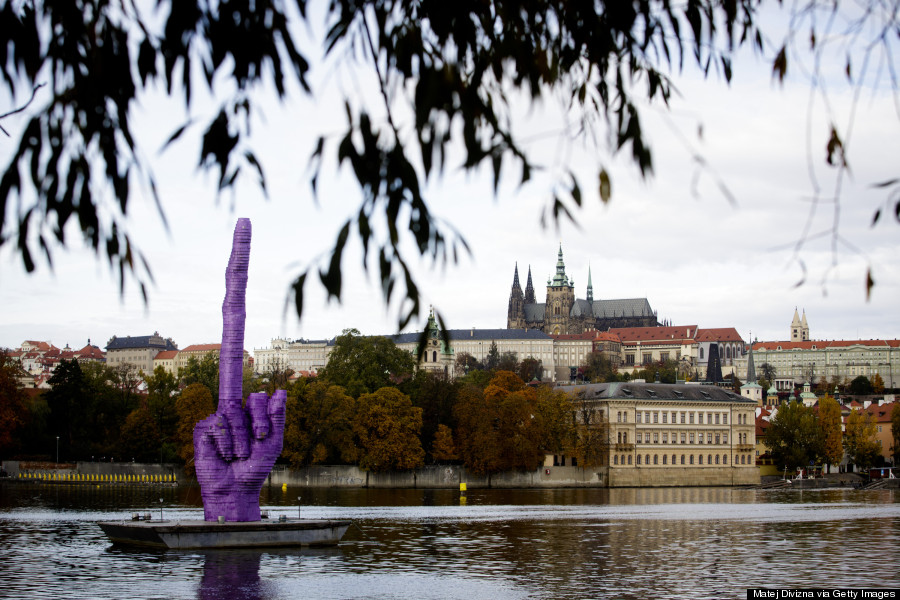 October 21st: A large purple middle finger created by Czech artist David Cerny floats down the River Vltava. It points at Prague Castle, where Czech President Milos Zeman works.
5. Tiredfighters.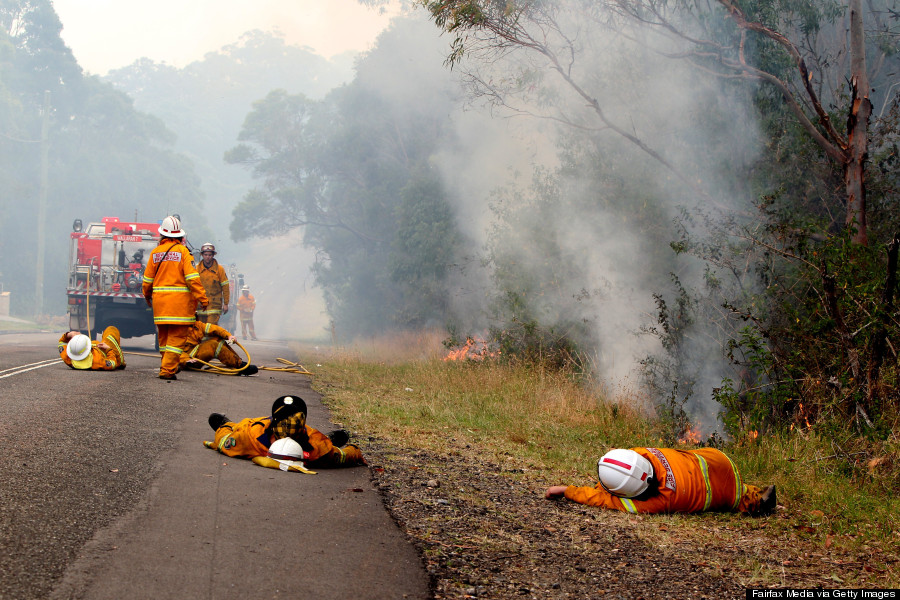 October 18th: Exhausted from battling raging bush-fires in Nords Wharf, Australia, these firefighters take a rest right on the street, still in full equipment. Deaths and property destruction occurred in this New South Wales fire.
6. A shot of tear gas.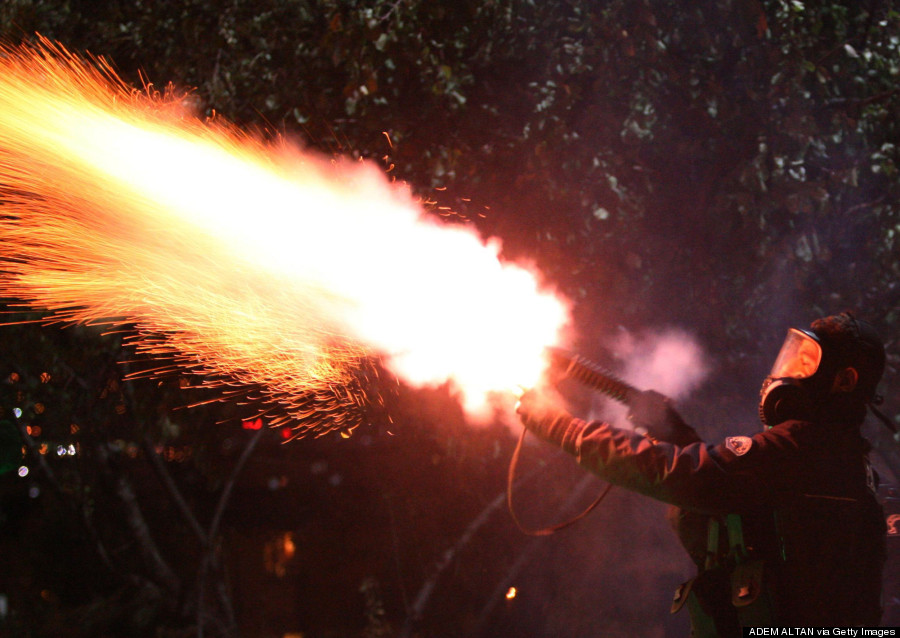 October 18th: Turkish police fire tear gas to disperse students protesting reconstruction plans for an area on campus.
7. The end of a camel.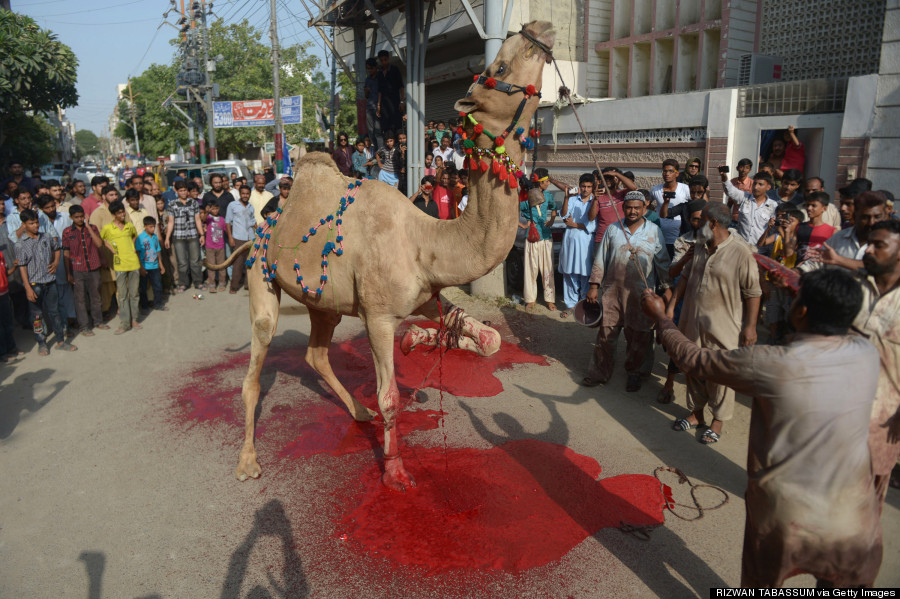 October 17th: Butchers in Pakistan publicly slaughter a camel to celebrate the second day of the Eid al-Adha festival. The Muslim "Festival of Sacrifice" marks the end of the Hajj pilgrimage commemorates the Prophet Abraham's willingness to sacrifice his son.
8. Pope Francis the rock star.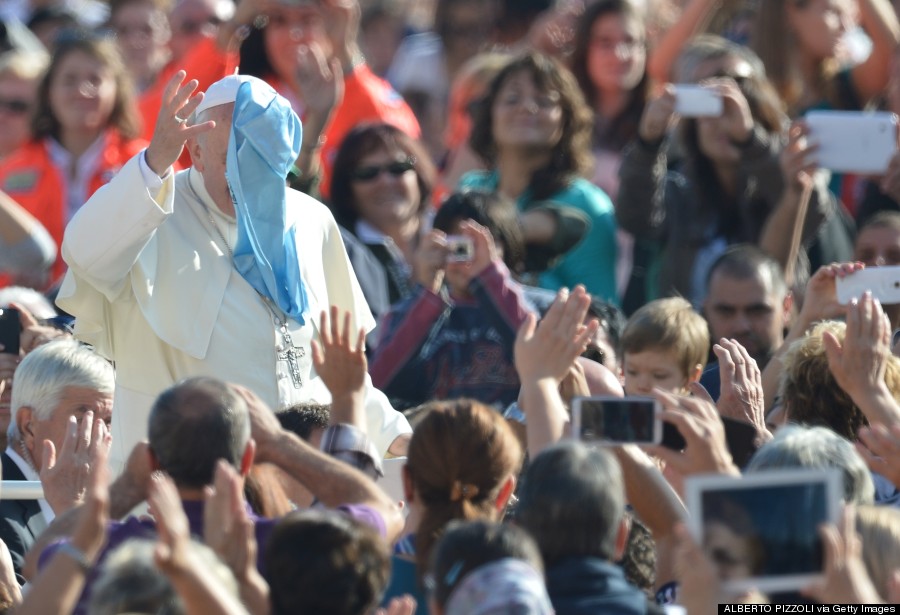 October 16th: A pilgrim in St. Peter's Square throws a scarf to Pope Francis as a gift. Unfortunately, Pope Francis didn't see the scarf coming towards him and it landed on his face.
9. The muddy jockey.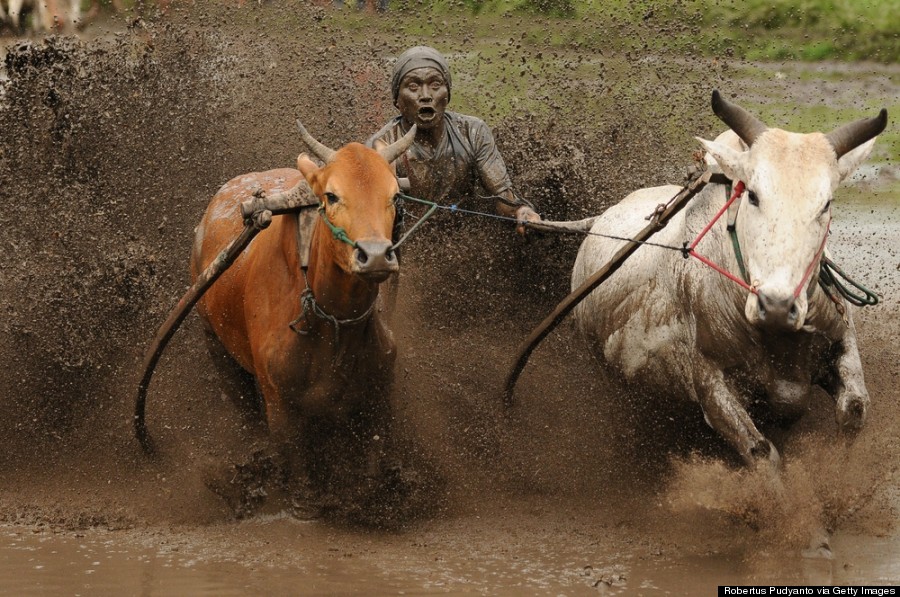 October 12th: Pacu Jawi is traditional bull racing which is held annually in Batusangkar, Indonesia. Jockeys just hold on to the tails of their bulls and skate on the mud atop a wooden plank. The bulls are then auctioned off after the race.
10. A vegetarian's sacrifice for his town.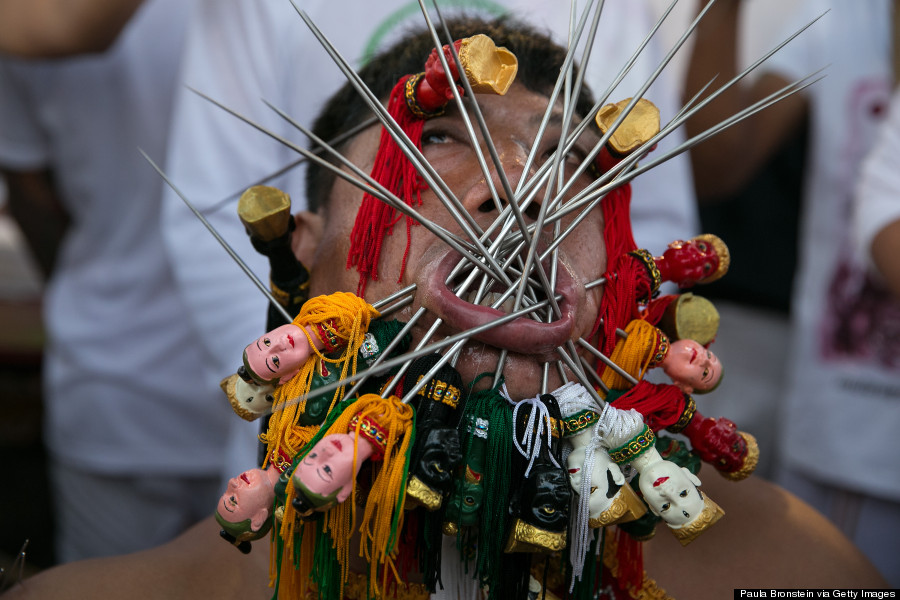 October 10th: Phuket, Thailand hosts a Vegetarian Festival where practitioners pierce themselves to ward evil spirits out of the community and into themselves. This sort of vegetarianism traces back to the early 1800s in Thailand.
11. Only sandals remain.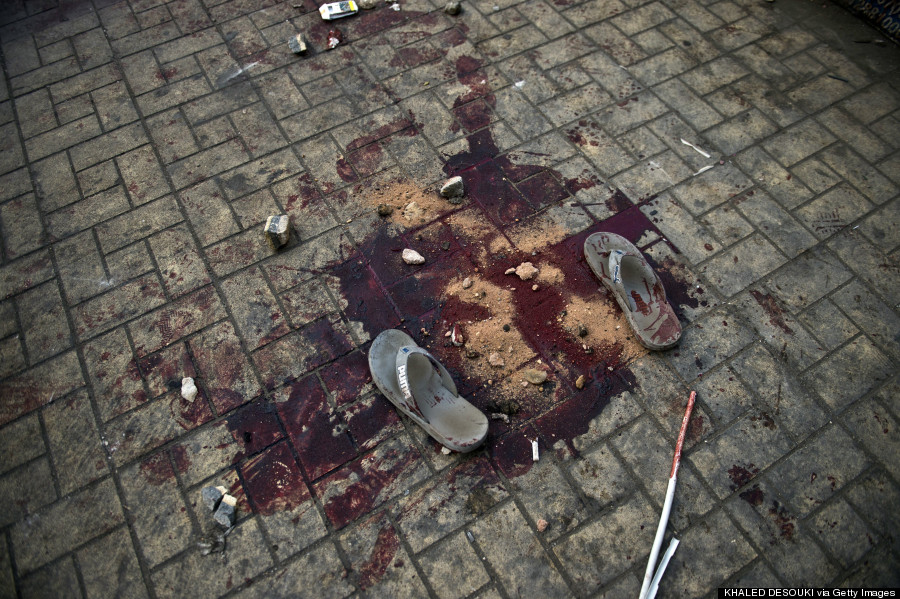 October 6th: Blood marks the street following clashes between Egyptian riot police and supporters of ousted Islamist President Mohammed Morsi. The president's backers were trying to reach an anti-Morsi demonstration at Cairo's Tahrir Square.
12. Out-running an explosion.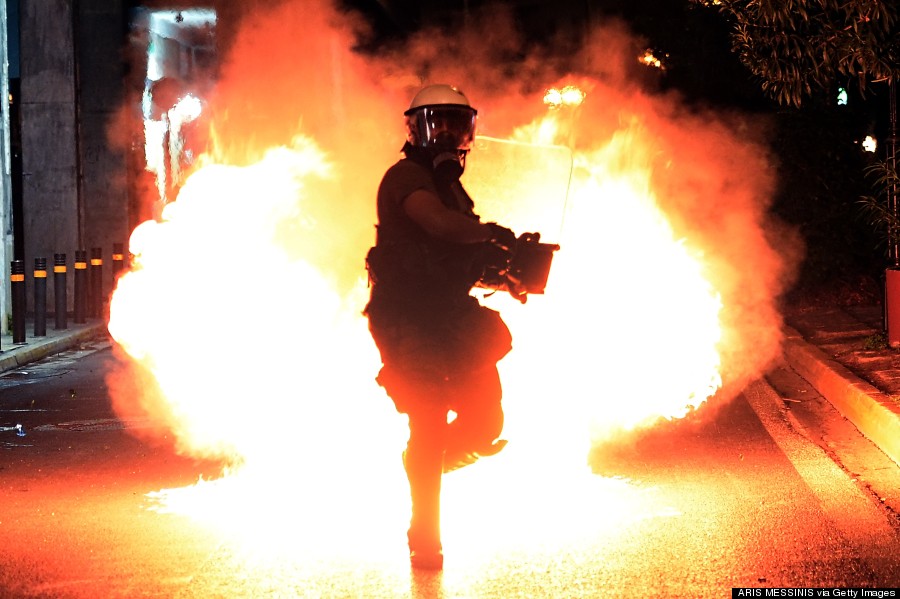 September 25th: A Greek policeman runs away from the explosion of a molotov cocktail, thrown by a protestor in Athens. The protests broke out after the murder of a reportedly anti-fascist musician by a self-professed neo-Nazi. The fights took place not too far from the neo-Nazi headquarters of Golden Dawn.
13. The night before 9/11.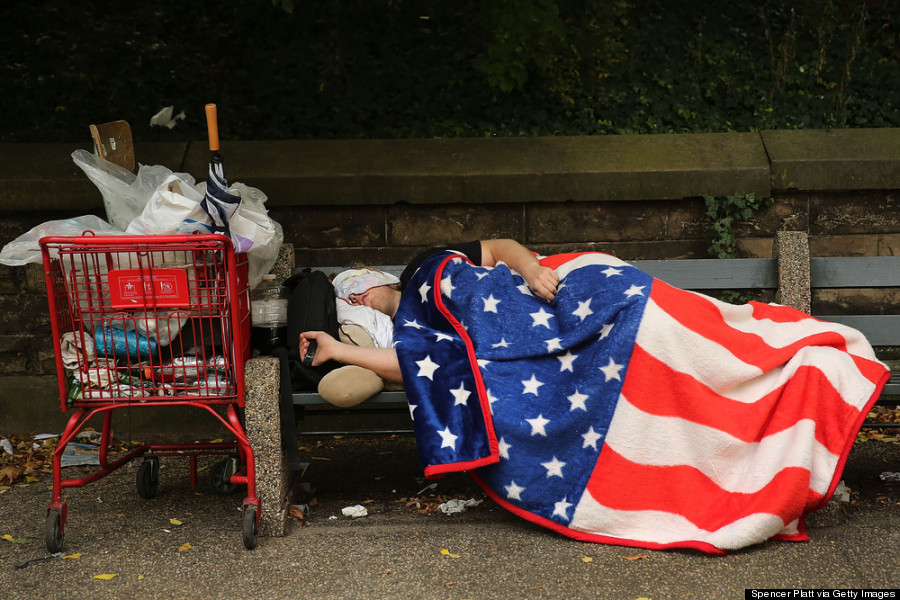 September 10th: A day before the anniversary of the September 11th attacks in New York City, a homeless man sleeps underneath an American flag blanket. 2013 marked an all time record of homelessness in New York City.

14. Kissing in a tomato storm.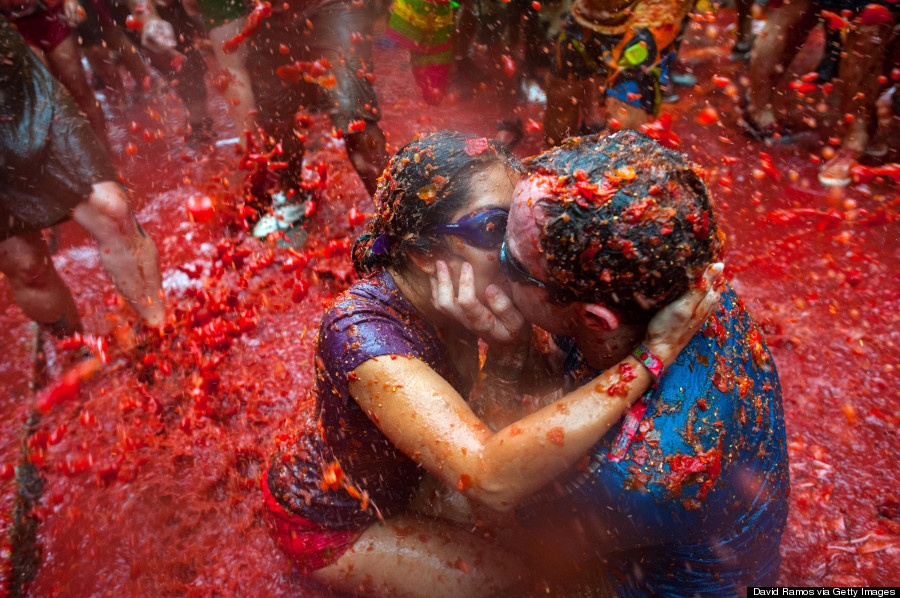 August 28th: Around 130 tons of ripe tomatoes were thrown by 20,000 participants in the Tomatina festival that takes place in Bunol, Spain. A couple is seen here kissing amidst the tomato madness.
15. Pretty muddy in pink.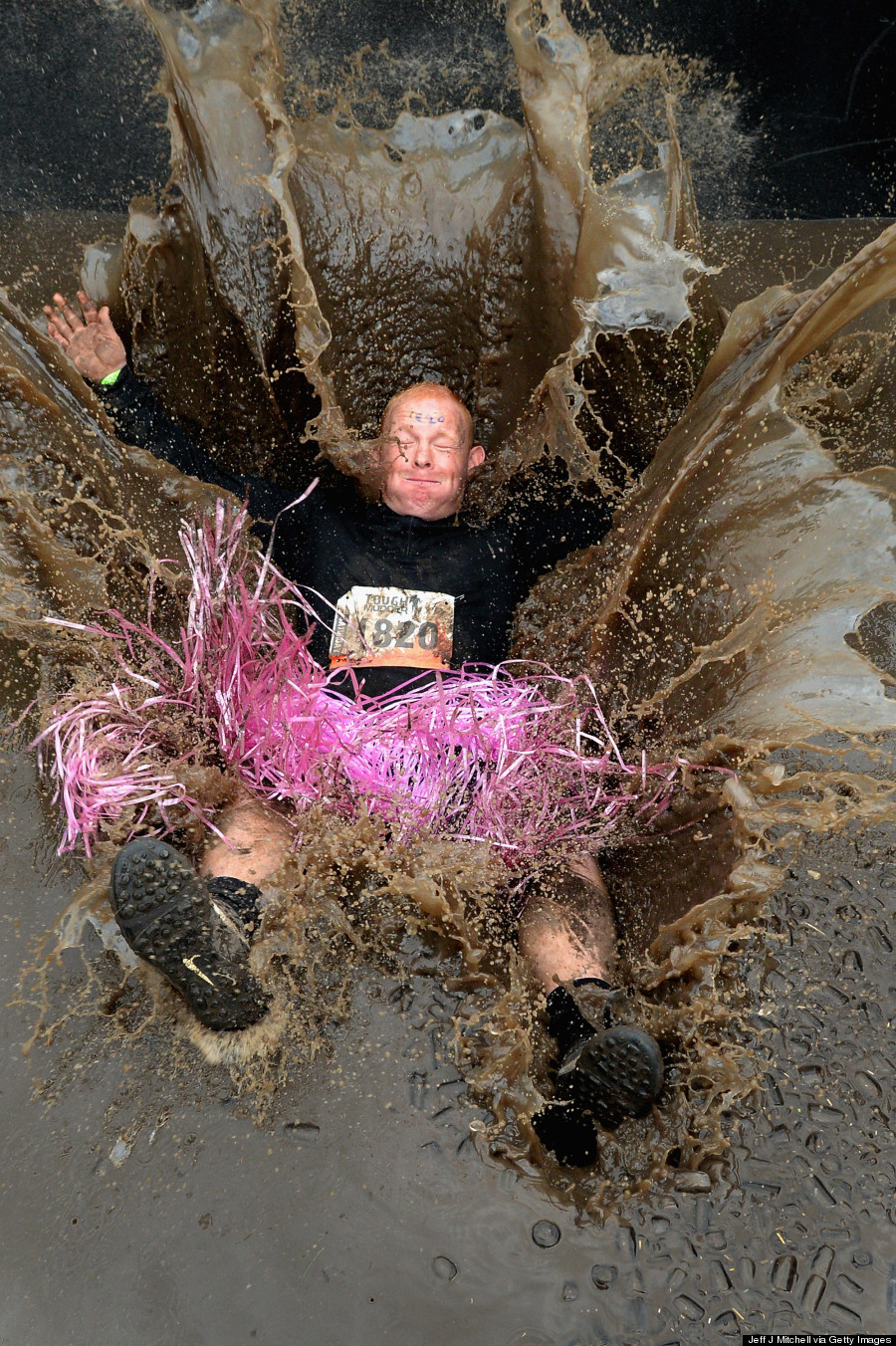 August 24th: A man falls into the mud during a Tough Mudder competition in Edinburgh, Scotland. The competition is a race over many miles that involves military-style obstacles and quite a bit of mud.
16. The moment before being jumped by protestors.
Mid-August: Animal New York photo-journalist Aymann Ismail shoots a photo moments before being jumped by Muslim Brotherhood protestors in Egypt. The protestors ended up taking his camera and forcing him to march with them for miles after tense and potentially violent moments where the mob seemed to be turning on him. Eventually he ended up getting the camera back, after a cousin who was part of the organization talked to the protestors on the phone.
17. Toy guns, real violence.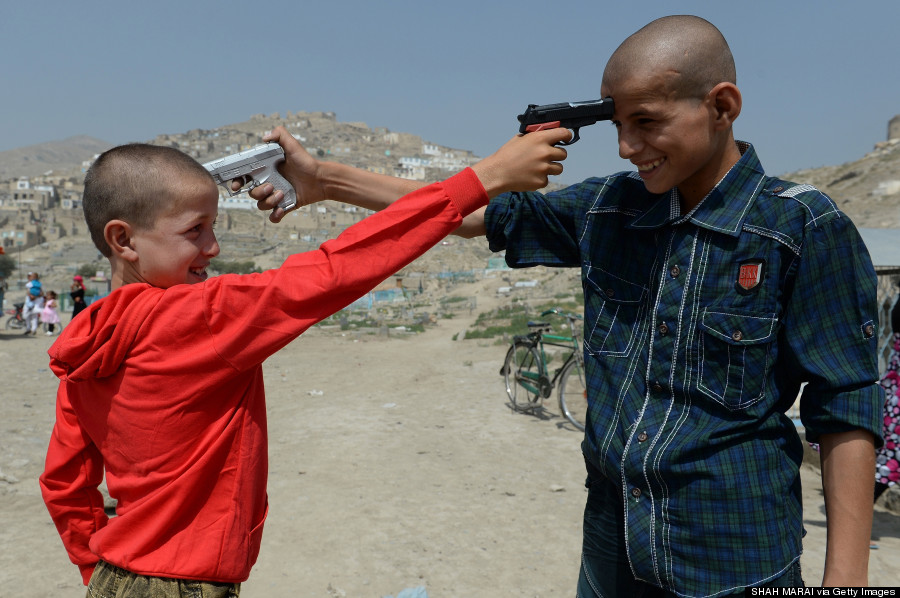 August 8th: Two young children in Afghanistan point toy guns at each other's heads. Afghani civilian casualties rose 23 percent in the first half of 2013.
18. Hanging on to all that's left.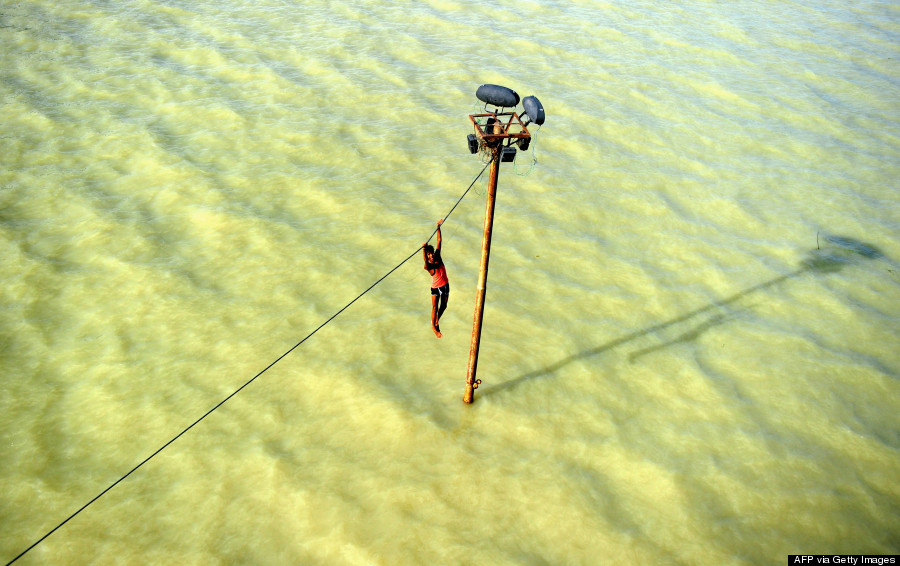 August 6th: An Indian youth clings to a power line for survival over an overflowing Ganges river in Allahabad. The child ended up diving into the river that had caused thousands of deaths throughout the monsoon.
19. Celebrating victory over authority.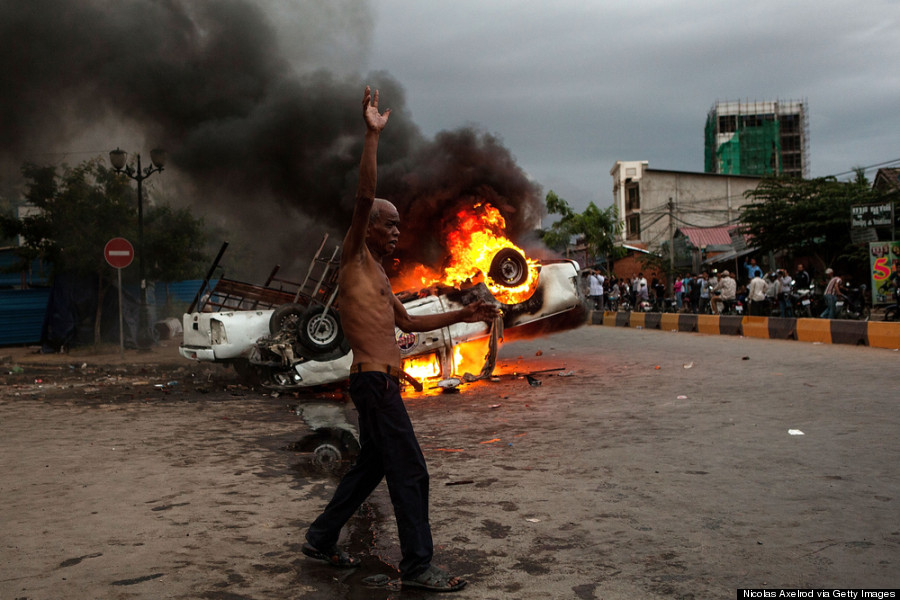 July 28th: A Cambodian man celebrates the destruction of multiple police cars after protests erupted during voting sessions. Cambodian voters had detained a National Election Committee employee who had tried to discriminate against some voters, and the police set off a violent protest when they tried to perform a rescue.
20. A beluga whale kisses a Backstreet Boy.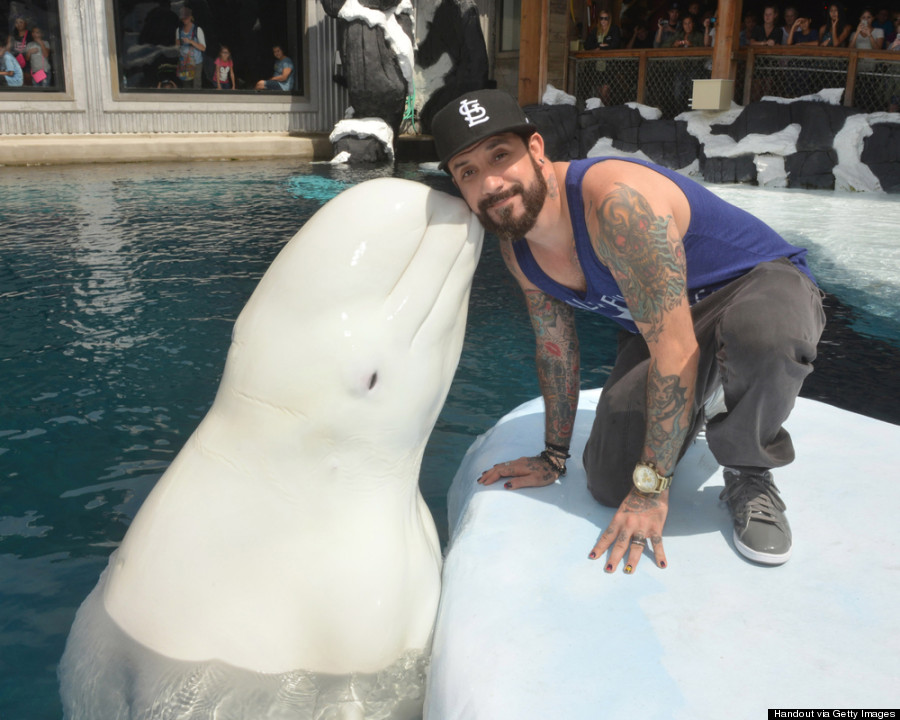 July 12th: Backstreet Boy A.J. McLean is kissed by a beluga whale at the SeaWorld San Diego. Getting kissed by a whale proved that A.J. McLean is still "larger than life" after all these years.
21. The Spider-Man window cleaner.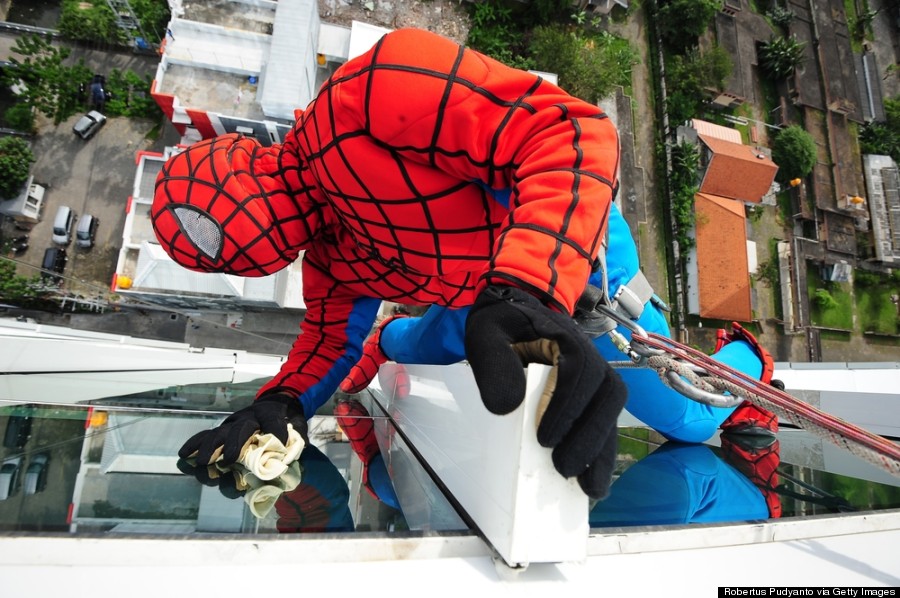 July 12th: A 37-year-old Indonesian man is known as the "Spider-Man window cleaner" and is seen here wiping the windows of the 18-story Alana Hotel in Surabaya, Indonesia. He can earn hundreds of dollars for his work, depending on the difficulty.
22. The face of fear.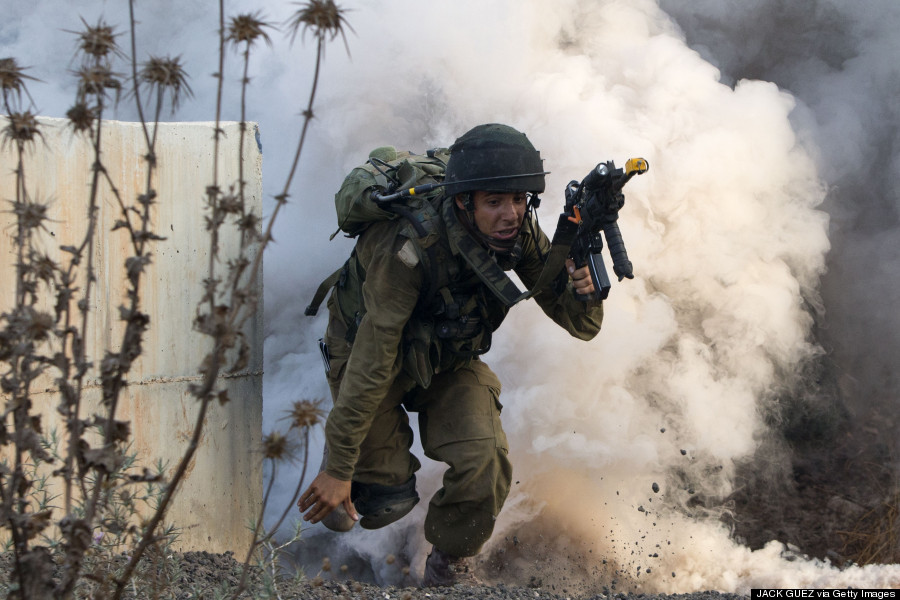 July 11th: Although this is just an urban-warfare training exercise, the look of fear in the Israeli infantry soldier's face is heart-breaking to look at. The training exercise was designed to simulate what fighting Lebanon's Hezbollah would be like.
23. Stunts in the "Well of Death."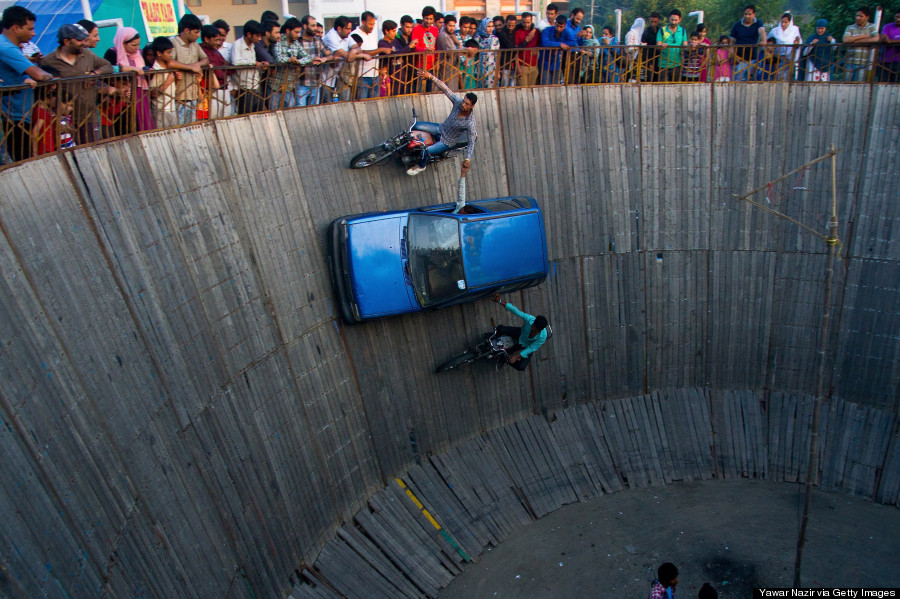 June 20th: A stunt driver and motorcyclist perform in a wooden cylinder referred to as the "Well of Death," due the consequences of failure in this event. You can watch a "Well of Death" performance here.
24. A moment before the teargas hits.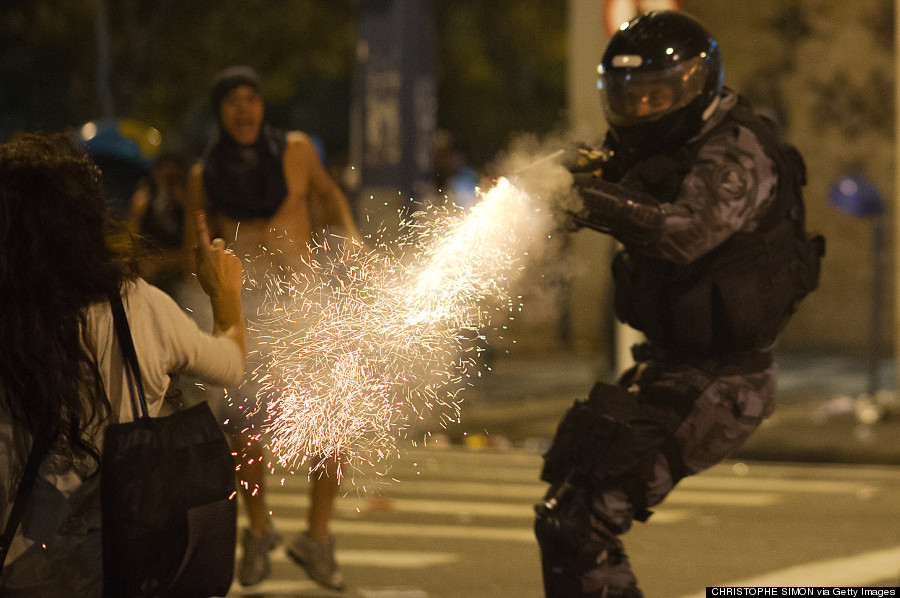 June 19th: A woman raising her finger and holding a purse is shot with tear gas by a Brazilian military policeman standing just feet away. Brazilians took to the streets over hikes in transportation prices.
25. Crying after destruction.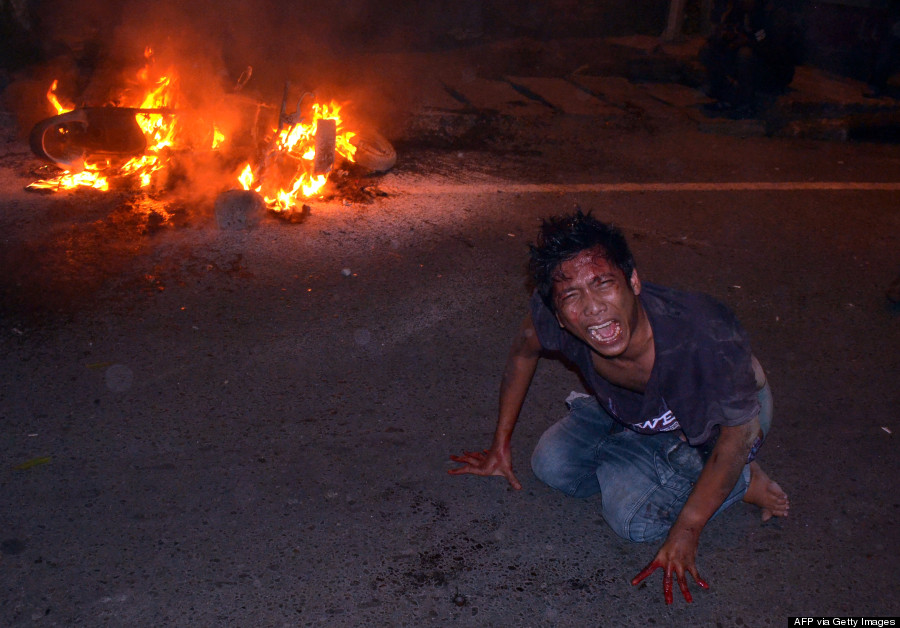 June 18th: Protests break out in the Medan, North Sumatra province in Indonesia after a hike in fuel prices. Although unseen in the photograph, the injured demonstrator is yelling at riot police.
26. A pigeon and a Crow.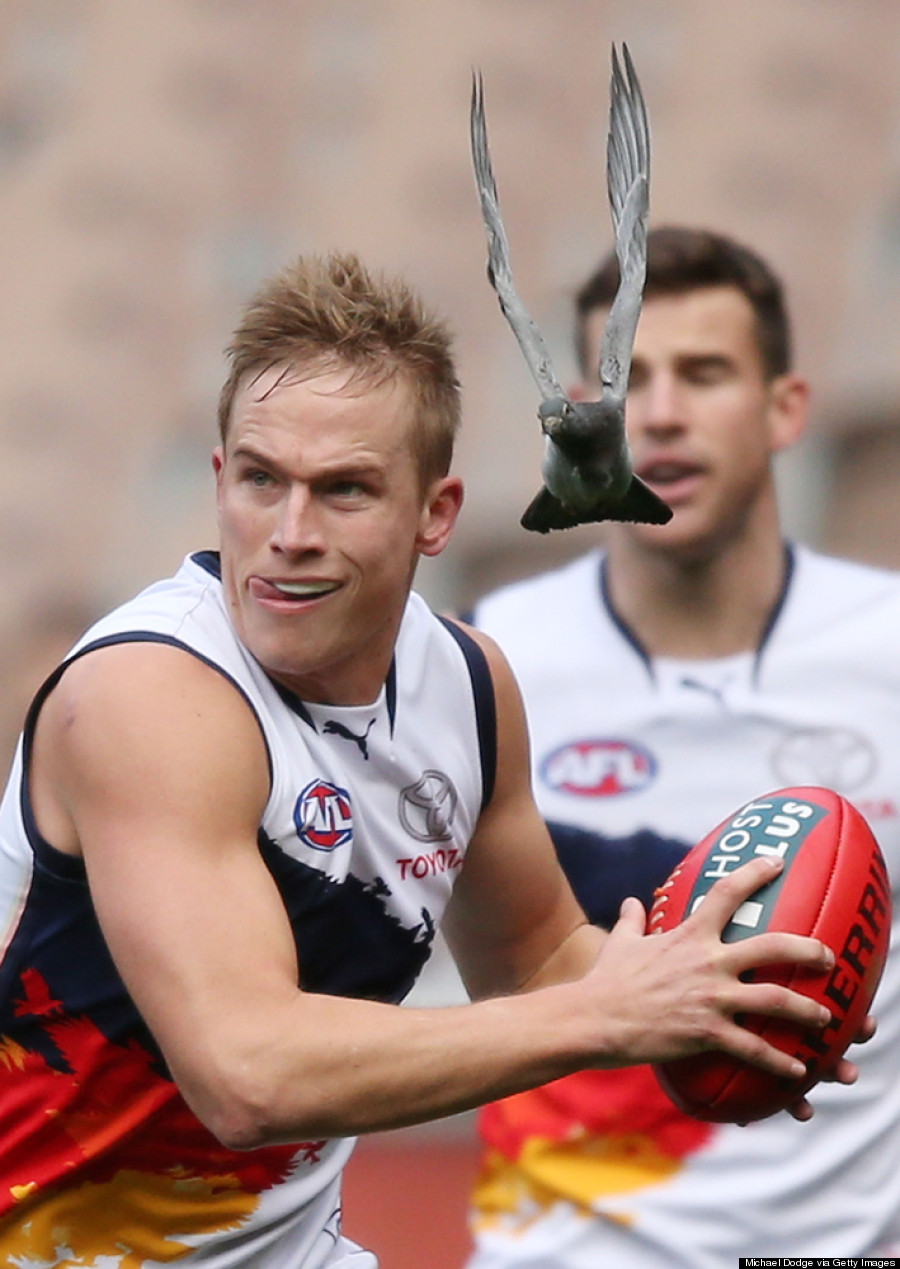 June 15th: During an Australian rules football match in Melbourne between the Richmond Tigers and the Adelaide Crows, Bernie Vince of the Crows is almost struck by a pigeon that had flown onto the field. The Tigers won.
27. Sucker-punched in Russia.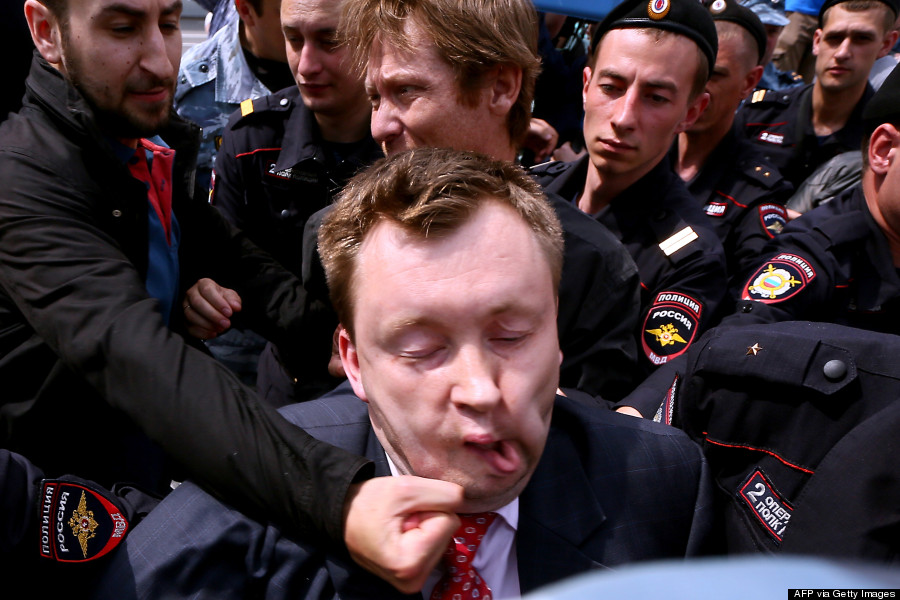 May 25th: Nikolai Alexeyev, a Russian LGBT rights activist, is hit by an anti-gay protestor in Moscow. Gay bashing in Russia has garnered much worldwide interest throughout 2013 and has led to questions about whether the Sochi 2014 Olympics will be a dangerous event for gay athletes.
28. Self-immolation in Sri Lanka.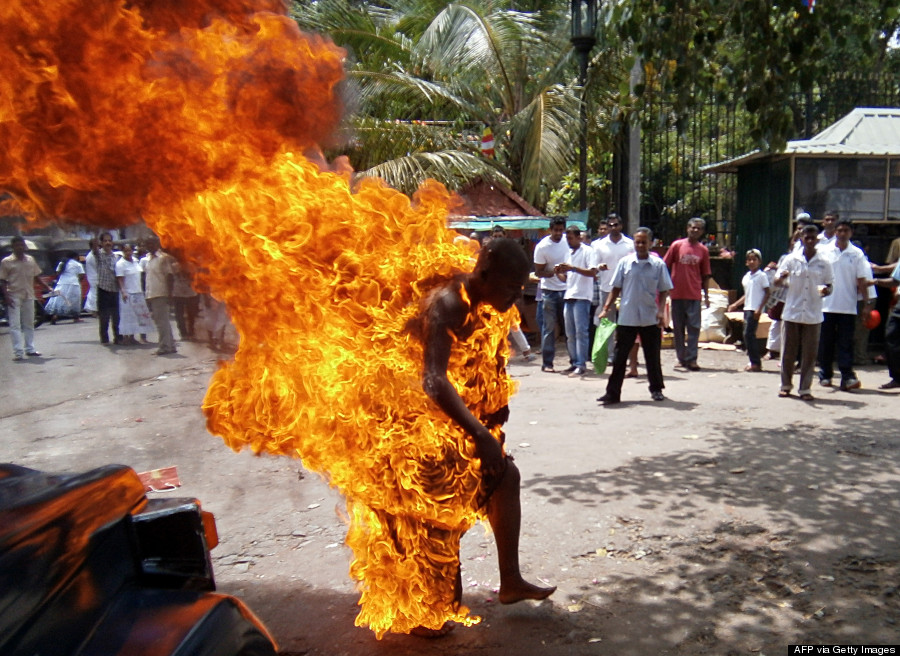 May 24th: In protest of the slaughter of cattle in Sri Lanka, Buddhist monk Bowatte Indaratane sets himself on fire. Dozens of self immolations have occurred this year, with many taking place in Tibet.
29. Unity amid the wreckage.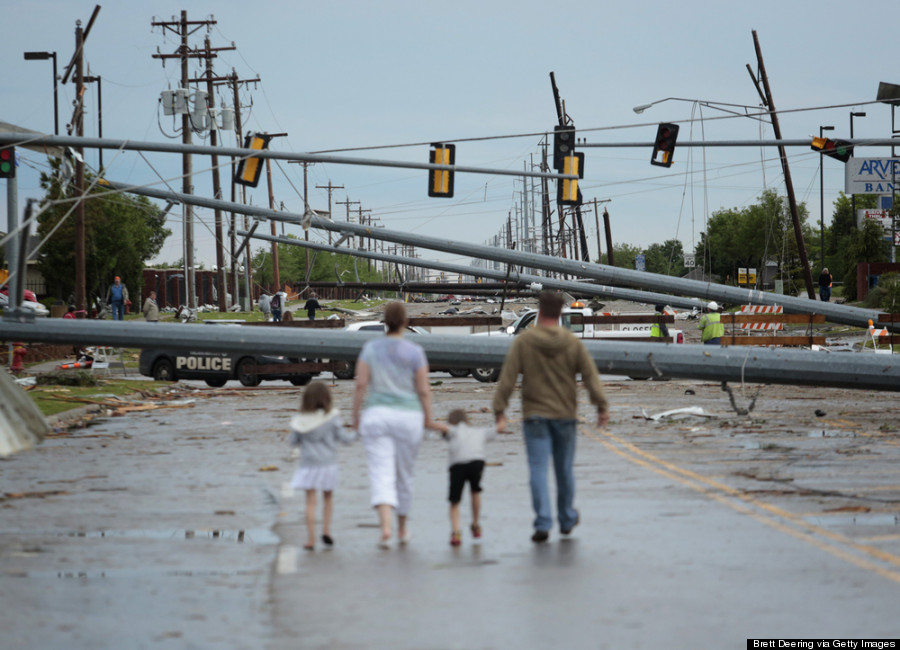 May 21st: A family walks down Sante Fe Avenue in Moore, Oklahoma following the deadly tornado that left 23 dead and hundreds injured. The damages to the town were estimated to be around $2 billion.
30. Nazi giving the middle finger.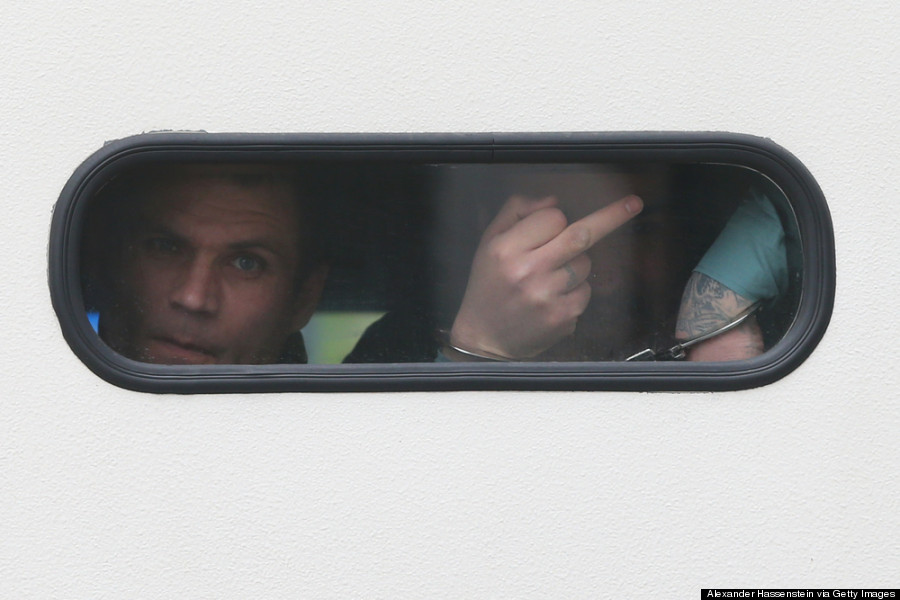 May 6th: Man arriving at the Oberlandesgericht Muenchen court in Germany and can be seen giving the middle finger with his handcuffed hand. Germany was holding a day of neo-Nazi murder trials which would lead to probes into hundreds of unsolved murder cases.
31. Watching fire.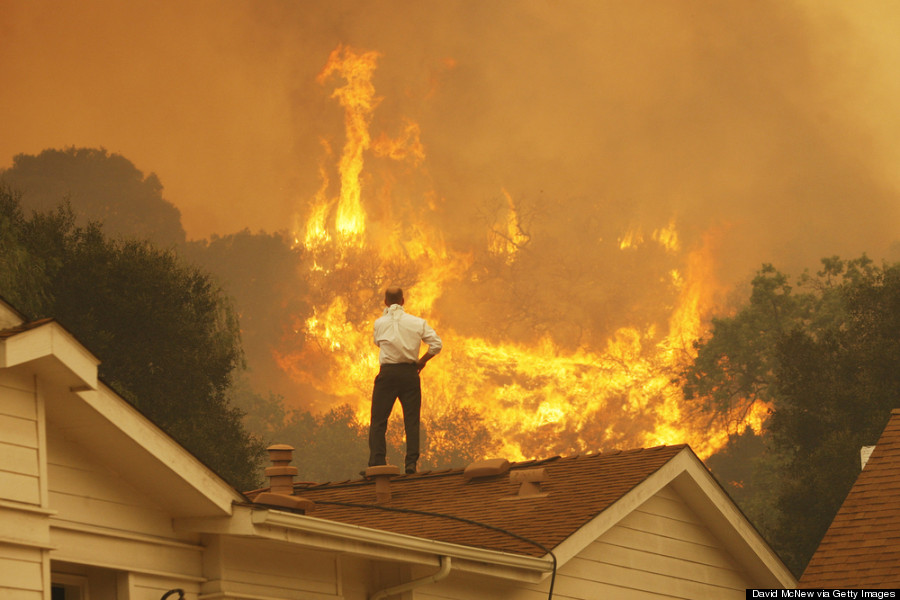 May 3rd: The Springs fire in Camarillo, California approaches as this man stands atop a house and watches. The fire ended up burning 24,251 acres.
32. Putin's face as a topless protestor attacks him.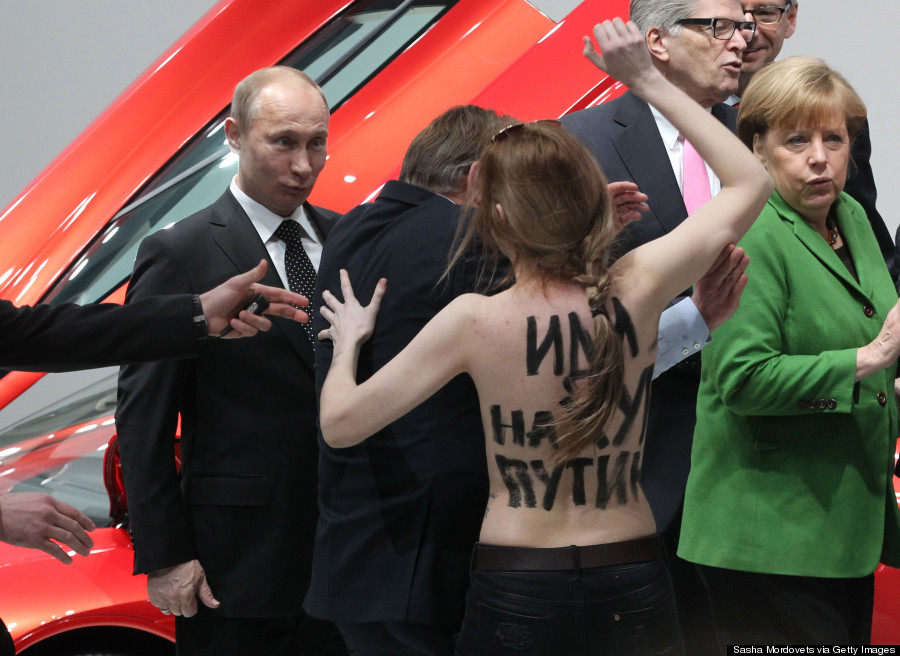 April 8th: A Ukrainian "Femen" protestor (who are known for going topless and painting anti-fascist messages on their bodies) confronts Russian President Vladimir Putin during a visit to an industrial exhibition with German Chancellor Angela Merkel. Putin's reaction face is priceless.
33. Tears of a macaque-monkey.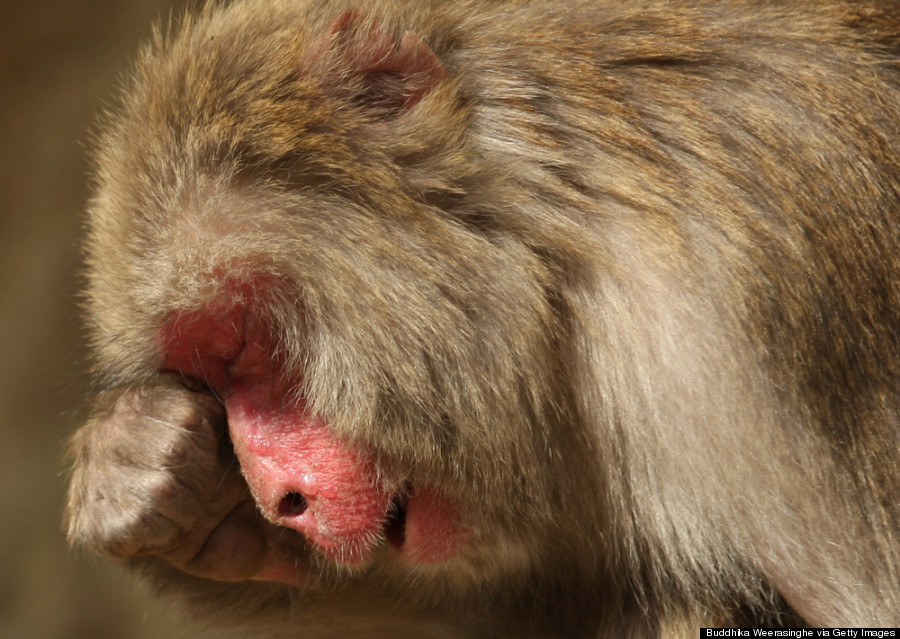 March 17th: A Japanese macaque-monkey named Monday scratches her eyes and cries as she suffers from Hay Fever, which infected many Japanese monkeys this year. Hay Fever comes from an allergy to pollen from cedar trees.
34. A contemporary leprechaun.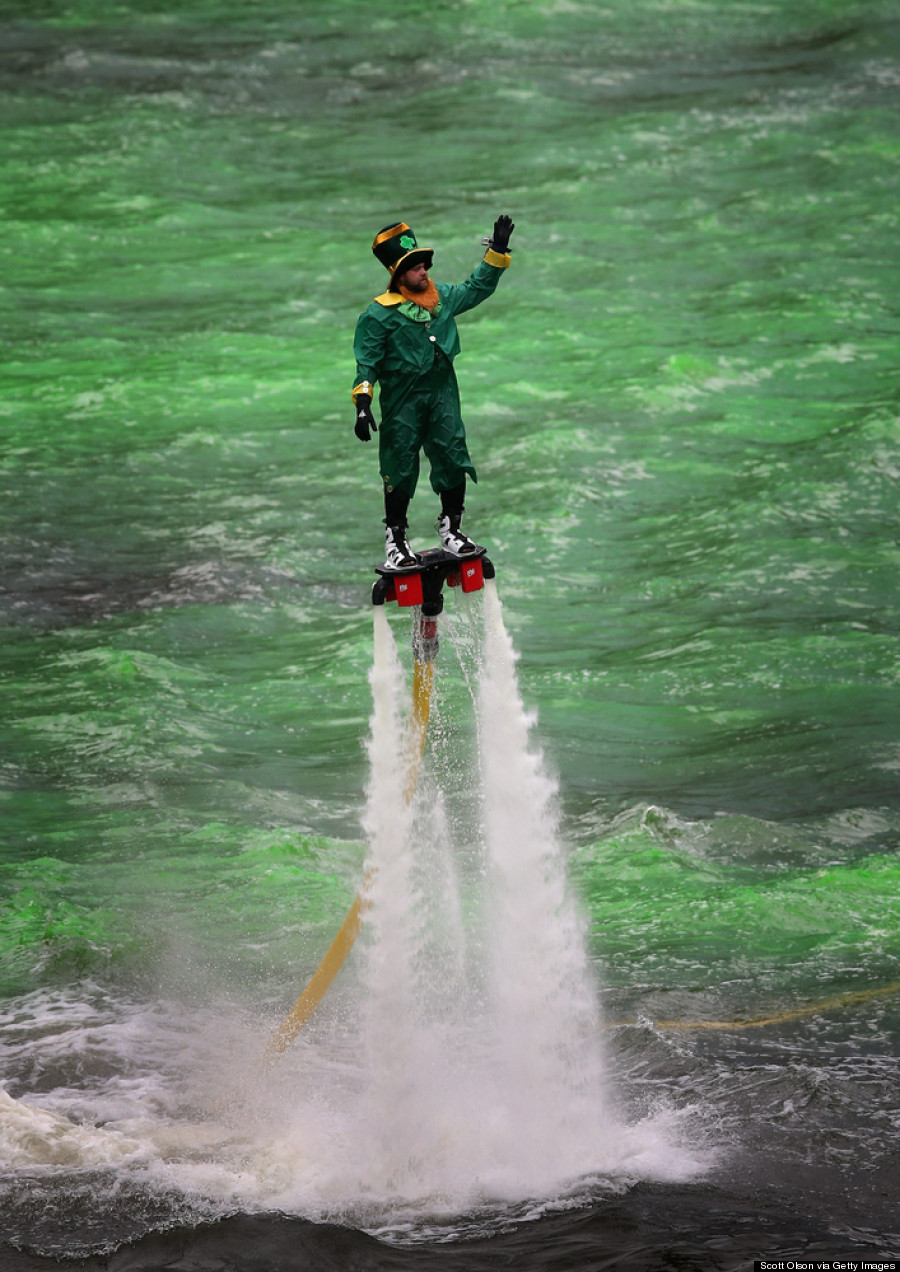 March 16th: A leprechaun hovers on a water propelled Flyboard to entertain Chicagoans on St. Patrick's Day eve, the kickoff day for celebrations in the city. The Chicago River was also turned green for the holiday.
35. An especially snowy day for this llama.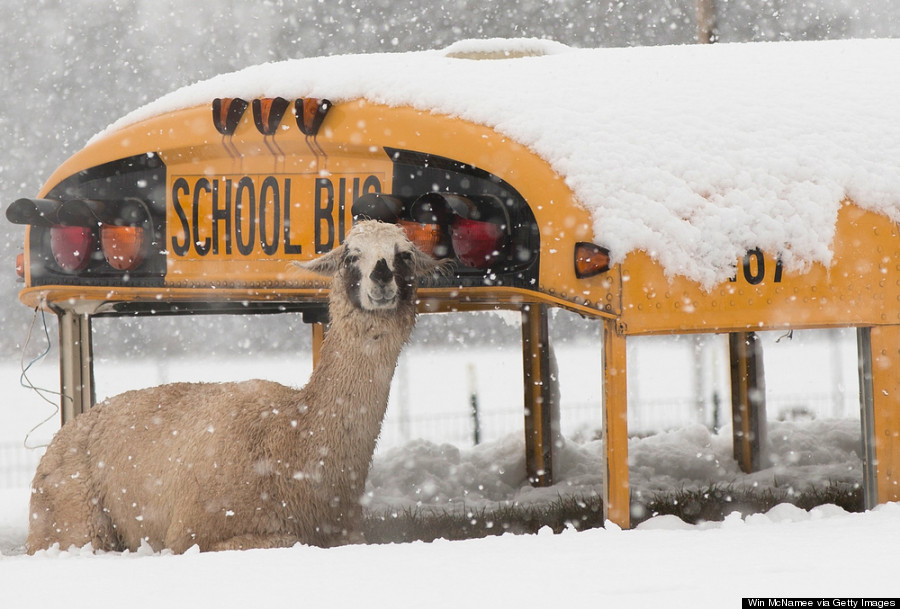 March 6th: A llama seeks shelter next to an abandoned school bus in Centreville, Va., amid heavy late-winter snowfall in the area. The llama was part of a zoo at a local attraction called Cox Farms.
36. Smiling in refuge.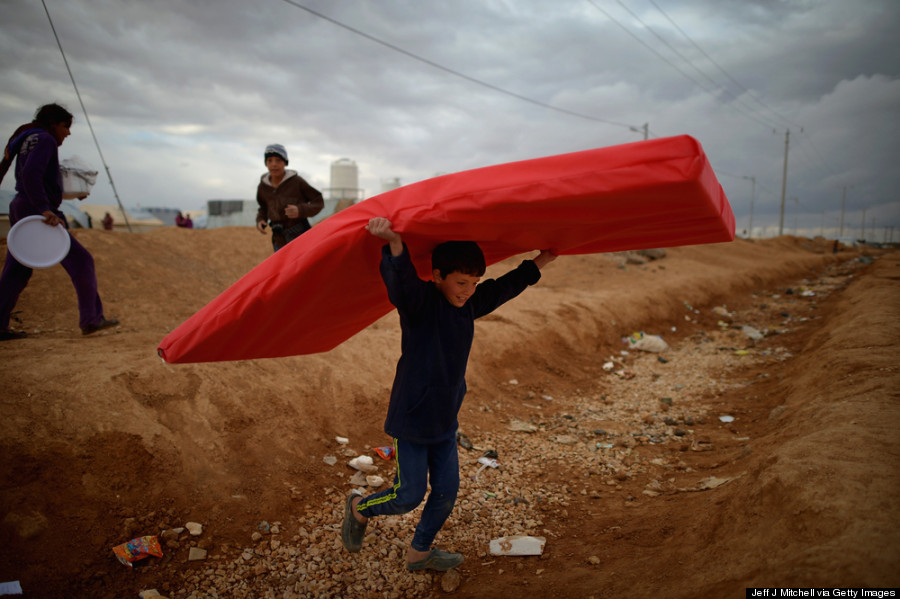 January 29th: A young Syrian refugee smiles as he carries a mattress over a ditch. The boy was living in the Za'atari refugee camp in Mafrq, Jordan after fleeing violence in Syria.
37. The first kiss of the year.
January 1st: A couple kisses as the New Year begins and fireworks explode overhead. One of the subjects uploaded the picture to Reddit, but nothing more is known of the embracing couple.
Correction: An earlier version of this story incorrectly identified the species of whale kissing Backstreet Boy A.J. McLean. It is a beluga. The caption on picture 26 also inaccurately identified the sport being played as rugby. It is an Australian rules football match.
BEFORE YOU GO
PHOTO GALLERY
Moving Image 2013: The Year's Best Photos