Throughout her years of doling out advice, giving recommendations and offering famous faces and everyday folks a shoulder to cry on in their darkest hour, at times, Oprah Winfrey seems like a mother to us all. But the queen of media recently admitted motherhood was never in her plans, saying her children would have suffered.
"They would have ended up on the equivalent of the Oprah show talking about me; because something [in my life] would have had to suffer and it would've probably been them."
While she said her best friend Gayle King, always aimed for motherhood, the idea of it did not appeal to her.
"Gayle [now a mother of two] was the kind of kid who, in seventh grade Home Ec class, was writing down her name and the names of her children," she said. "While she was having those kind of daydreams, I was having daydreams about how I could be Martin Luther King."
Despite her lack of biological children, she has the chance to utilize her maternal instincts with the students at the Oprah Winfrey Leadership Academy for Girls. In the interview, she explained how she opens up her home to the young women during holidays, and emails with them every morning when she wakes up sharing advice about everything from building confidence to dealing with boys.
She also serves as a mother of sorts to those now entering the talk show arena, a space she once dominated. She's spoken with Steve Harvey about his program, and Queen Latifah spoke with her by phone for an hour before her talk show launched.
"Don't do it until you have 100 percent creative control to be yourself," Winfrey advised Latifah, whose fall talk show debuted with the highest ratings of the season among new daytime programs.
A leader in every sense of the word, THR honored Winfrey with the Sherry Lansing Leadership Award. However, one award many felt the media queen and occasional actress should've been up for won't be added to Winfrey's list of accolades. While she received a Screen Actors Guild Award nomination on Wednesday for her role in 'The Butler,' she was not included in this year's Golden Globe nominations.
Now, all eyes look toward the possibility of an Oscar nomination, as a number of industry experts have labeled Winfrey a front runner for the Best Supporting Actress category. Nominees for the coveted award will be announced on January 16th.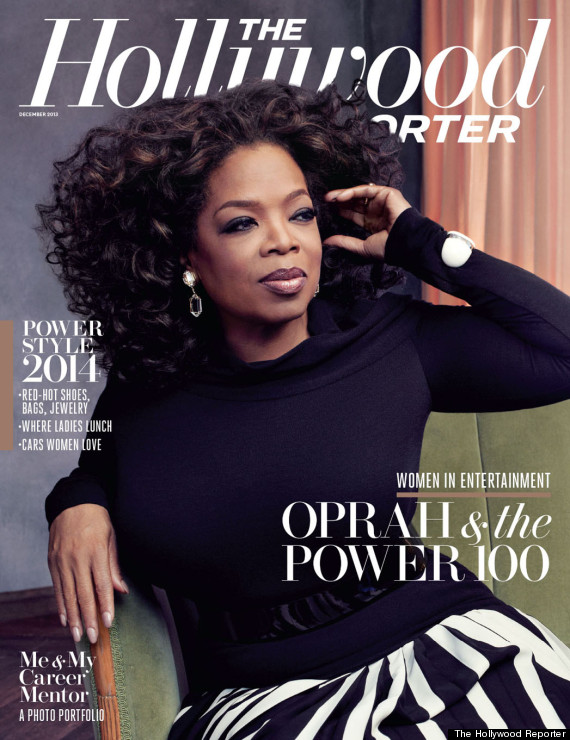 BEFORE YOU GO
PHOTO GALLERY
Oprah's style evolution