For four years, conservatives have faulted the seasonal mailing out of the White House for a lack of allusions to Christmas: no tree, no manger, no jolly old man.
And here we are again, at that most wonderful time of the year: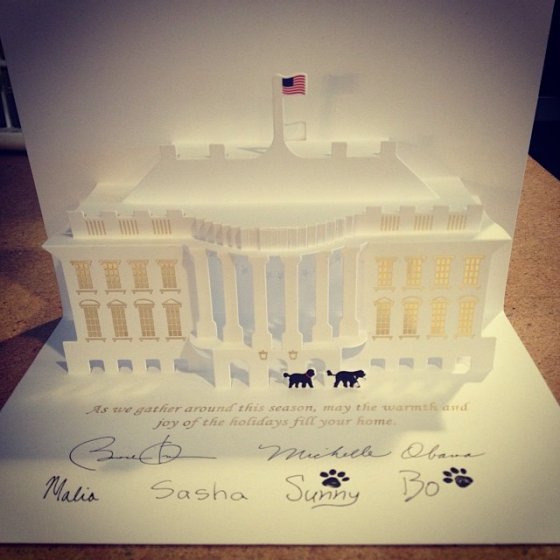 The 2013 card, pictured above, hit mailboxes this week. The pop-up contraption features signatures from all four human Obamas, two mini-paw prints, and a message that reflects the first lady's theme of gathering. The stars of the show, though, are the two upright silhouettes of the Obama family dogs, Bo and Sunny.
Cue the outrage. In years past, the Obamas' focus on their canine demographic in particular has rankled critics, who see the choice to spotlight any one thing as a choice not to spotlight something else -- that something else being a Christmas tree.
Pointed Fox News dispatches from the last two years make this equation, with multiple variations on the phrase, "their dog -- instead of a Christmas tree." In 2011, Sarah Palin rose the hackles of amateur logicians the blogosphere over when she singled out the "odd" prominence of a fireside Bo as somehow a direct rejection of "family, faith and freedom."
The irony underlying this political posturing requires only a little fact-checking to uncover. Turns out among the first dogs to appear in a White House holiday card were Weegie and Pat, charges of Herbert Hoover, a Republican. That mailing, a diptych, features the president, first lady, Rose Garden, both dogs, and no Christmas wreaths, trees, or seasonal decorations whatsoever.
Indeed, as the LA Times pointed out in the early days of anti-Boism, presidents have tended to favor secular imagery and language ever since the tradition of sending a card began, in the culturally fractious atmosphere of the 1920s. Even George W. and Laura Bush routinely omitted the word "Christmas" in their mailings, inciting a memorable hissy-fit from the editor of the conservative news site WorldNetDaily, who in 2005 told a reporter he "threw out my White House card as soon as I got it."
So far, the usual critics haven't mentioned this year's card, let alone accused it of treason. And why not? Pop-up puppies are pretty hard to resist. We may just have a peaceful Christmas yet.