For many men, 2013 was the year of the beard. Facial hair was extremely trendy this year, cropping up everywhere from the Academy Awards to baseball's World Series.
But while a little scruff has become de rigeur, Isaiah Webb took it a few steps further, growing his beard to epic lengths. His beard -- and the quirky styles he shaped it into -- quickly became a viral sensation known as "Incredibeard." Webb joined HuffPost Live to discuss his wacky whiskers and the rise of beards in general.
Webb's wife first pushed him to start growing out his beard.
"My actual inspiration is my wife," he explained to host Ricky Camilleri. "She's the one that kind of pushed me to grow out the beard. And then we started playing around with it, and so she's the one that inspired me to get involved in social media and throw random crazy beard pictures out there. So she's got to be the biggest inspiration for me."
Webb and his wife shaped his beard into octopus-like tentacles, a bowl for ramen, "beard pong" (in which his beard holds a triangle of plastic cups) and more. Photos of the styles quickly went viral.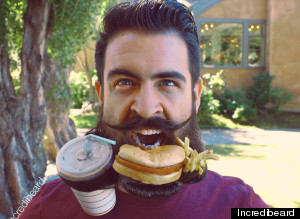 "I actually had no clue that I would get a reaction like this. It was kind of a trickle at first and then started into an avalanche," Webb said. "I've been now in TV commercials and I don't even know where to begin with everything that's been going on."
With his newfound fame, Webb created Incredibeard, a clothing company that donates part of its proceeds to help provide clean water to children.
Watch the full conversation on HuffPost Live.
See more of Webb's beard styles below.
BEFORE YOU GO
PHOTO GALLERY
The Many Beards Of Isaiah Webb