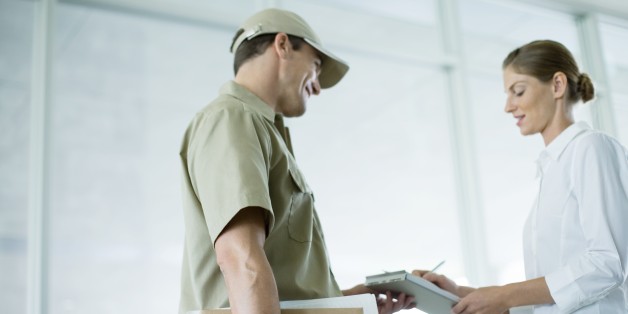 The idea for Zack Shapiro's late-night delivery service struck him like a 50-pound kettlebell. Seriously.
"I was working long hours at a startup in San Francisco and I ordered a 50-pound kettlebell," he told The Huffington Post. "I had it shipped to my apartment and kept getting missed slips because I was at work all day, so I finally just shipped it to work. Once it arrived, I had to lug it back to my desk where it sat for a few days."
Finally, Shapiro hired a car service to take him and the kettlebell home.
"I started thinking about it and realized there was a real hole in the market," he said. "Why not deliver packages when people are actually home?"
After learning to code, Shapiro and his cofounder, Beamer Wilkins (who earlier developed music management software used by Rihanna), turned the idea into reality.
Shapiro and Wilkins' new app, Luna - Moonlit Deliveries, allows users to schedule package deliveries between the hours of 7 p.m. and midnight. Users ship packages to the company's headquarters and, for $6.99, a driver delivers the package at a specified time.
Users receive text message updates and deliveries as close to the requested time as possible. How close?
"Usually within minutes," said Shapiro, who also designed apps for the bus transit system in Boulder, Colo. "We have a pretty in-depth system."
Shapiro explained that the biggest obstacle is getting people to break old habits.
"Once people actually try us out, they're hooked. But we're working on getting people to make that first delivery," he said. "We're dealing with potentially valuable items and it's a new company and a new behavior. So our focus now is building trust."
The company is currently testing in San Francisco as a pilot program (just in time for the holidays) and plans to officially launch this spring. If it proves successful, Shapiro hopes to expand.
"We'd love for it to be everywhere," he said. "We'll probably start in major cities and go from there."
BEFORE YOU GO
PHOTO GALLERY
Glassdoor's Best Places To Work 2014