Poll on the "generic" vote preference for the U.S. House are messy. Gallup finds fewer negative views of ACA. And will GOP pollsters make a New Year's resolution to embrace voter files? This is HuffPollster for Friday, December 13, 2013.
WHO HAS THE 2014 ADVANTAGE? Susan Page on results from a new USA Today/Pew Research survey: "Analysts are watching for signs of whether a 'wave' election might be in the works, the sort of lopsided outcome that could boost Republican efforts to win control of the Senate or even longer-shot Democratic dreams of regaining the House. The new survey, taken Dec. 3-8, shows a conundrum: Democratic congressional leaders rate higher and registered voters by 48%-44% say they would vote for the Democratic congressional candidate in their district over the Republican if the election were held today. At the same time, by 53%-47% Republican voters are more likely than Democrats to say they are "very enthusiastic" about voting in 2014 – a key test of whether they'll bother to go to the polls. And they predict better results for their party next year, another poll question that in the past has signaled the elections that follow. [USA Today]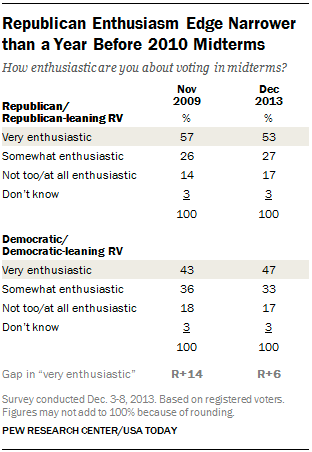 GOP enthusiasm edge narrower than 2010 - Pew Research, sharing results of the new survey conducted with USA Today: "Republicans hold a modest enthusiasm advantage: 53% of Republican and Republican-leaning voters say they are very enthusiastic about voting, compared with 47% of Democrats and Democratic leaners. At about this point four years ago, Republicans held a much wider enthusiasm edge. In November 2009, a 57% majority of Republican and Republican-leaning voters said they were very enthusiastic about voting in the midterms, compared with 43% of Democratic and Democratic-leaning voters." [Pew Research]
Other surveys better for Republicans - Other surveys of registered or likely voters conducted in early December have been less optimistic for the Democrats than the USA Today/Pew Research poll. Recent telephone polls by Quinnipiac University, NBC/Wall Street Journal, and Rasmussen Reports have produced results slight single digit advantages for Republicans on the so-called "generic" U.S. House vote (which asks about vote preference without naming specific candidates), while a McClatchy/Marist poll produced a 43 to 43 percent tie. Separately, three more polls that measured the views of all U.S. adults each gave the Democrats a slight edge but also produce larger numbers who say they are undecided, not surprising given the greater number of non-voters in those samples who tend to identify more with the Democrats.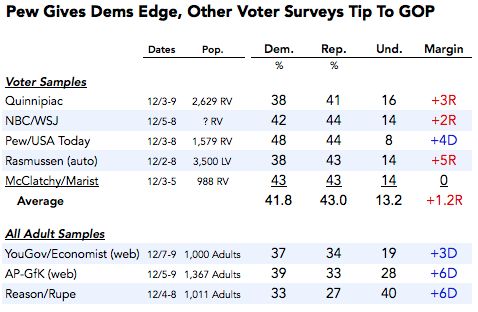 Chart shows GOP rebound - The Pollster chart, when filtered to include only the polls of registered and likely voters, shows the reversal of fortunes in support. Democrats enjoyed a roughly six percentage point advantage on the trend lines based on surveys conducted in October, while Republicans have a slight edge now. The chart now gives Republicans a 4 percentage-point advantage (43.1 to 38.9 percent) when based on all polls of voters, but a less than 1-point edge (43.1 to 42.6 percent) with the Rasmussen automated survey removed. Rasmussen is the only poll that currently attempts to identify "likely voters." [Pollster chart for all RV/LV polls, and without Rasmussen]
Pollster chart now filters out all-adult samples - As of this writing, the Pollster chart for the generic House vote now filters out polls that report results for all adults (rather than for registered or likely voters) to help reduce erratic movement of the trend lines that their very different results produce. The table that appears below the chart still displays all polls, although the the polls based on all adults appear with light grey type. Readers can add those polls back using the "subpopulations" tool under the "Create Your Own" tab. [Pollster]
AMERICANS' NEGATIVITY TOWARD HEALTH CARE LAW DECLINES - Frank Newport: "Americans' attitudes toward the Affordable Care Act, or Obamacare, have stabilized after becoming more negative in November. Forty-one percent now approve of the law and 51% now disapprove. This marks a slight reduction in negative views over the last two and a half weeks, while positive attitudes have remained essentially flat….Americans' attitudes about the law have varied over the past year, but became decidedly more negative in November as it became clear that the exchange website was not working properly. Now, with news reports of the government's partial success in fixing the website, the upward trajectory of negative views has stopped. Disapproval has slipped back from 55% and 54% in November to 51% now. At the same time, approval has held steady." [Gallup]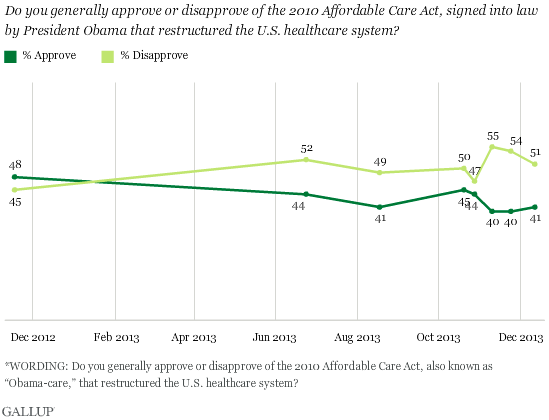 WILL GOP POLLSTERS EMBRACE VOTER FILES IN 2014? - Elizabeth Wilner rounds up predictions from "some of the top names in political targeting—from data providers to interpreters" on trends for 2014, including this from Republican pollster and data scientist Alex Lundry: "Republicans will finally embrace listed-sample polling off of the voter file. For a variety of reasons (very few of which are legitimate), Republican pollsters have been reluctant to shift their polling from a random digit dial to a listed sample from the voter file, and it's become increasingly clear that it's hurting the accuracy of their polls. When campaigns call random phone numbers, the only data they take away from the survey are the questions they ask; they are willfully throwing away/ignoring the thousands of variables available to them from the voter file, which can allow for better quota control, weighting and analytics on the backend of the survey." [Cook Poltical]
HUFFPOLLSTER VIA EMAIL! - You can receive this daily update every weekday via email! Just enter your email address in the box on the upper right corner of this page, and click "sign up." That's all there is to it (and you can unsubscribe anytime).
FRIDAY'S 'OUTLIERS' - Links to more news at the intersection of polling, politics and political data:
-21 percent of Americans cite "dissatisfaction with government" as the most important problem facing the country; 31 percent name the economy or unemployment. [Gallup]
-Bloomberg's Consumer Comfort Index increased for the third straight week. [Bloomberg]
-Americans are as likely to be pessimistic as optimistic about their economic future. [YouGov]
-Charlie Cook believes Americans won't be easily reassured about an improving economy. [National Journal]
-New Yorkers are optimistic about about their new Mayor. [NYTimes, Siena]
-Latino voters react negatively to the sequester cuts. [Latino Decisions via @OpenToday]
-David Wasserman says Republicans are on track to gain up to 10 seats in the U.S. House in 2014. [Cook Political]
-The news media has lost interest in gun control. [WaPost's Monkey Cage]
-Sean Trende talks to John Batchelor about Republican gains on the generic House vote polls. [BatchelorShow]
-Chuck Todd interviews Jim Margolis and Dan Wagner about "predictive targeting" and the future of campaign television advertising. [MSNBC]
-Younger Americans are more optimistic about Amazon delivery drones, older Americans more wary. [Reason]
-DC Councilmember Jim Graham claims his campaign forgot to pay his pollster. [Washington City Paper]