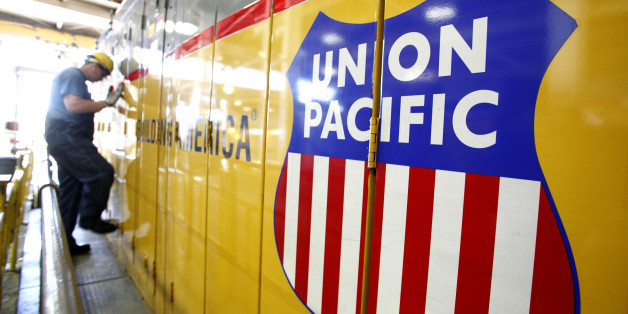 COAL CITY -- Union Pacific Railroad representatives presented Coal City Mayor Neal Nelson with a check for $15,000 on Thursday to help with tornado recovery efforts.
Union Pacific was in town for a groundbreaking and luncheon celebrating a new 285-acre logistics facility to be built in Coal City, but surprised those in attendance when they presented the check.
"Around this time of year, we are always looking for places to help," said Adrian Guerrero, director of public affairs for Union Pacific. "This year, we couldn't think of a better candidate than Coal City."
Coal City Mayor Neal Nelson accepted the check with gratitude.
"This check will go a long way in helping those people who need it," Nelson said after the presentation.
Coal City, along with Diamond, was hit by an EF2 tornado Nov. 17. The twister brought winds faster than 120 mph to the area and traveled more than 12 miles in 11 minutes, damaging hundreds of local homes and a few businesses, and left four injured. Grundy County has been declared a state and federal disaster area.
Union Pacific also memorialized Coal City as an official Train Town, USA providing them with a commemorative sign, an official Train Town, USA resolution and a specially-minted Union Pacific gold coin.
"There's not a lot of these coins out there, so if it ends up on eBay, we'll know," Guerrero joked.
BEFORE YOU GO
PHOTO GALLERY
Aerial Views Of Illinois Tornado 2013