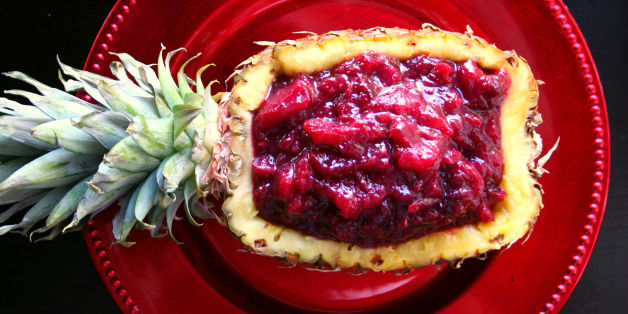 In most Latino households during the holidays tamales reign supreme. But the humble turkey has found its way into the homes and bellies of many U.S. Latinos. And with it, many of the traditional American side dishes; we went from beans and rice, to beans, rice, stuffing, and cranberry sauce.
And for those of us who have become jaded by dry, overcooked turkey, the holidays have become more of a showcase for sides. Adding Latin touches to traditional holiday side dishes is just a natural progression of cultural melding. Ditch the plain rice for cilantro-lime rice. Take garlic mashed potatoes over the threshold of Holiday Greatness with some roasted pasilla peppers. Crumble some cooked Mexican chorizo into your next cheese dip. And to crown your side dish-palozza, spike your cranberry sauce with chipotles. That's right, this is no longer your mama's cranberry sauce.
The jewel toned cranberries are essential for the holidays. The crisp, tart berries are often cooked down in a heavy pot with sugar and water until the berries begin to burst, creating a sweet and tangy sauce that always plays an important role at the dinner table. Traditional flavorings include citrus fruit juices and zest, spices, spirits, and even herbs. We like the sweetness of our cranberry sauce to be nicely balanced with some heat. Nothing nuclear, just a slight tickling. Chipotles can add that touch of heat and deliver a unique smokiness unlike any other.
Chipotles are basically chili peppers that have been allowed to dry and then smoked. Typically jalapeños are the chili of choice. Today we can walk into most markets and find a can of chipotle peppers in adobo sauce. The adobo sauce, made with oregano, paprika, garlic, salt, and vinegar is delicious on its own, but lacks any real heat. If you are looking for heat you will want to use the plump, red chilies, seeds and all.
These crisp, tart little berries dominate the holiday season. And smoky chipotles will elevate your humble sauce to a splendid sauce for any table.
Chipotle Cranberry Sauce
Yields 4 cups
Prep Time: 5 Minutes
Cook Time: 20 Minutes
Ingredients:
1/2 cup water
1 cup white granulated sugar
1 (12 ounce) package fresh cranberries, rinsed
1 (20 ounce) can pineapple chunks, rough chopped, 1/2 cup juice reserved
2 medium mangoes, peeled, pitted, diced
1 teaspoon fresh lemon juice
3 whole chipotle peppers, chopped
Instructions:
In a large pot, combine the water, sugar, and pineapple juice. Bring to a boil over medium-high heat.
Add the cranberries, pineapple, mangoes, and lemon juice to the pot. Return to a boil.
Reduce the heat and allow to simmer for 20 minutes, stirring occasionally.
Stir in the chipotle sauce in the last five minutes of cooking time.
Remove from heat and allow to cool before serving.