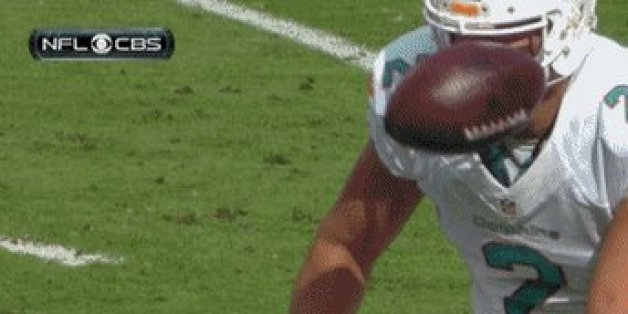 Just in time for all those end-of-year sports GIF roundups, the Miami Dolphins produced this "Facefumble."
Lined up for a 32-yard field goal attempt against the New England Patriots on Sunday, the Dolphins appeared to be having some communication issues. Long snapper John Denney snapped the ball while holder Brandon Fields seemed to be looking back toward kicker Caleb Sturgis. Fields turned back toward the line of scrimmage just in time for the ball to bounce off his facemask.
The result of the "Facefumble" was a turnover and these GIFs.
(GIF via @iamtherog)
(GIF via @BrianMFloyd)
(GIF via @iamjoonlee)
For those fail completists keeping track, this wasn't the only "facefumble" of 2013. At least one other similar moment of miscommunication created another face-induced turnover for the Florida Gators against Tennessee in September.
BEFORE YOU GO
PHOTO GALLERY
2013-14 NBA Highlights