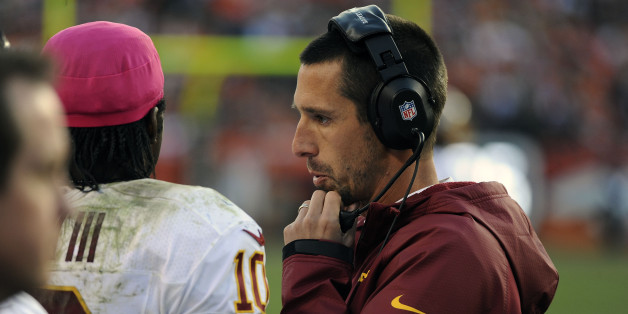 There might be some trouble within the Shanahan family.
According to Ian Rapoport of NFL.com, Kyle Shanahan, the Redskins offensive coordinator and son of head coach Mike, can no longer work for his father and is ready to split after the 2013 season.
Rapoport's story comes on the same day that Jason La Canfora reported that Mike gave his son "virtual autonomy" to run the team. Citing several anonymous sources, La Canfora wrote that many members of the organization -- including players and coaches -- were rubbed the wrong way by the power and control Mike has given his son.
"Kyle is the head coach, it's just that no one knows he is," an unnamed member of the Redskisn organization told La Canfora. "He gets whatever he wants. And he has no relationship at all with (quarterback Robert Griffin II). So how could it work?"
However, it doesn't seem like Kyle got what he wanted earlier this week when his father decided to bench quarterback Robert Griffin III for the rest of the season. The younger Shanahan voiced his disappointment with his dad's decision on Thursday.
"If it was about really football, I think you would talk to the offensive coordinator," Kyle aaid. "But the decision doesn't have to do with football, it has to do with the future of an organization. That's out of my realm."
BEFORE YOU GO
PHOTO GALLERY
2013-14 NBA Highlights