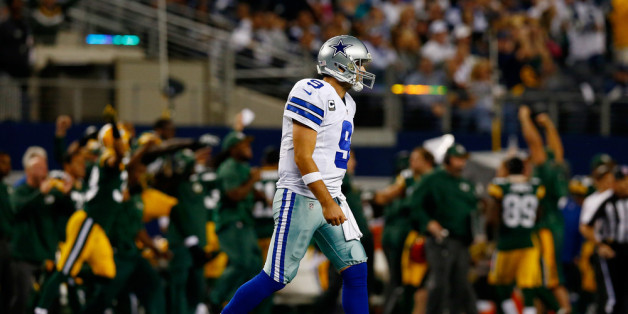 It's going to be a long week for Tony Romo. The Cowboys' quarterback threw two costly interceptions on their final two possessions, helping the Packers pull off the biggest comeback in franchise history.
Dallas was clinging to a 36-31 lead late in the fourth quarter (it was 26-3 lead at halftime) when Packers cornerback Sam Shields jumped the passing route and picked off a pass from Romo. Green Bay's rookie running back Eddie Lacy marched the offense down the field for a go-ahead touchdown, giving Romo 1:31 left in the game to lead Dallas to a game-winning drive.
The drive didn't last long. Romo threw another interception, this time to cornerback Tramon Williams, sealing Green Bay's comeback win.
"This is my fault for putting the ball in a position where the defense can make a play," Romo said after the game.
To make matters worse for Romo, his head coach Jason Garrett revealed after the loss that his quarterback changed the final play from a run call to a pass, per Bryan Broaddus of DallasCowboys.com.
In the bad-to-worse category, we have the Cowboys. They collapse...and then the head coach throws the franchise QB under the bus. Yikes.

— Judy Battista (@judybattista) December 16, 2013
The Cowboys led by 23 at halftime but due to some poor defense, questionable play-calling and Romo's interceptions, Matt Flynn and the Packers managed to outscore the home team 34-10 in the third and fourth quarters.
Romo might want to stay off the Internet until Dallas' next game. He might see stats like these get pointed out, and even the Atlanta Hawks are trolling him already.
If Tony Romo needs advice in late-game situations, we know a guy he can call... pic.twitter.com/VrfP2NovAm

— Atlanta Hawks (@ATLHawks) December 16, 2013
BEFORE YOU GO
PHOTO GALLERY
NFL Week 15 Photos