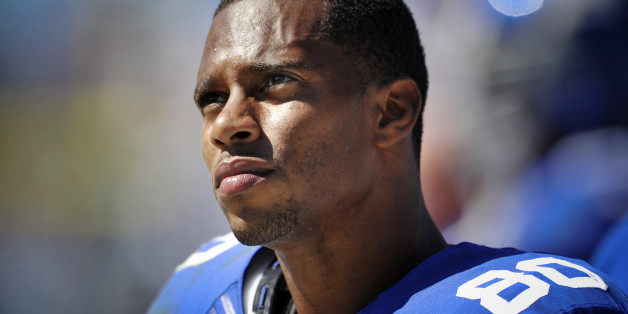 Victor Cruz has not forgotten Jack Pinto and is doing his part to make sure that no one else does either. The New York Giants wide receiver paid tribute to Pinto, a 6-year-old victim of the shooting at Sandy Hook Elementary School in December 2012, with a special message written on his cleats on Sunday.
Cruz shared the image of his inscribed cleats via Instagram shortly before the Giants hosted the Seattle Seahawks on Sunday. The game was played one day after the one-year anniversary of the tragic school shooting that left 26 students and educators dead in Newtown, Connecticut on Dec. 14, 2012.
A passionate Giants fan, Pinto was buried in a replica Cruz jersey. In the Giants' first game after the school shooting last season, Cruz wrote a message on his cleats to honor Pinto. He would later go to Newtown and visit with Pinto's family and friends. "There are no words that can describe the type of feeling you get when a kid idolizes you so much that they want to, unfortunately, put him in a casket with your jersey on," Cruz told the Daily News at the time. "I can't even explain it."
A year later, Cruz is still impacted by the loss and its lessons. He shared a picture of Pinto on his Instagram account on Saturday with the message "You've taught me more than you even know Jack. Rest in eternal peace."
BEFORE YOU GO
PHOTO GALLERY
NFL Week 15 Photos