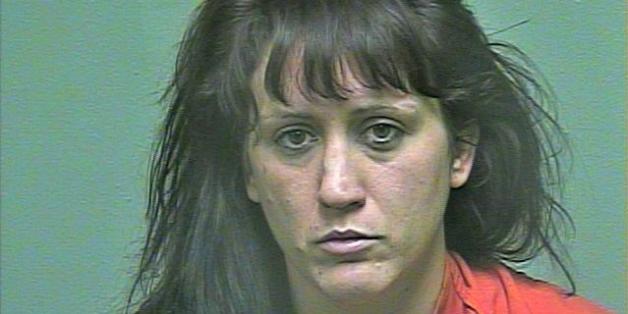 Put this in your pipe and smoke it: An Oklahoma woman arrested for causing a disturbance faces higher charges after officers allegedly discovered a marijuana pipe inside her vagina.
Ericka Marie Danna, 25, was charged with causing a disturbance outside of a home in Oklahoma City on Saturday night.
She was taken to the Oklahoma County Jail and when officers searched her, they found the pot pipe inside her body cavity, KFOR-TV reported.
Police say the pipe found in Danna's sex organ smelled like marijuana, according to OKCFox.com.
Danna was charged with disturbing the peace and attempting to bring contraband into the jail.
As of Monday, she remained behind bars on $5,000 bail, NewsOK.com reported.
Danna isn't the first woman who attempted to use her vagina as a flesh purse of sorts.
In June, Claudia Ibarra, 31, was arrested on suspicion of smuggling drugs from Mexico into the United States after officials found a one-pound package of methamphetamine in her privates.
The black package of drugs was double-wrapped in condoms and was so big that it had to be surgically removed from her pelvis.
In March, Porcha Gross, 21, was arrested after a sheriff's deputy in Okaloosa County, Fla. pulled her over and discovered a marijuana blunt on the floor.
She was taken into custody and, during a cavity search, officers discovered crack cocaine hidden in her genitals.
In October, 2012, Ashley Bellamy, 22, was detained by police who noticed she was walking funny. When a female officer searched, she discovered 36 vials of crack in Bellamy's vagina.
BEFORE YOU GO
PHOTO GALLERY
Drugs Hidden In The Darndest Places