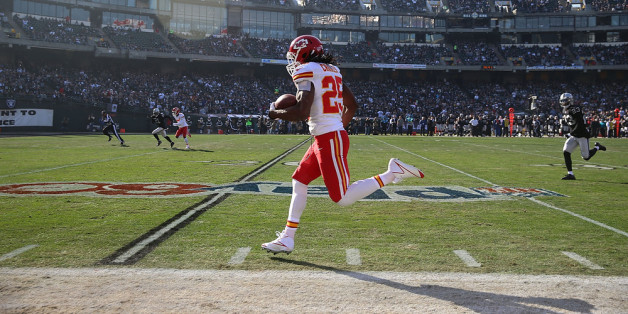 With apologies to Scott Baio, no Charles has ever been in charge quite like this. Kansas City Chiefs running back Jamaal Charles racked up staggering statistics and a month's worth of touchdowns against the Oakland Raiders in a historic performance on Sunday.
It all began on the Chiefs' first offensive play of the game when the 26-year-old speedster turned a short pass from quarterback Alex Smith into a 49-yard touchdown. Racking up most of his yards after catches as opposed to on running plays, Charles was soon tallying receiving numbers last achieved by Jerry Rice. The only thing that stopped him from racking up the touchdowns as the game became a rout was his own coach.
"I don't know how anybody can be more valuable to a team and the success that we've had than he has," Reid said after the Chiefs' 56-31 win.
By the time the game was over, the numbers backed up Reid's assertion. In a record-setting performance, Charles racked up more than 200 yards from scrimmage and accounted for five total touchdowns.
Here are the highlights, statistics, facts and fantasy figures you need to know about Charles' epic afternoon:
The Stats
215 total yards from scrimmage
195 receiving yards
8 catches
4 receiving touchdowns
20 rushing yards
8 carries
1 rushing touchdown
13.4375 yards per touch
3.2 touches per touchdown
The Franchise Record
5 touchdowns in a single game (ties record)
The NFL Firsts
4 receiving touchdowns and 1 rushing touchdown a single game
4 receiving touchdowns in a single game for a running back
The Highlights
The Fantasy Football Impact
51 points In ESPN standard scoring
51.5 points in Yahoo! standard scoring
The Craziest Part
Knile Davis took over running back duties late in the third quarter
BEFORE YOU GO
PHOTO GALLERY
Best 2013 Sports Photos