Joshua Chambers has a message for everyone: Be brave.
The 4-year-old has been battling leukemia since February, but that didn't stop him from jumping on stage with Sara Bareilles during her Sunday performance at the House of Blues in Orlando, Fla. The two sang what is our new favorite version of Bareilles' song, "Brave" -- but only after Joshua adorably requested to wear the singer's hat.
Mina Chambers, Joshua's mother, told The Huffington Post that Bareilles asked Joshua to sing with her when the pair met in a meet-and-greet earlier that night.
"That song was always about him in his eyes," Mina Chambers told HuffPost, "and in mine."
Meet Joshua. My angel. http://t.co/LwiJtCn1d4 (thanks for the video!)

— Sara Bareilles (@SaraBareilles) December 16, 2013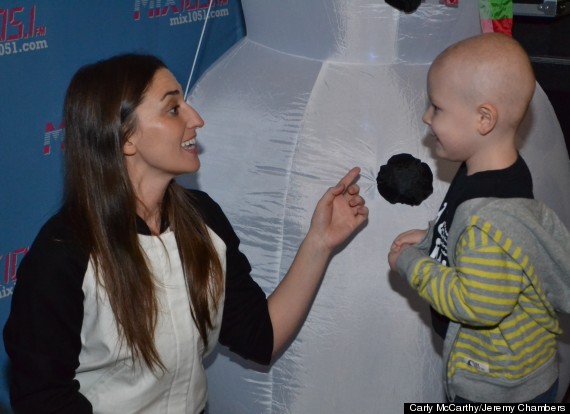 She also said that Joshua has been playing the video of the duet on repeat since Sunday night.
"[The performance] was our once in a lifetime memory," she told HuffPost.
Joshua is now on his last cycle of chemotherapy before entering a period of maintenance, according to his mother. He'll still be receiving chemo for the next two or so years, but not as heavily.
To help raise awareness about childhood cancer and inspire others to #BeBrave, visit Joshua's Facebook page and website. Joshua is also the spokesperson for Kids Beating Cancer's Holiday Hot Sauce campaign. For every $5 bottle sold, $3 is donated to Kids Beating Cancer.