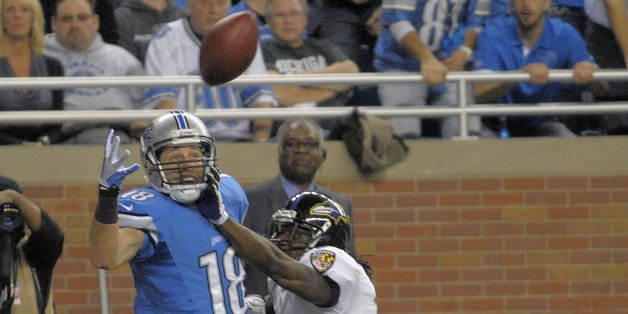 In a game where touchdowns were hard to come by, the Baltimore Ravens may have gotten a bit of help from the officials in keeping the Detroit Lions out of the end zone on one controversial play. With the Lions looking to retake the lead late in the third quarter of a high stakes, low-scoring game, Ravens cornerback Lardarius Webb appeared to get away with pass interference in the end zone.
The Lions trailed 10-9 and had moved the ball to the Ravens' 23-yard line when Matthew Stafford lofted a pass into the end zone for wide receiver Kris Durham on a third-and-9 play. Webb grabbed hold of Durham's left arm as he attempted to catch the ball. Despite the clear contact before the ball arrived, no flag was thrown on the play. The Lions would settle for a 40-yard field goal and a 12-10 lead.
(GIF via @gifdports)
ESPN broadcaster Jon Gruden was emphatic in his assertions that a foul had occurred on the play. The former coach lamented the high impact that such a missed call could have on a team's season. Two still images of the play certainly seemed to back up Gruden's assertion that Webb had illegally impeded Durham as he attempted to catch the pass.
Horrendous no call. pic.twitter.com/lT3ZMXSzMN

— Official Guyism.com (@Guyism) December 17, 2013
So only the Ravens get PI calls tonight, apparently pic.twitter.com/y4cVsr0bqZ

— Mike Tunison (@xmasape) December 17, 2013
Gruden and Mike Tirico were quickly joined in the broadcast booth by former NFL official Gerry Austin to discuss the controversial play. Austin agreed that the officials on the field missed the illegal contact.
Mike Pereira, formerly the NFL's Vice President of Officiating and currently an analyst for FOX, chimed in via Twitter, agreeing with Gruden and Austin.
Not much I can add to what Gruden and Austin said. The back judge who has the best look has to make that call.

— Mike Pereira (@MikePereira) December 17, 2013
It is called an "inside arm grab". It is a category of interference. The inside official has to be aware of that. Bad miss.

— Mike Pereira (@MikePereira) December 17, 2013
A flag for pass interference on the play would have given the Lions a 1st-and-goal situation and a strong chance of scoring a touchdown rather than kicking a field goal. The difference of four points could have proved decisive as the Ravens went on to win 18-16 by way of a 61-yard field goal in the final minute of the fourth quarter.
BEFORE YOU GO
PHOTO GALLERY
PHOTOS: Ravens vs. Lions