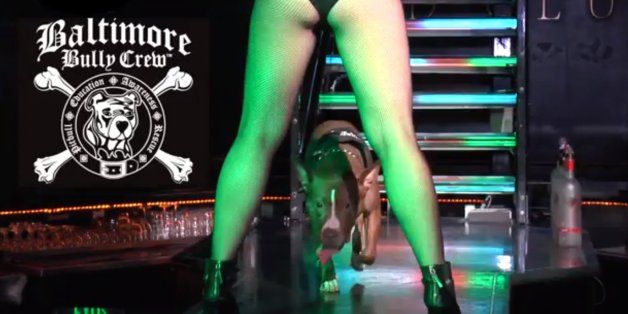 Finally, the perfect evening out for enthusiasts of pits and ass.
"Tits for Pits" has its many fans, for reasons that are not too covered up. But, admittedly, not everyone gets behind a Maryland pit bull rescue's annual fundraiser, held at a Baltimore strip club.
When Eric Vocke and his wife Katherine -- who together run the Baltimore Bully Crew -- first put out notice about this opportunity to enjoy nudity for a barking good cause, some folks from a local cat rescue complained to Facebook that the event "degraded women" and was "so demeaning," Vocke says. "That rescue shut us down on Facebook, so we couldn't call it Tits for Pits. Then it was 'Boobs for Bullies. 'At one point it was called, like, 'Nipples for Pit Bulls.'"
They're back to the original name, and -- now in its fourth year, and with the 2014 date just announced; mark your calendar for March 1 -- Facebook isn't pulling the Tits for Pits listing anymore.
You probably already get the sense of what this event is about: Pit bull lovers who aren't upset at the sight of a woman in the altogether gather at The Gentlemen's Gold Club. There's a $20 cover charge, three-quarters of which goes to the Baltimore Bully Crew's efforts at helping the worst-off pit bulls -- often those who have been pulled from dog fighting rings. T-shirts and other Baltimore Bully Crew merch bring in some more dough, and the club donates lap dance vouchers that are auctioned off to benefit the rescue group. This part of the fundraiser, appropriately enough, is called "Lapdances for 2nd Chances."
Here's the 2013 Tits for Pits promo video, in case you don't yet have the full picture:
The first year brought out some 160 supporters. Vocke says the event has grown since. For the upcoming Tits for Pits, he's hoping more than 500 people will turn up, bringing in about 25 percent of the funds it'll take to keep Baltimore Bully Crew running for another year.
With luck -- and bucks -- maybe they'll also get them a little closer to the goal of opening a pit bull sanctuary, where, among other pit bull-related things, dogs who are deemed unadoptable can live out their natural lives.
"I'm a professional chef by trade, and my wife is an accountant. We run and operate the rescue. It's our passion. It's our life...We've vowed to protect the dogs we love" -- specifically, the ones who have suffered "severe abuse," the ones who are "not beautiful," says Vocke, whose own dog, Peyton, had been torn up and starved, used as bait by dog fighters before his rescue.
Peyton is in the process of being certified as a therapy dog, specifically so that he can visit children in burn units, who Vocke hopes will take comfort in spending time with the gentle animal, and also in seeing his dog's great transformation.
Does it seem strange to raise money for these sorts of efforts at a this sort of place? If some "get catty about it," says Vocke, a lot of the people who work at the club own pit bulls themselves, so they like supporting this cause. And that's not the only way of seeing a good fit.
"If you think about it, the whole thing with pit bulls kind of being shunned upon, people are kind of leery of them," he says, "It's the same thing as strip clubs."
BEFORE YOU GO
PHOTO GALLERY
Baltimore Bully Crew Pit Bulls Needing Homes