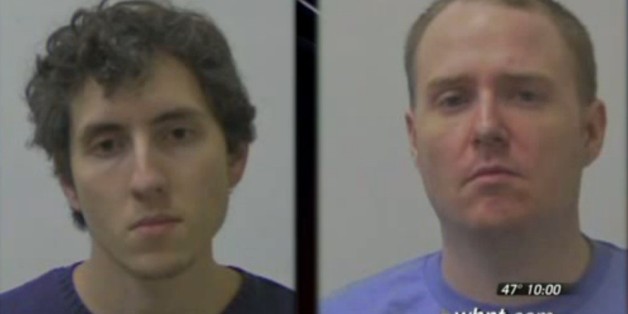 Two men in Alabama allegedly held a 9-year-old boy captive as their sexual prisoner for eight months, according to Huntsville prosecutors.
Investigators say suspects Carl Herold and Charles Dunnavant lived together in Huntsville and that the victimized child Herold's son, according to WZDX.
Hundreds of pornographic images of children were allegedly discovered, authorities told the station. Some of the photos may include images of the boy who lived in the home, the Associated Press said.
Herold is charged with two counts of sodomy, aggravated child abuse and three counts of sexual abuse of a child under 12, WHNT reported.
Dunnavant is charged with sodomy, sexual torture, aggravated child abuse and transmitting or exposing someone to a sexually transmitted disease.
Bond for both men is set at $1 million.
Herold worked with computers and had a website called "Computer Science for Everyone," Al.com reported
The boy was not enrolled in school and was thought to have had no contact with anyone besides his father and Dunnavant since April, when they moved into the home.
Earlier in the month, Herold was booked on several child pornography charges that included allegations that he had filmed and photographed a 9-year-old boy being sodomized and sexually abused, according to WHNT.
BEFORE YOU GO